CED Stone Group To Exhibit at SALTEX 2014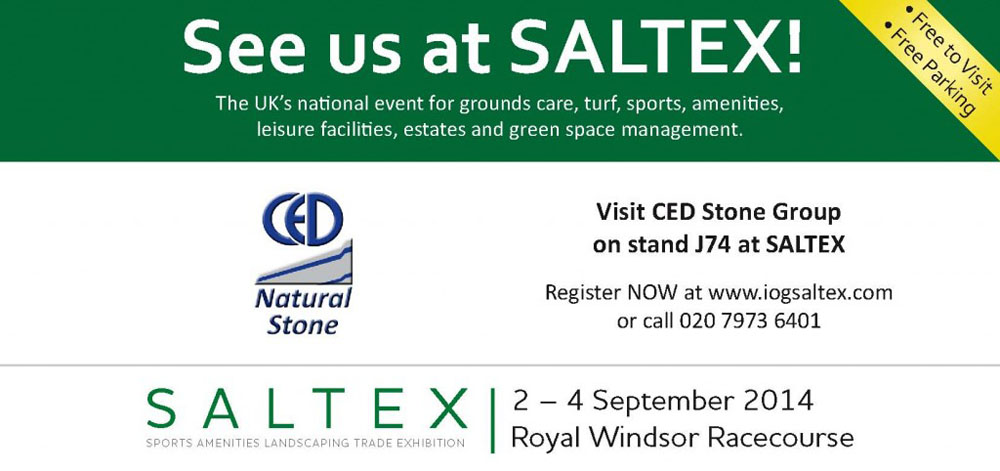 CED Stone Group will host a stand at this year's SALTEX show, which takes place at Windsor Racecourse from 2 – 4 September. Visitors to the show will be able to browse a range of natural stone products on CED stand number J74. The show has been an important feature in the CED event calendar for many years as the UK's national event for grounds care, amenities, estates and green space management.
Giles Heap, Managing Director says, "We can't wait. SALTEX is one of our favourite shows and although not a landscape show per se, it has such an eclectic mix of visitors and exhibitors that it is always a great show for us and definitely one of the highlights of the season".
Products to feature on CED's stand include: Cedagravel, Gabion Benches, Tier Walling, aselection of paving and granite lanterns. The products will be displayed in a garden arrangement for visitors.

Over 200 SALTEX exhibitors will appear at SALTEX along with CED, to demonstrate the latest products, equipment and expertise. Visitors can register to attend the event, which takes place at Windsor Racecourse, for free.
Exhibitors will cover a range of grounds care brands and services, many taking advantage of the event's outdoor location to show their products at their best. As well as getting access to training, development and industry advice, visitors to SALTEX 2014 will also get the chance to view live demonstrations of a range of the latest trade products and kit including:
Machinery, Power & Hand Tools
Seeds, Turf, Aggregates & Treatments
Sports Surfaces & Facilities
Play Equipment & Street Furniture
Commercial Vehicles, Tyres & Trailers
Landscaping Materials
Arboriculture & Horticulture

CED will also be running a 'guess the weight of a boulder' competition and the prize for the best guess will be a Google Nexus 7 tablet. Their brochure has been updated with the latest new products and special offers and this will also be available to visitors on the day.
Register to attend SALTEX
This news posted on 28th Aug 2014