Jumping for Joy….. And Charity!

Greenfingers is a national charity dedicated to creating gardens for children who spend time in hospices and their families to use and enjoy.
Why do children need a Greenfingers Garden? A Greenfingers Garden can be a number of things to different people; an area for play and exploration, therapy, reflection, relaxation or just simply a safe place where children, along with their families and carers, can spend time together outside, enjoying and benefiting from fresh air.
At the heart of Greenfingers is the belief that for children with life-limiting or life-threatening conditions, spending time outdoors in a natural environment can be hugely beneficial. Therefore, Greenfingers work closely with each individual hospice to design and build a scheme that suits their needs and the needs of their patients, such as enabling the gardens to be wheelchair accessible and designed for the appropriate ages and special needs requirements.
To date, Greenfingers have created 49 gardens nationally, allowing children to indulge in the pleasures of being outside, that are often taken for granted.
Greenfingers' current appeal is 'A Million Moments Appeal', which was launched in July 2015. Its aim is to raise £1million over the next three years to enable a further 5,000 children in hospices to benefit from a carefully considered outdoor space, across 15 separate gardens.
As a registered charity, Greenfingers raises its money in a variety of ways; through donations from individuals and companies, grants, volunteering and fundraising events.
This year, Greenfingers are holding another Sky-Dive, following the success of last year's which raised £4,500. The proceeds went to improving two garden spaces outside the end of life suites at Bluebell Wood Children's Hospice, Sheffield – two reflective and peaceful areas that will provide great comfort to grieving families.
CED Stone Group's Digital Marketing Assistant, Stacey Welch, and her partner Edd Halligan have signed up to take the plunge in September on behalf of Greenfingers. Jumping out of a plane with an altitude of up to 2 miles, the jump will consist of approximately 40 seconds free-fall and 5 minutes under canopy (the parachute), whilst secured to an instructor. With neither of them having any previous experience of parachuting, this is a big jump for them (...pun intended…) in their charity endeavours.
Stacey and Edd are now hoping to raise funds to not only meet their target of £600 but to go above and beyond for Greenfingers' 'A Million Moments Appeal'! Having invested over £400 in the event themselves, they hope that they will receive the support and donations to enable them to make the jump a huge success.
If you would like to donate to Stacey and Edd, please visit their JustGiving page here.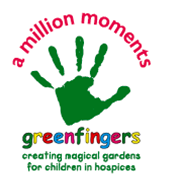 To find out more about the wonderful work that Greenfingers do, then please see their website here or watch the 'A Million Moments Appeal' video here.
This news posted on 2nd Feb 2016