September Event News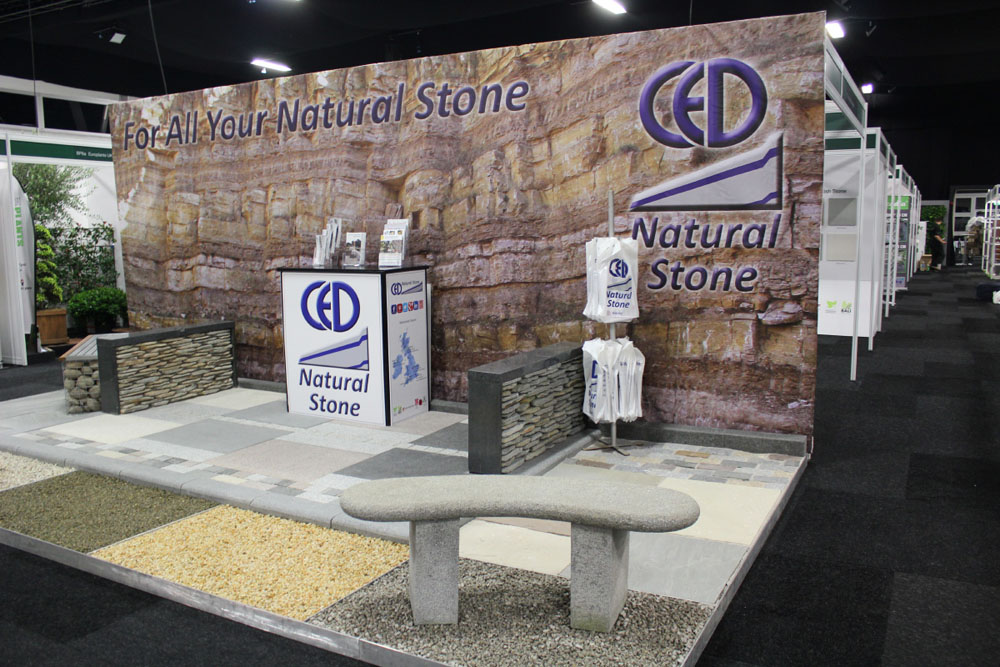 September has been extremely busy for CED Stone Group, with various different shows, events and exhibitions taking place.
At the beginning of the month we hosted a stand at IOG SALTEX which proved to be a great success. Our 'Guess the Weight of the Boulder' competition created a lot of interest and provided an interesting talking point. The winner was Max Betting, who is a student at Brinsbury Campus, Chichester College, where he is studying Horticulture level 2.
His guess was closest to the correct weight of 1.53 tonnes. Max wins a Google Nexus 7 tablet for this, and we hope this will help him with his studies. We would like to thank all who took part in our competition and offer our commiserations to those who did not win.
SALTEX has always been a great show for CED and this year was no different, we met with many of our existing customers and many friends from the industry. This year is the last year the event will be held at Windsor race course, and this provoked mixed feelings.
Paula Chalmers from CED's marketing department said; "IOG SALTEX has always been a show we have looked forward to and supported for more years than I care to remember. The event being held outside has always enabled us to bring real statement pieces to display and create interest from attendees. We are sad the show will be taking a new direction but also excited as to what the new direction could bring."
The show will be moving to the NEC Birmingham next year, and will take place on 4-5 November. The IOG plans to extend the educational seminars next year and hopes that the new facilities will attract more visitors, as the NEC is a purpose-built venue with great transport links and accommodation options.
We were barely back in the office and it was time to pack up for another event: Palmstead's Soft Landscaping Workshop at the Ashford International Hotel. This was a very well organised event with an excellent seminar programme, followed by a tour of Palmstead Nursery.
At the end of September, CED Stone Group hosted a stand at The Landscape Show in Battersea Park. This was a great event that gave us the opportunity to meet with a variety of interesting people, reconnect with existing clients and meet some new ones. The event organisers certainly did well this year, presenting an exhibition that achieved their promise of bringing the industry together. Offering an outstanding seminar programme and providing areas for the APL Cluster meeting proved to be a great success.

Another welcome addition to the event was the Society of Garden Designers product of the year award, which The Landscape Show sponsored. CED's SuperCEDEC was amongst the 10 finalists and although we did not win, we are extremely proud that we were given the opportunity to take part in the final stage of the competition, which we feel is an achievement in itself. We would also like to congratulate the winners Lateral Design Studio and thank all those who voted for us.
Society of Garden Designers Chair, Juliet Sargeant MSGD, who announced the winner said: "With a vast range of new products available to garden-makers every year, the SGD wanted to find and celebrate the very best of them. We know that great gardens are achieved when professional garden designers use the finest products to implement their visions and I'm delighted that designers have chosen such an innovative product as the winner in the first year of the competition."
Although we have been very busy this past month we have really enjoyed having the opportunity to be involved at the events. We truly cherish months like this, where we can meet with our existing customers, as well as making new contacts. We hope to meet with you at future events, the next being FutureScape on the 18th November at Sandown Park Racecourse, Esher, pop along and see us on stands 138 and 139.
This news posted on 28th Oct 2014