Treehouses, Greenhouses & Highland Cows – CED Supports RHS Chelsea Tradestands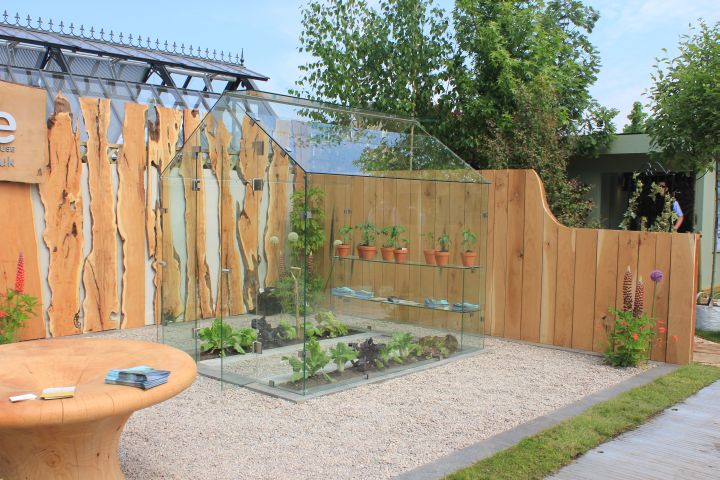 This year's RHS Chelsea Flower Show is now in full swing, with some of the finest designers in the industry using our natural stone products in their gardens. Visitors are arriving in their thousands to see the amazing creations, with the world watching the BBC coverage from home every night this week.
CED have been delighted to support some amazing gardens this year by donating materials to the likes of Tom Massey, Ishihara Kazuyuki and Kate Gould to name a few. But we've also been supporting some fantastic tradestands too, who are all raising the bar and bringing some very inventive and creative outdoor products to the market:
Maddocks Contemporary Design- Awarded 5*
Matt Maddocks is a talented sculptor who crafts exquisite hand-carved granite garden features, usually exploring the contrasts between geometric and natural forms. He uses his artistic abilities to choose each stone individually based on its natural connection with his designs.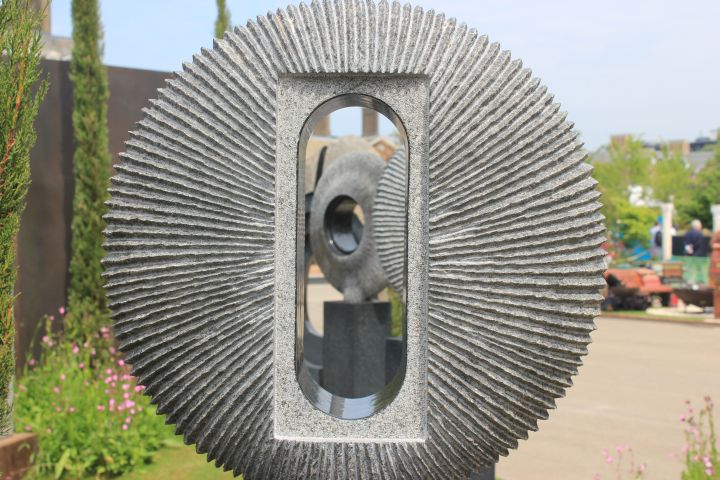 His Chelsea tradestand showcases a range of his sculptures, with one particularly large piece standing towards the front and a seating area towards the back. A natural green planting scheme frames the stone pieces, with neatly cut grassy banks built up around the sides.
CED were delighted to donate our Buff Flint Gravel to Matt's tradestand, which creates a classic style and lighter tone, and really helps to contrast with the dark grey sculptures. Matt laid the Buff Flint over sheets of our gravel stabilisation system, CEDApath, to keep the gravel neatly in place.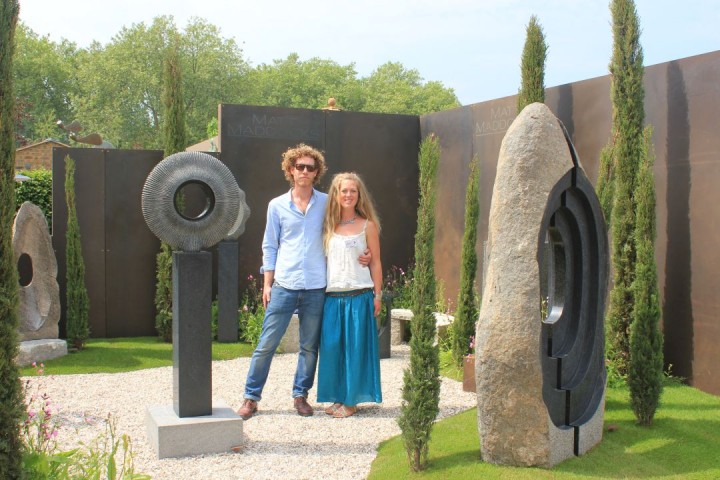 Gaze Burville Outdoor Furniture and Kitchens – Awarded Best Tradestand and 5*
Gaze Burville are renowned for crafting high-quality garden furniture, producing creations that focus on comfort and style. This year, they asked the wonderful Butter Wakefield to design an elegant garden that would be perfect for entertaining.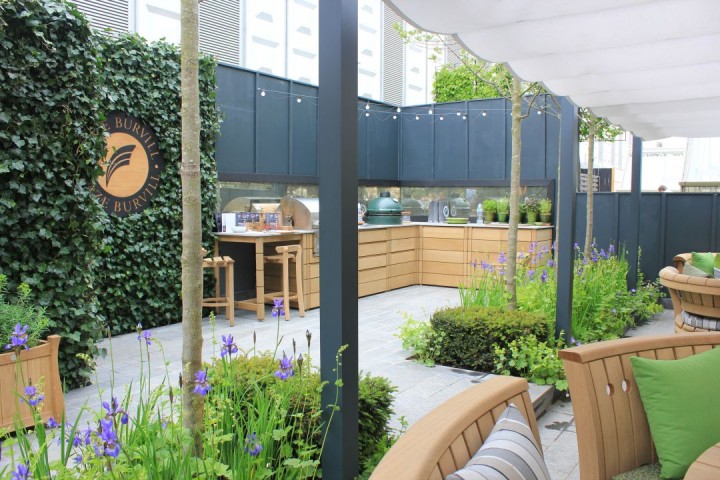 With a fantastic planting scheme and a show-stopping Oak table dressed with Butter's own selection of tableware, it's no wonder Gaze Burville won the Best Tradestand award.
Here at CED, we were very proud to have our Black Basalt plank paving and Silver Grey Granite aggregate included in the garden, which perfectly offsets the green and violet colour scheme.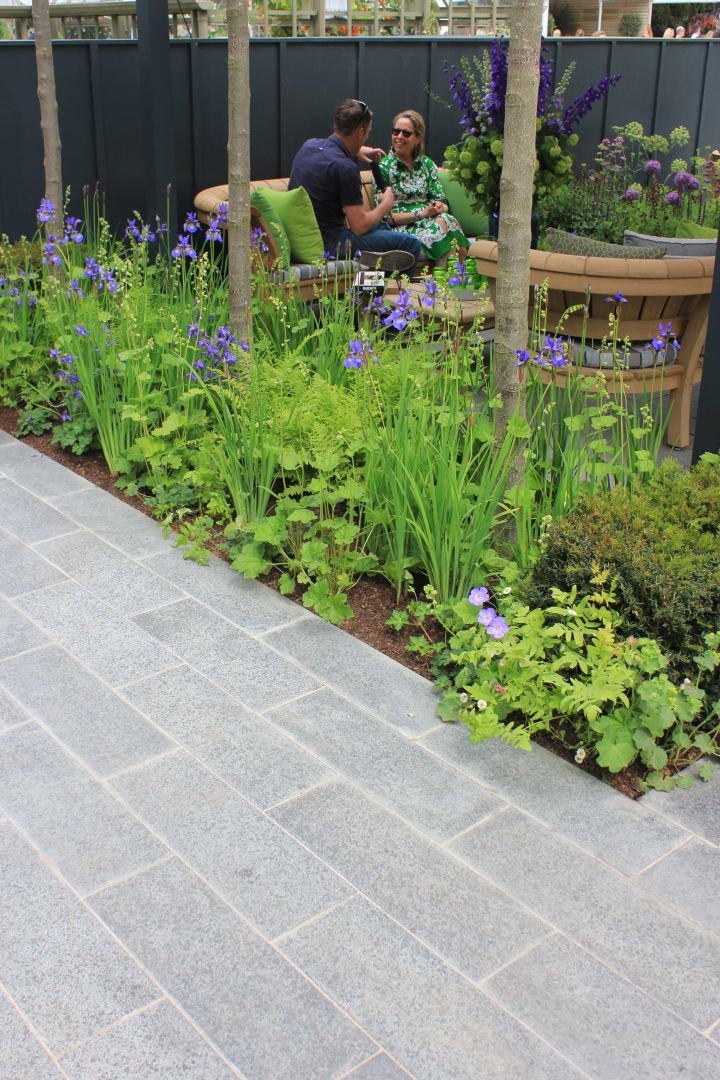 ArtFe Metal Sculpture Art
Known for making metalwork oh-so-cool, Kev Paxton and his team of blacksmiths from ArtFe forge beautiful bespoke sculptures from mild steel and reclaimed metal.
You may recognise Kev from the BBC One TV series of Money For Nothing and also Flipping Profit, where he battles it out with an antiques expert and a market trader to make money for charity.
Kev's love of nature and the Scottish landscape are evident in his work, and this is their very first time exhibiting at the RHS Chelsea Flower Show.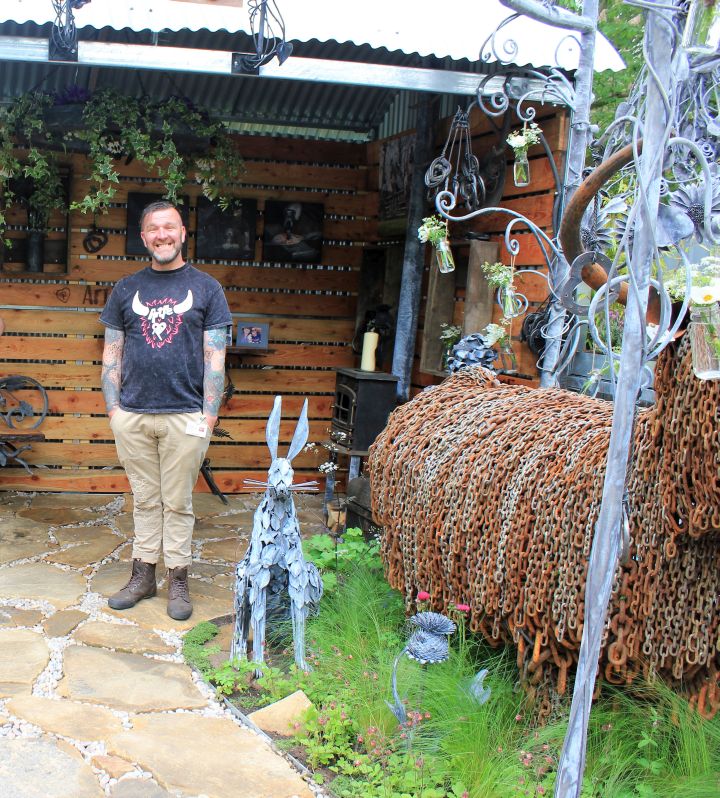 Their tradestand features 'Rabbie' the Clydesdale horse and 'Sid' the Highland Coo, who is made from up-cycled agriculture chain. A 2m high corrugated steel wall runs round the back of the stand and a corrugated steel Dutch 'barn' structure stands to the right of the stand.
The team from our CED Stone Landscape – Scotland depot in Castlecary helped Kev to select some rustic Slabby Sandstone paving slabs which bring an aged feel to the scheme.
The guys from ArtFe recently donated a beautiful decorative gate to The Ripple Retreat, which we were also proud to support. You can read more about our work with the Ripple Retreat here.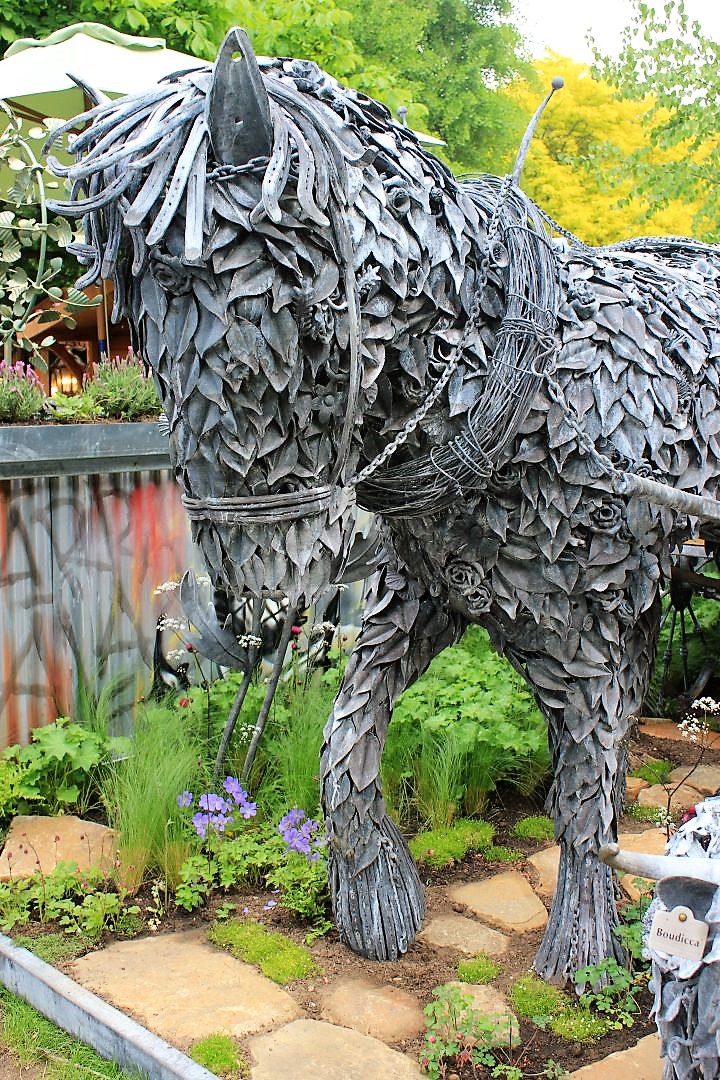 Blue Forest Treehouses- Awarded 5*
The guys from Blue Forest have been turning childhood fantasies into a reality for a while now, crafting everything from rooftop cocktail bars to secret spy hideouts.
This is now their third year exhibiting at Chelsea, and they were delighted to be allocated a spot on the elusive Main Avenue. Blue Forest have certainly grabbed the world's attention this week with the absolutely humongous, magical treehouse on display, which is their biggest one at the show yet. Chris Evans and Mary Berry were even heard talking about it on the Chris Evans Breakfast Show.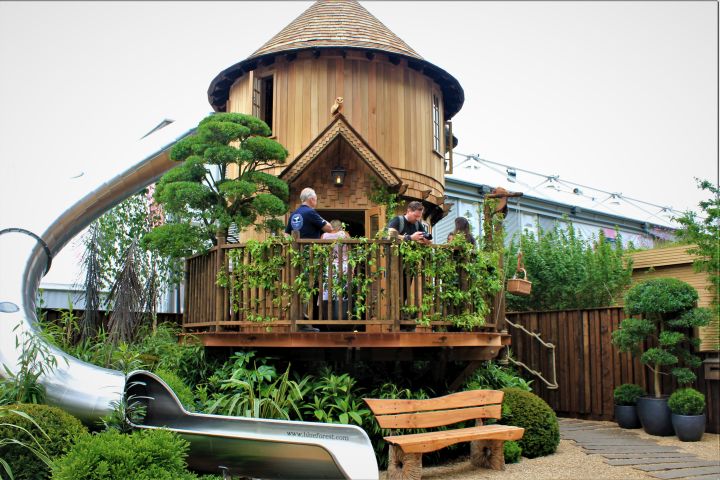 We were delighted to hear that an exiciting customer had recommended us to Blue Forest, so they approached our team at the CED Stone Landscape - London East depot, who helped them select our Buff Flint Gravel. Blue Forest have designed an engaging and interactive tradestand, with visitors climbing up into the treehouse and shooting down the stainless steel slide, so we suggested that the gravel was spread over sheets of our gravel stabilisation system, CEDApath to keep everything neatly in place.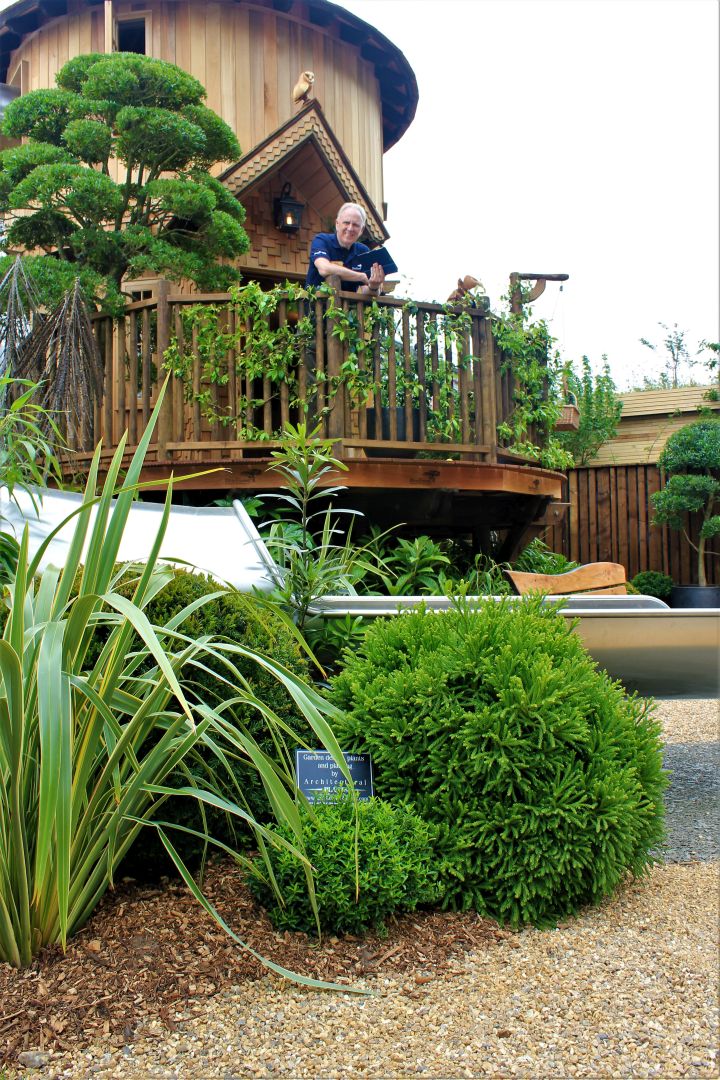 John O'Connor Sculptures - Awarded 5*
Another great year for contemporary artist John O'Connor, who creates beautiful bronze sculptures that 'blend the physical with the emotional'.
We stopped by to have a chat with John about the concepts behind his brilliant tradestand; 'We wanted my design to be about balance – with long grass banks balancing out the linear, minimal lines of the dark walls.' Small, white flowers are dotted amongst the grass to help break up the fresh green tones.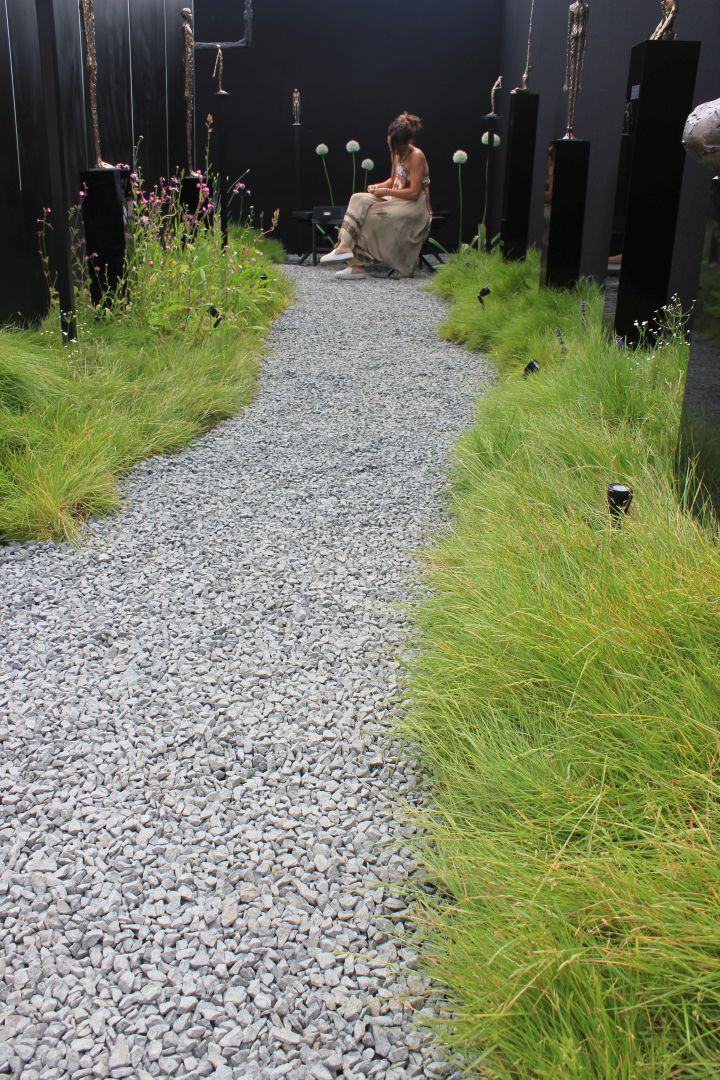 CED were delighted to donate our Black Basalt aggregate to John's stand, with the angular shape perfectly complementing the shaggy, rough textures.
'I liked the idea of the aggregate turning a deep black shade in the rain, helping it to match with the dark black wall,' said John.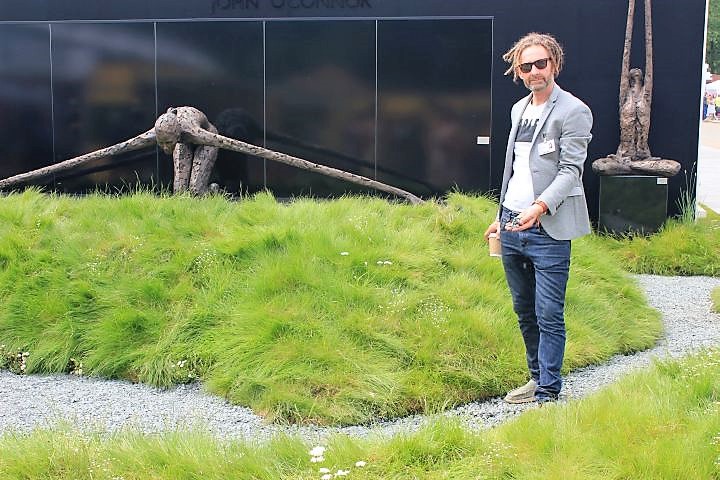 Pure Greenhouse- Awarded 3*
The makers behind the world's first frameless greenhouse brought their innovative product back to Chelsea again this year, after bagging the RHS Chelsea Garden Product Of The Year 2017.
By giving the classic greenhouse a complete re-vamp, founders Matt Howis and Joe Ellis have made their Pure Greenhouses the new must-have for any stylish garden design.
Once again we were delighted to support Matt and Joe, and donated our Silver Grey Granite Plank Paving along with our Scottish Beach Cobbles to the Pure Greenhouse Tradestand.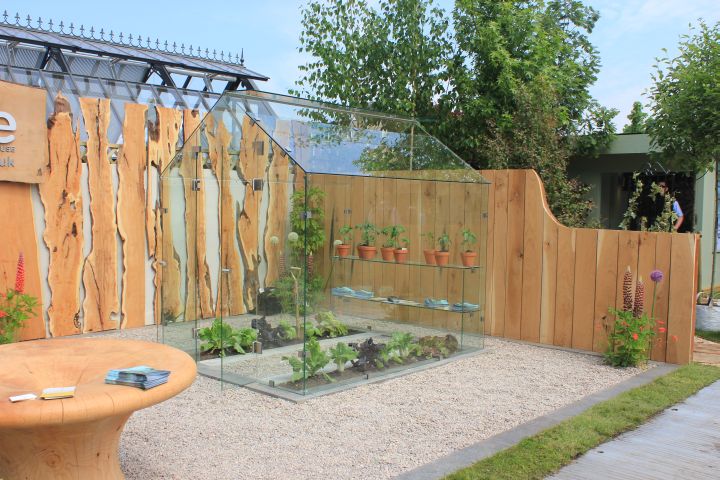 This news posted on 23rd May 2018