30 Years Supplying Stone To RHS Chelsea Flower Show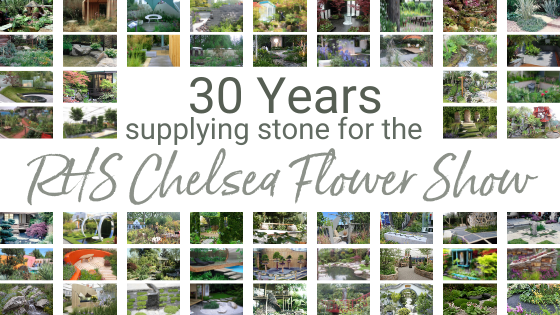 The RHS Chelsea Flower Show has the reputation of being the most prestigious and inspirational show of its kind in the World and over the last 100+ years, has become the premier show for designers, contractors and suppliers to showcase new ideas, products and skills by pushing the boundaries of product use, design and horticultural excellence year on year.
Spanning 23 acres, it takes 800 people 33 days to build the show which plays host to 500 exhibitors and gardens, over 100 Great Pavilion exhibitions and around 270 stands. And with 165,000 visitors each year, it's not surprising that the cancellation of this year's show, the first since WW2, has left many with a great big RHS Chelsea Flower Show hole in their hearts and on their calendar.
Here at CED Stone, we are also feeling the Chelsea blues having been involved either sponsoring gardens or supplying stone to the show for the last 30 years. So to help fill that void we're taking a trip down memory lane exploring the archives and remembering some of the incredible gardens we've supplied stone to over the years.
Starting, with the first, back in 1989 when we supplied Reclaimed Yorkstone for a garden designed by the internationally acclaimed garden designer and author David Stevens.
The garden won gold and was awarded the Wilkinson Sword Trophy of Honour for Best Garden in the show, as did his 1990 entry which also featured Reclaimed Yorkstone. In subsequent years we sourced stone for David's gardens entered in the 'rock garden category' as pictured below.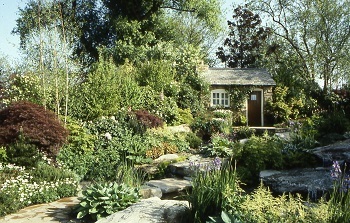 In 1993 we supplied materials for garden designer Julie Toll's gold-winning Seaside Garden. Materials included some sea-worn Caithness stone, which story has it our then Geologist Patrick Parker found and retrieved from a redundant small pier. Julie's garden also somewhat controversially scooped the Wilkinson Sword Trophy of Honour for Best Garden in show. It was described by David Stevens as 'a sand dune garden that was well planted and beautiful. However, it was described by others as 'not a garden, just weeds'. For the next 2 years, no best in show award was given.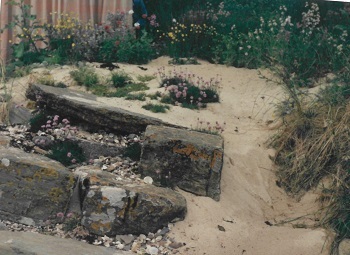 In 1995 our materials featured in a Japanese show garden for the first time, when Koji Ninomiya took boulders for his Honda Tea Party garden and won the first-ever Japanese gold.
With stock ranging from feature stones and boulders to aggregates and bespoke, we are in the ideal position to supply to Japanese gardens and have supplied to many over the last 30 years including; The 2004 gold-winning Shizen- The Japanese Way garden designed by Maureen Busby and built by the Japanese Garden Society.
Also the World Of Koi Garden. RHS Chelsea's 'no livestock' rule is waived only on exceptional occasions and in 2002, 25 koi carp were permitted for the World of Koi garden designed by Stephen Hickling. The first livestock of any kind at the Flower Show, the £30,000 carp even had their own security guard.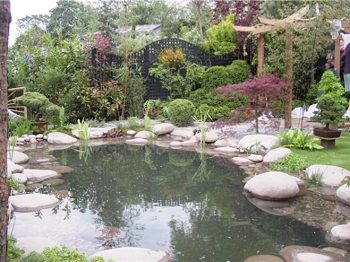 Of course, we can't talk Japanese gardens without mentioning renowned garden designer, Kazuyuki Ishihara. The Chelsea stalwart has designed 14 gardens throughout the years, and we are very proud to have had materials feature in almost every one of his fantastic creations.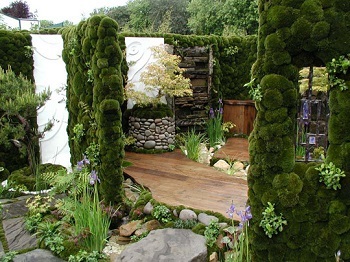 Pictured below is O-Mo-Te-Na-Shi No NIWA -The Japanese Hospitality Garden. As well as forming vast numbers of moss balls by hand for this garden, Ishihara's talented team also hand-painted each of the stones at the front of the garden, to make them look glossy and wet.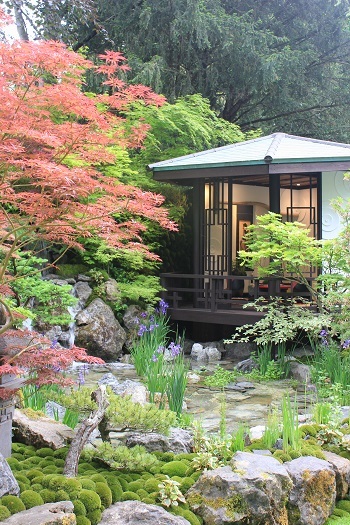 CED Stone Group have a long-running history with the Japanese Garden Society and we have come to understand the needs of natural stone within these outstandingly relaxing spaces. Our materials aren't only suited to Japanese gardens. Over the years, designers have used our materials to portray a range of diverse landscapes for gardens depicting countries such as Kranji,...
Snowdonia,...
Mexico,...
Chile,...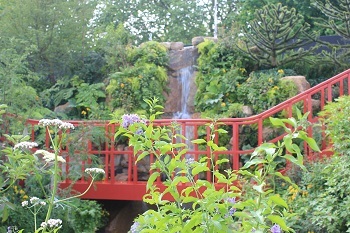 China,...
and Australia.
Which brings us to one of the most incredible gardens we've been involved in and a particular favourite of CED's Divisional Director Gary Ewings. Designer Philip Johnson's, The Trailfinders Australian Garden, presented by Flemings.
We were thrilled to be the main supplier to the Trailfinders Australian Garden, tasked with sourcing some incredibly large stones to make Phil's dream garden a reality. Phil and his colleagues David Long and Steven Weber, together with Gary Ewing travelled the length and breadth of Scotland to select the ideal stone for every part of the garden. The stone was brought back to our Scottish depot in Castlecary for a mock build.
Solid days and nights were spent building the garden, carefully placing the boulders and recording their positions ready for the actual build-up at Chelsea. Gary recalls "I had no idea what this would entail, but what unfolded was, in fact, one of the best fortnights I have spent in the industry. Working literally from dawn to dusk, 7 days a week, Scotland and Australia worked as one unit to create Phil's vision." We supplied various materials for the garden including approximately 200 tonnes of Gabbro Boulders and 60 tonnes of Scottish Beach Cobbles and Pebbles and along with Phil and the team we were jumping for joy when the garden was awarded and became the first Australian display to win Best In Show.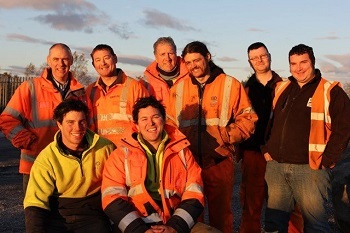 We have since carried out several mock builds. In 2018 helped Jonathan Snow move mountains.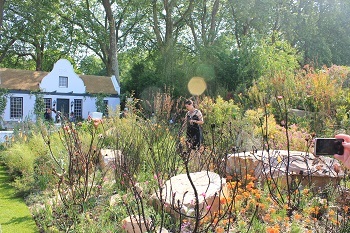 Last year we welcomed Joe Perkins and Outdoor Room's Mark Britton and David Dodd for a mock build of the Facebook Garden.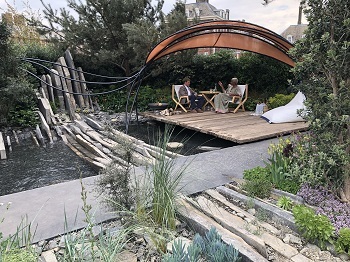 We also hosted Jilayne Rickard's and Cormac Conway for a mock build of Jilayne's CAMFED garden which was designed as part of the charities 25th-anniversary celebrations.
The philanthropic side to Chelsea has in recent years, become a much more integral part of the show as it provides a world-class platform for charities to raise their profiles internationally. Throughout the years we have supported many different Chelsea charity gardens, including 2013's First Touch garden by Patrick Collins.
And last years Family Monsters Garden designed by Alistair Bayford for charity Family Action.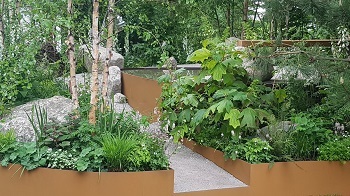 A particular favourite of Michael Heap's was a garden designed by Robert Myers and built by Willerby Landscapes for Cancer Research. The charity's chosen concept of 'Enlighten' was represented as a 'journey' towards calm, order, serenity and rationality at the heart of the space. Michael recalls, 'The 2010 Cancer Research was in some ways the most challenging, but it actually went perfectly. The factory in Yantai, China, did what was asked, and everything went as planned. Seven different colours graduated from black to gold, collected together in one factory and hand-worked to perfection. It really looked as good as expected. In fact, it was so good that many people would not have realised how much of a challenge it was.'
It is the involvement of these charities, often endorsed by celebrities, which help to create the media frenzy that surrounds the show. This, in turn, raises the profile of all the RHS shows and all involved. And in our opinion, enables the industry to show just what can be achieved by top-class design and construction. While at the same time enabling us all to give something back to those less fortunate.
Sponsors also use RHS Chelsea Flower Show as a platform to share milestones and celebrate. We enjoyed celebrating Fortnum & Mason's tercentenary back in 2007.
We supported Perennial in both their 175th-anniversary and 180th-anniversary gardens.
And in 2014 we joined Alan Titchmarsh, Kate Gould, and the RHS in a double celebration, the 50th anniversary of RHS Britain in Bloom and Alan's own 50 years in horticulture.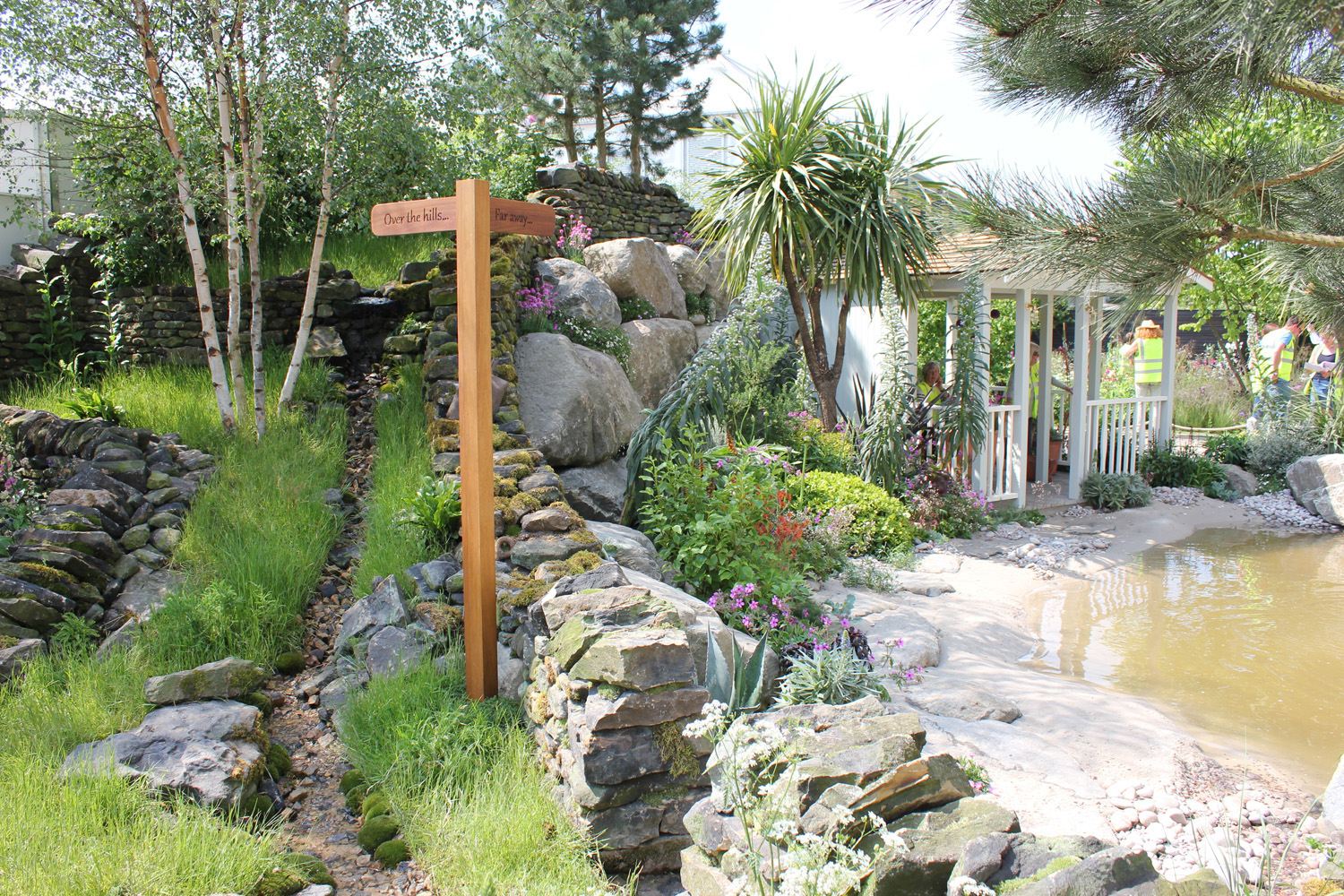 In 2015, 2016 and 2017 consecutively CED Stone Group, or CED Natural Stone Ltd back then, had the pleasure of sponsoring the Pro-Landscaper RHS Chelsea Flower Show supplements.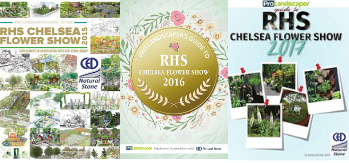 Whether supplying a small bag of pebbles or creating Bespoke items we delight in seeing our products feature in the fantastic creations which can only be seen at a show like the RHS Chelsea Flower Show. But of course, we did not always know about the use of our stone in gardens. Michael remembers, 'Walking around one Sunday evening as they were finishing off, it was remarkable how many gardens had bulk bags with our name upon them. Not just gardens but many of the trade stands as well.'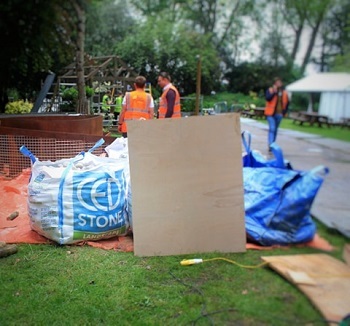 In the beginning, it was the fact that we loaned materials that enabled designers to include them and led to a surge in the use of stone due to the publicity. And now…, it is our commitment to excellence and ensuring that clients are never let down, get the highest levels of service and are supplied the best quality and largest range of natural stone to choose from in the industry.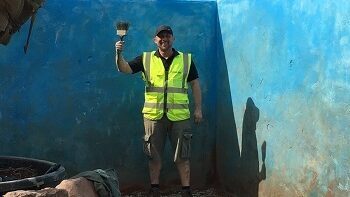 For many, Chelsea is almost a swear word, but for us, it is an inspiration. From supplying products to helping in the construction of gardens, we have worked with some of the best designers and contractors in the world. Helping them achieve their vision through our extensive product and technical knowledge and design and installation advice. We understand that hard landscaping plays a vital role in garden design and it is quite often the skeleton upon which great gardens are built. Maybe this is why we have, for the last thirty years, been able to help inspire and create some of the most spectacular gardens at "Chelsea" and we hope to continue to do so for the next thirty.
Head to our Gallery to view all these gardens and more.
This news posted on 14th May 2020