A Summer Retreat at Hampton Court Palace Flower Show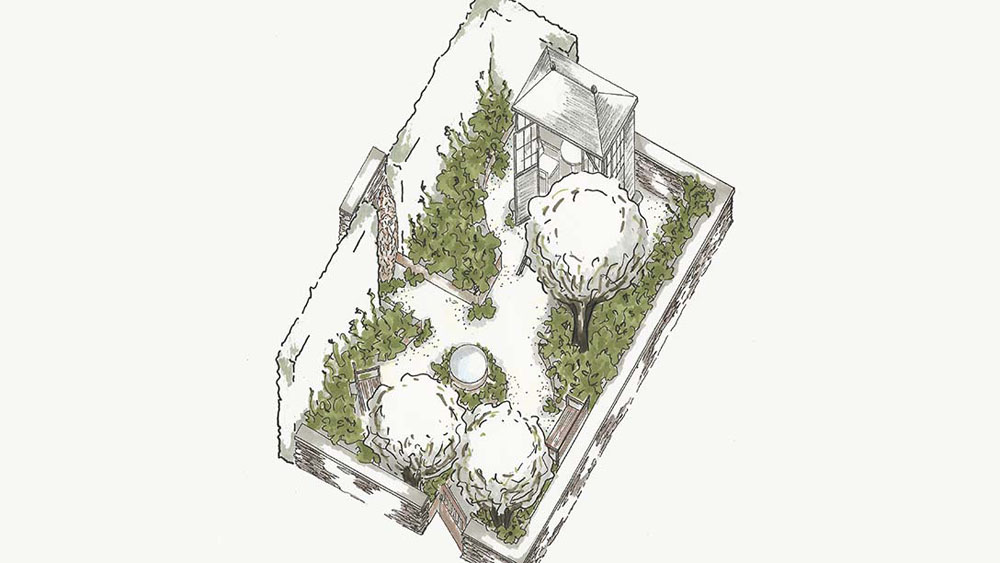 CED Stone Group have been sponsoring and supplying RHS show gardens for over 27 years. We are proud to once again be involved with numerous show gardens at this year's Hampton Court Palace Flower Show, where a vast range of our materials, stone and services can be seen.
The CCLA: Summer Retreat is one of these gardens, designed by Amanda Waring and Laura Arison. Both Amanda and Laura have a wealth of knowledge and experience, including RHS flower shows, having won Best Show Garden and a Gold medal in 2014 and a Silver Gilt in 2015 for their Maggie's Cancer Care Charity show gardens, which featured at RHS Flower Show, Tatton Park.
Our Irish and West Drayton depots will be supplying a mixture of Black Paddlestones, Black Basalt Coping and Rosemary Quartz Aggregate, with RHS award winning contractors, Arun Landscapes tackling the build.
Sponsors, CCLA, are London-based investment bankers who specialise in managing investments for charities, religious organisations and the public sector. Cited as one of the UK's largest charity fund managers by the latest Charity Finance Survey, CCLA requested a simple yet stylish British garden with take home ideas.
The Arts & Crafts Movement of the late 19th Century inspires the gardens design, with it being created to either be used as a separate garden room adjoined to a larger space, or a garden entity in its own right.
The Arts & Crafts movement, which went international, originated in Britain in 1880 and spread across Europe and America, lasting until 1910. It wasn't until 1920, however, that the principles emerged in Japan, truly spreading the ethos across the globe. The movement stood for traditional craftsmanship using simple forms, including the use of medieval, romantic or even folk styles of decoration.
Although the movement initially started within decorative and fine arts, influential horticulturist and garden designer, Gertrude Jekyll, applied the principles to garden design. Closely working with English architect, Sir Edwin Lutyens, for whose projects she created numerous landscapes, they together were at the forefront of the movement in the late 19th and early 20th centuries in England. Applying the principles to their designs by the use of traditional materials and working methods, there was also a push to return to regionalism and craftsmanship.
This same ethos and principle can be seen in Amanda's and Laura's design, with a naturalistic planting style complemented by a freedom of growth within the boarders. CED's Black Paddlestones and Black Basalt Copings will be used to create feature walls within the garden, along with the boundary walls which contains the garden, representing the craftsmanship of dry-stone walling.
A raised bespoke Summer House will feature within the garden, offering a place to sit, relax and reflect, providing a different perspective of the garden. Leading the way through the planting is a pathway made from our Rosemary Quartz Aggregate, a beautiful mix of light creams and greys with hints of pink – helping to achieve the romantic style associated with the Arts & Crafts movement.
Designers, Amanda and Laura state:
"A Summer Retreat garden embraces the values of simplicity, elegance, style and British craftsmanship, making our collaboration with CED an obvious choice."
The garden is open to viewing during the show, which runs from 05th July - 10th July 2016.
This news posted on 27th Jun 2016