'A View Within' at RHS Flower Show Tatton Park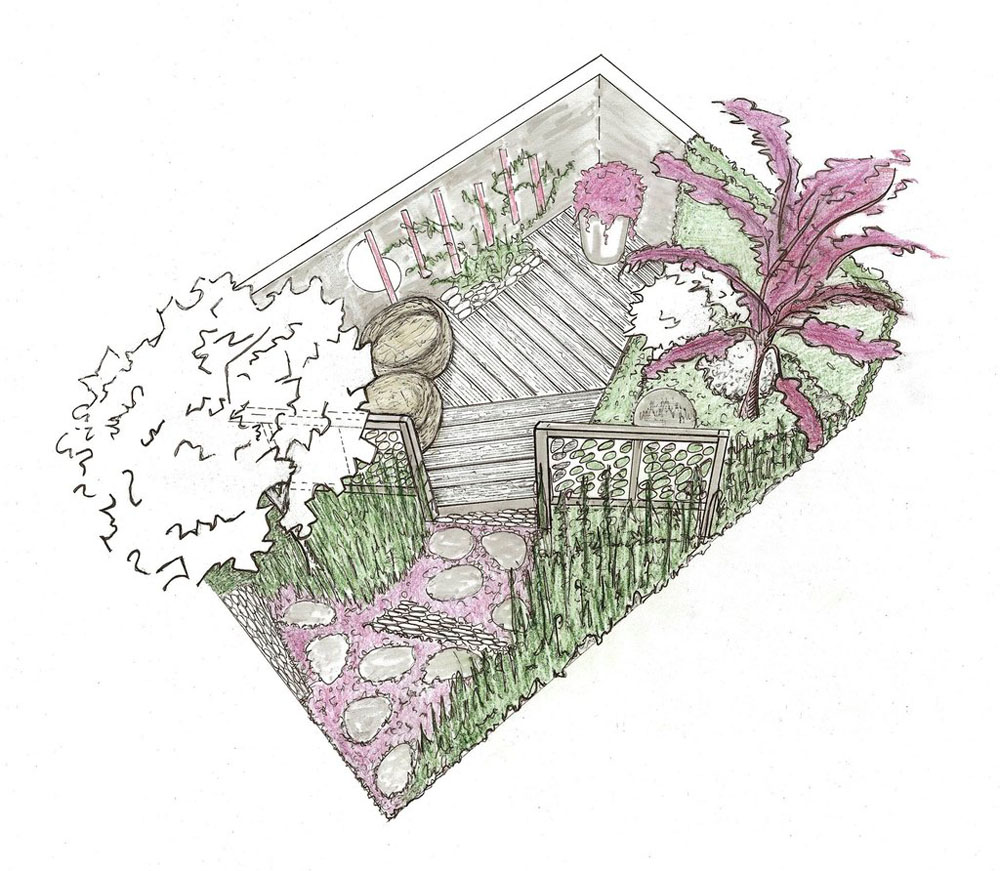 A tranquil garden designed for a young professional couple living in a new build property, influenced by Japanese art and architecture, completed with a quiet reading corner and year round privacy. It sounds idyllic.
This is what designer Eileen Wood, together with contractors The Potting Sheds, are bringing to this year's RHS Flower Show Tatton Park. Returning for its 17th year, the show is expected to attract 80,000 visitors through its gates.
The 'A View Within' garden has an overarching influence of generational gardening, using plants, art and acquisitions to depict snapshots of 'old friends' delivering memories such as childhood flowers, an old wash pot, herbs, hardy geraniums, art and a tree given to celebrate a new home.
Generational gardening is about connecting with and encouraging the next generation. It is this action of connecting with each other through garden activities, of sharing experiences and knowledge that develops skills and strengthens confidence. These positive actions and effects reflects the aims of Diabetes 16 – 25; a new resource for young people living with type 1 diabetes, a cause that this garden is supporting.
CED Stone Group are pleased to be supporting the natural stone elements to this garden, which includes a creative stepping stone path, 'The Three Generations of Man'. The path welcomes visitors to the garden and purposefully slows them, in a similar way to that of the tradition of journeying to a Japanese tea-house would. Much like other elements within the garden, the stone path has Japanese influences, specifically world famous painting 'The Great Wave' by Japanese artist Hokusai.
The stepping stones lead past decorative screens, which provide privacy all year round. They have been designed as a contemporary Western interpretation of sodi-gaki – traditionally a bamboo fence found within Japanese gardens. On the over side of the screens is a contemporary space with a shou sugi ban style decked terrace, providing a quiet reading corner – a place where nature can 'wash' the senses. The decking specified is made from a composite material, allowing for easy maintenance and providing an ideal spot for catching the evening sun and enjoying the scent of aromatic herbs.
With a wide range of products stocked across all of our depots, the perfect product is sure to be found to fit a design brief. For the 'A View Within' garden, our Green Paddlestones and Porphyry Plattens were chosen, always popular choices for Japanese themed gardens.
Not only do our Paddlestones make a striking addition to any garden, they can be used in a variety of ways including laid flat as stepping stones or as walling, which provides an ideal micro habitat with lots of small holes and cracks for insects. Consisting of purplish brown and bluish grey tones, our Porphyry Plattens are naturally smooth, rounded and are generally flat. Like our Paddlestones, they also make ideal stepping stones, either in a shallow pond, stream or a dry riverbed.
Speaking of her experience, designer Eileen Woods states:
"CED have gone the extra mile for a colleague, which I find reassuring. From day one when I contacted them, they provided great product knowledge and support for my project. It was also great to be able to visit the depot and handle the materials."
CED Stone Group are experienced in supplying to Japanese influenced gardens, including show gardens (for example BALI's recent 'Tea For Two' garden which won Premier Gold and Best in Show) and gardens such as Kyoto Gardens in Holland Park. Our knowledge and support extends to the Japanese Garden Society with Chairman, Michael Heap, in particular, having a vast history with the society.
'A View Within' will available for visitors to enjoy at the RHS Flower Show Tatton Park which runs from 20th - 24th July 2016.
This news posted on 21st Jul 2016