APL Networking Event at CED Natural Stone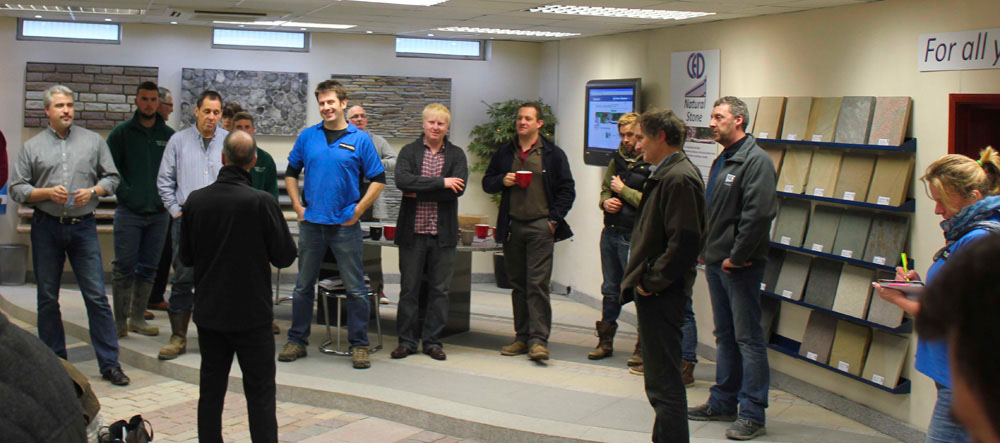 APL Networking Event at CED Natural Stone
CED Ltd have just had the pleasure of hosting it's first APL Cluster Group at our Head Office in West Thurrock on Tuesday 10th December 2013. The event which was organised by Phil Tremayne, regional account manager of theHorticultural Trades Association & Association of Professional Landscapers, started at 2pm with an informal meet and greet by various members of our sales and marketing team.

Once everyone had arrived our Managing Director, Giles Heap and other members of the CED team took the attendees for a tour of our 4 acre yard, showing them our extensive stock range and some of our many and unusual new products available at the moment, including an introduction and demonstration by our Southern Area Sales Manager, Howard White of our impressive robotic bagging system.
Once back in the warm and after some nibbles and a hot drink Giles was ready to begin his presentation. This was an informal Q&A session that certainly got everyone talking. Various members had prepared questions prior to the event and other questions developed as the session went on. Popular topics included technical advice, frost resistance, butt jointing, sealing and sourcing. A PDF will be available, with all questions and answers, in due course on our website.
We would like to thank all who attended especially Phil Tremayne for his help with organising this event.
Feedback has been very positive and is much appreciated. We hope to hold further events in 2014 and welcome any comments and suggestions you may have with regards to content or subject matter.
Thanks all – a really good event – nicely informal, very informative and slightly mind boggling with the depth of range of materials. Liz Hughes. BSc Hort. (Hons)
This news posted on 28th Dec 2013