CED Stone Principal Winners At BALI Awards 2020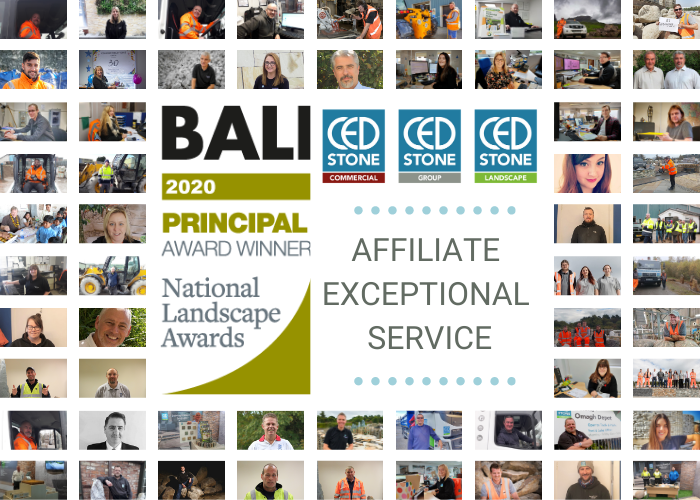 The British Association of Landscape Industries' (BALI) prestigious landscaping Awards returned on Friday 4th December 2020, held as a special virtual broadcast for the first time in the awards 44-year history! The annual BALI National Landscape Awards held annually is the largest landscaping Awards ceremony in Europe with over 1,000 BALI members, guests and VIPs in attendance, and, this year was no exception with well over 1,000 people watching the virtual ceremony.
CED Stone are regular sponsors of the event, this year sponsoring the digital programme. This year, however, was extra-special for our company; After entering the awards for the first time ever, we were awarded Principal winners of the BALI Affiliate Exceptional Service award!
The award is in recognition of the exceptional service demonstrated by our team here at CED Stone Group. The category is judged across fourteen different criteria including, exceeding customer expectations, how our products reflect the needs of the industry and our customers, charitable activity, customer retention and exceptional communication from enquiry to project completion.
Giles Heap MD states,
To win a BALI award is a little like winning an International Landscaping 'Oscar', it is one of the highest accolades that any company in the landscape industry can be awarded. Here at CED Stone, we pride ourselves on being a family-run organisation with every member of the team working together and contributing their expertise to ensure that customers receive the best experience with us. It is our teams' dedication to our vision that is responsible for the ethos and ethics that this company is known and respected for. Each member of our CED Stone Group team is responsible for winning this award, and I cannot stress how proud I am of them all.
We were also delighted to see customers of ours receiving awards for projects where our products feature; idverde was named Principal Winners of the Community and Schools Development category with entry Holland Park Adventure Playground a project which featured a range of CED Stone products including cobbles and CEDEC footpath gravel.
First-time entrant Jilayne Rickards was awarded no less than four BALI Awards for The Urban Retreat, including the Registered Designer and Registered Contractor Joint Submission with Landscaping Solutions. The ethos of The Urban Retreat – London was to reuse and recycle as much as possible in order to reduce its carbon footprint. CED Stone supplied several products to this project including reclaimed slate.
And Maylim were announced Principal Winners of the award for Hard Landscaping Construction (non-domestic) – Over £500K with their entry Greenford Quay Phase 1B. Materials supplied by our Commercial Division for this project include granite setts in a variety of colours and the beautiful bespoke granite amphitheatre seating.
We would like to take this opportunity to congratulate all of this year's 70 BALI Award winners and also the BALI Awards team for carrying 'on with the show' and hosting another fantastic awards ceremony, hopefully we'll see you all in person at the BALI Awards 2021.
To view the 2020 BALI National Landscape Award winners click here.
This news posted on 5th Dec 2020