Bespoke Hexagon Porcelain Paving: Kate Gould's City Living Wins Chelsea Gold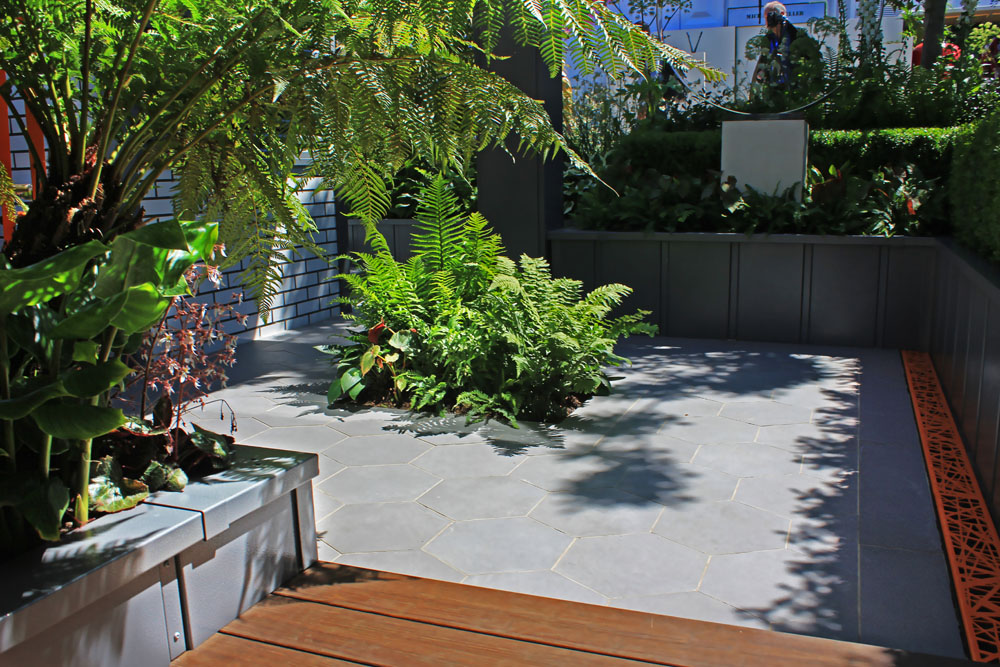 Designer Kate Gould's City Living has won Best Fresh Garden at RHS Chelsea Flower Show 2017. CED Stone Group were delighted to supply the bespoke hexagon-cut EMPEROR Porcelain Paving from the Urban range in Manhattan, which Kate used to make up the striking floor design on the lower level of the garden.
A contemporary scheme that re-defines urban outdoor design, City Living is a great concept for any high-rise city apartment block, either new build or old. Showing how typical square buildings can be easily transformed with the use of green outdoor spaces, City Living incorporates hardy, tropical and shade-tolerant plants, sheltered seating areas and calming water features together into one concept.
Set across three different levels with a mezzanine floor, the garden includes a stairwell with cantilevered steps and perforated metal screen, which is clad in light-transmitting concrete to create a bright and airy feel within the small space. Light filters down to the lower levels so that each area can be gardened and utilised for creation. Green walls and water features are combined with contemporary orange and grey textiles to create a stylish space that merges in with its surroundings.
Kate has paid particular attention to how the garden might be lit in the evenings.Light-reflecting concrete was specially developed for one side wall, transforming it into an enchanting, twinkling design feature once the lights come on. Kate uses a real variety of different materials and textures across the different levels, using wood decking, steel and textiles.
Continuing the modern patterns throughout the scheme, Kate came to CED for the custom-made hexagon EMPEROR Porcelain Paving tiles from the Urban range in Manhattan which she used in the ground level of her design. CED worked with Kate to specify the best product possible for her garden, and the selection was made based on the colour of the paving, as well as the suitability for cutting tight hexagons using water jet technology to create a neat and fine honeycomb effect. A mid-toned grey material with cooler shades running through, it was a perfect choice to use as a neutral yet contemporary tile for the striking geometric pattern.
Silver Grey Ganite Aggregate from CED were also used around some of the planting and Black Polished Pebbles were submerged within the water features to create a natural effect. By bringing a bit of nature to a concrete cityscape and providing a valuable habitat for wildlife and birds, the garden creates a 'green' route to and from the residents house – keeping them connected to the outside as much as possible. You can go see City Living at the RHS Chelsea Flower Show until Saturday 27th May.
This news posted on 24th May 2017