CED Helps RHS Chelsea Breast Cancer Now Garden Designer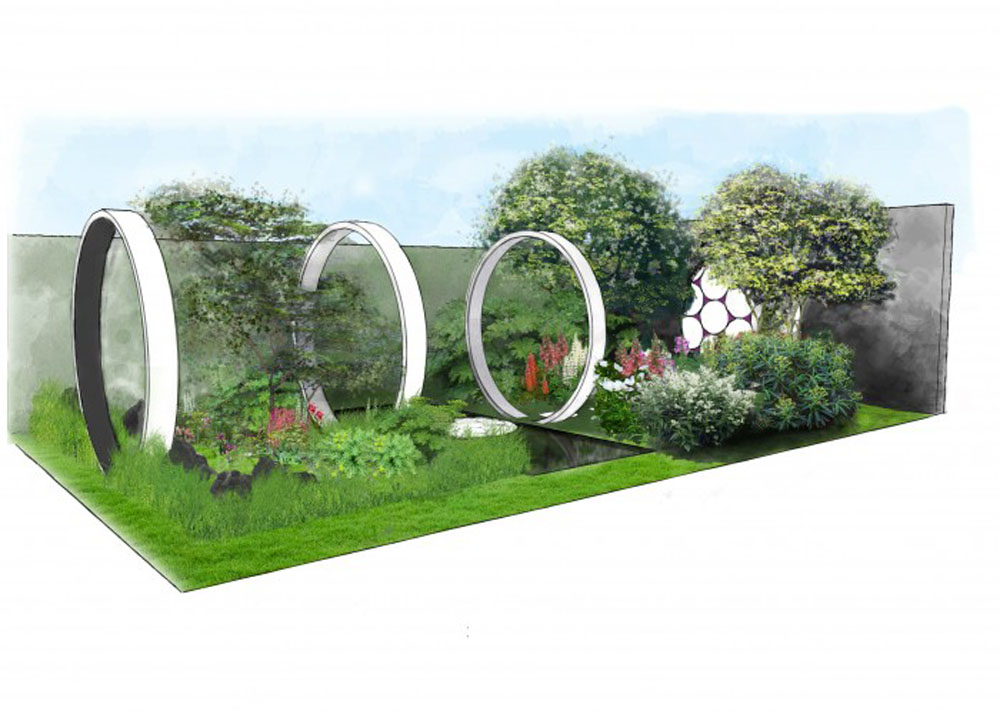 CED are proud to be donating materials for 'Through The Microscope: The Breast Cancer Now Garden' at this year's RHS Chelsea Flower Show.
Working closely with garden designer Ruth Willmott and her team, CED are delighted to contribute to a show garden that draws attention to the vital work that goes on continuously behind the scenes to beat the heart-breaking disease. Breast cancer is the most common cancer in the UK and will affect one in every eight women at some point in their lifetime. Nearly 700,000 people living in the UK have gone through the experience of having a diagnosis.
Inspired by the dedicated work of the 400 Breast Cancer Now funded lab researchers, the garden represents the process of looking through a microscope. Three beautifully aligned metal circles represent the lenses of a microscope, to focus on a microscope 'slide' at the back of the garden and a central cluster of magnified healthy human cells.
The garden looks to a future where all cells viewed through the microscope are healthy. Ruth has cleverly used the planting scheme to enhance the 'magnified' concept, by using larger plants at the front and smaller plants at the back which are similar in form and structure or within plant genus.
By focusing on the pro-active efforts being made to fight breast-cancer, Ruth hopes that the garden will bring hope to those who have been affected by the disease, and will generate awareness for the charity Breast Cancer Now. As an important part of her garden's message, Ruth approached CED looking for dark-coloured feature stones to sit amongst the grasses and planting at the front of the garden, and represent 'cancer cells'. On arrival, Ruth had the idea of using slate due to its dark colour and jagged texture, but after walking around the yard with Managing Director Giles Heap, she selected six Firebird Gneiss rockery stones which CED will provide as a donation.
'This is a perfect example of why its best to work with a real stone specialist. Giles was able to really understand the concepts we wanted to interpret in our design, and knew exactly how all the different types of stone might perform within the context of our garden. The Firebird stones ended up being the perfect selection because they have the craggy, irregular texture we were looking for as well as the dark colour. However they take on an even darker stain when washed down in the rain, with shots of pink and ochre running through – it was this multi-dimensional colour aspect that made the rock perfect for the garden's concept. The blush tones in the rocks work well with the dark back wall, and also complement the wider flower scheme of magenta and coppery colours. But more importantly from a metaphorical aspect, the fleshy pinks running through the 'cancer cells' represent the remnants of the healthy state the cells would have once been in – it reflects muscle tissue and brings another level to the garden's concept.' - Ruth Willmott - Breast Cancer Now Garden Designer
Built by The Outdoor Room, the 'Through The Microscope: The Breast Cancer Now Garden' will be in the Fresh area of the RHS Chelsea Flower Show, at stand FR89 from the 23rd - 27th May 2017. For more information about Firestone or any other natural stone materials, contact the sales team by emailing .(JavaScript must be enabled to view this email address)
This news posted on 11th May 2017