CED Stone Group's products feature heavily among the winners at RHS Chelsea Flower Show 2014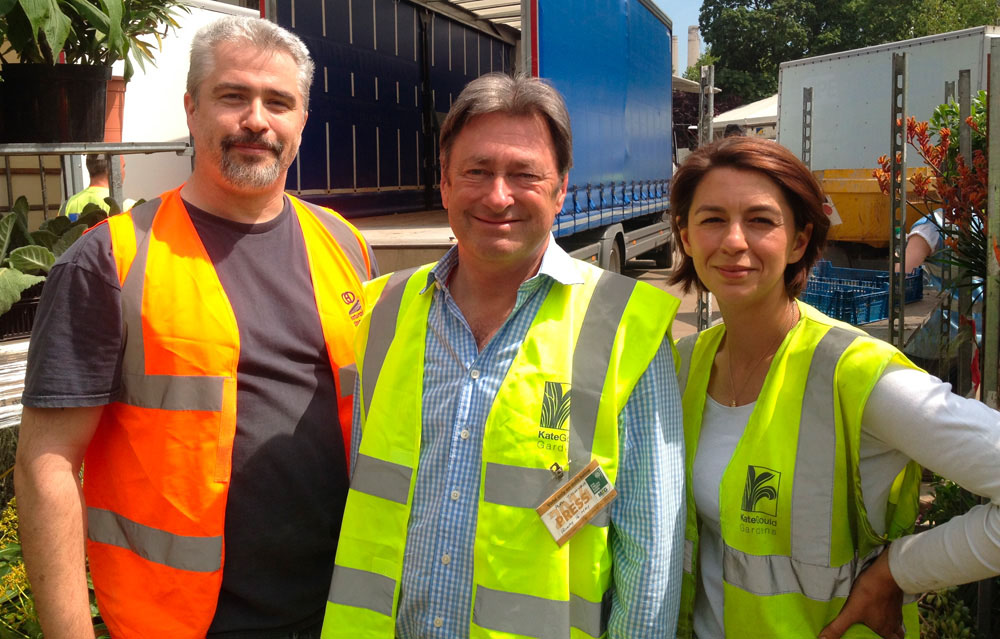 Natural stone supplier, CED Stone Group, was proud to have products featured in a range of award-winning gardens at this year's Chelsea Flower Show at the Royal Hospital, Chelsea. Giles meets Alan Titchmarsh
Expert natural stone supplier, CED Stone Group, supplied 10 gardens at this year's RHS Chelsea Flower Show with natural stone products and paving. Many of the gardens they supplied won awards at the famous annual flower show, which is sponsored by the Royal Horticultural Society and is considered to be one of the most prestigious events of its kind.
"We are immensely proud and very fortunate to have been, yet again, heavily involved in so many great gardens and designs. With 3 gold medals, 3 silver medals and our official support of Perennial Gardeners Royal Benevolent Society this year, Chelsea 2014 has proven to be one of the best yet. Our commitment to excellence ensures that our clients are never let down, get the highest levels of service and are supplied the best quality and largest range of natural stone to choose from in the industry." said Giles Heap, Managing Director of CED Stone Group Ltd.

Among the garden designs that featured natural stone products from CED was multi award winner The Minds Eye Garden, designed by LDC Design, which won Gold, Best Fresh Garden and the BBC/People's Choice Award in the Fresh Garden category. CED supplied all the stone elements to The Minds Eye Garden including granite paving, benches, wall blocks with various textures, and granite aggregate

A selection of the wide range of products CED has available was on display at the show across a variety of show gardens and trade stands. For example, Cathedral Sandstone, Pearly Quartz Pebbles and Scottish Beach Cobbles adorned Kazuyuki Ishihara's Togenkyo – A Paradise on Earth garden, which won Gold & Best Garden in the Artisan Garden category; and Crushed White Marble embellished London Square, designed by Jo Thompson, which also won Gold, in the Fresh Garden category.
CED also supplied the following gardens with natural stone materials:
From the Moors to the Sea – A Celebration of RHS Britain in Bloom.
Designed by Alan Titchmarsh and Kate Gould.
CED materials featured: Gabbro Boulders, Golden Amber Footpath Gravel, Play Sand, White Sand, Scottish Beach Cobbles and Scottish Beach Pebbles.
A Garden for First Touch at St Georges – Show Garden Award – Silver-Gilt Flora.Designed by Patrick Collins.
CED materials featured: Scottish Beach Pebbles, Cotswold Gravel, Yorkstone Walling and Cedec Gold Footpath Gravel.
Perennial Gardeners Royal Benevolent Society – Celebrating 175 years – Great Pavilion Award – Silver Gilt.
Designed by Jo Thompson.
CED materials featured: Gabion Cages from Gabion Inspiration, Yellow Quartz Paddlestones, Cornish Granite Imperial Setts, Cedagravel and Silver Grey Granite Aggregate.
With such a presence at the show, CED is already being approached regarding collaborations for next year's RHS Chelsea Flower Show. As Giles Heap explains, "We are already talking to a number of designers to supply gardens at Chelsea 2015, so watch this space."
This news posted on 28th Jul 2014