CED Supply to Chelsea Flower Show 2013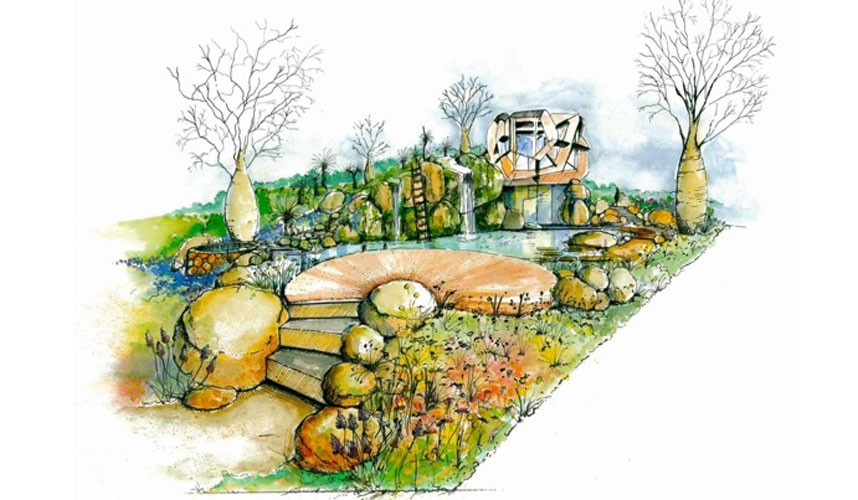 Chelsea Flower Show is fast approaching and what a promising and exciting event it will be. The iconic gardening spectacular is celebrating its 100th year anniversary and CED are pleased to be involved by supplying natural stone to a variety of the gardens.
Our largest supply is going to the Trailfinders Australian Garden where Phillip Johnson is the talented designer on the job. Phil has designed an innovative and sustainable garden that offers a relaxing and inviting ecosystem within an Australian urban environment. To create his dream garden he has spent much time in the UK, with CED, sourcing the materials, please click here for full details. Materials we're supplying include 200 tonnes of gabbro boulders, 60 tonne of Scottish beach cobbles and pebbles, 20-30 tonne of Scottish sandstone walling, 40m2 of Cedagravel and 20m2 of reclaimed yorkstone flags.

The Telegraph Garden is the next garden we are supplying to with black basalt paving and bespoke pieces to create a water and landscape feature. The design is intricate and lots of detail is required in the cutting of the stone. Very careful and precise attention is to be made at the manufacturers to comply with the intricacy of the design and to allow the water to flow as intended. The garden, designed by Christopher Bradley-Hole and being built by Crocus, is a contemporary and contemplative composition that takes inspiration from the making of the English landscape, the Japanese approach to garden design and modern abstract art.
We are supplying over 50m2 of sawn buff yorkstone paving to The Brewin Dolphin Garden, designed by Robert Myers and being built by Willerby Landscapes. The design is inspired by sponsor Brewin Dolphin's company ethos; bespoke and innovative, but firmly rooted in past traditions. The natural yorkstone paving to which we are supplying, together with the planting, timber and water, will create a calm, reflective, private garden space with a simple geometric layout.

The Cloudy Bay Discovery Garden is another garden we're supplying to. Designed by Andrew Wilson and Gavin McWilliam and being built by Garden Link, the garden, much like the vineyard at the heart of its inspiration will be crisp, contemporary and clean. It will appear simple and relaxed but the hard landscaping features in particular require sophisticated levels of engineering in order to appear effortless. We are supplying gabbro boulders, which Andrew, Gavin and Dan Flynn (of Garden Link) personally selected at the CED South East depot. We are also supplying golden amber limestone, which is normally used as a footpath gravel, but for this garden it is being used for the rammed earth walls.
Donegal quartzite crazy paving is being delivered to The Wasteland Garden, designed by Kate Gould and being built by her team of landscapers. The paving is among many 'old' materials to which Kate is giving a new lease of life through being re-worked into a modern garden that is designed for communal use. The garden offers a sense of privacy; there are spaces to sit and relax under the canopy of trees, enveloped by small shrubs and pretty perennials, with the sound of water in the background.

The Sound of Silence garden uses silver grey granite aggregate edged with silver grey granite kerb. Designed by Fernando Gonzalez and built by Solid Surfaces Northwest Ltd, this garden enters in the Fresh Gardens category and is inspired by the austerity of Zen Japanese gardens while using the latest technologies and materials available.
BALI is exhibiting this year on stand FR36 in the Fresh area of the show. The beautiful contemporary stand cum garden, designed by Charlotte Murrell, showcases the design and construction expertise of BALI members. All plants and products being used are kindly being donated by the affiliate members. Our contribution includes black Limestone paving and thin slate Tier panel walling.
We wish each and every garden the very best of luck. CED have proudly been supplying a huge variety of materials to the Chelsea show gardens throughout our many years of trading and we are excited to see what this centenary show brings.
This news posted on 28th May 2013