CED Supports 'Mind Trap' at RHS Chelsea Flower Show 2017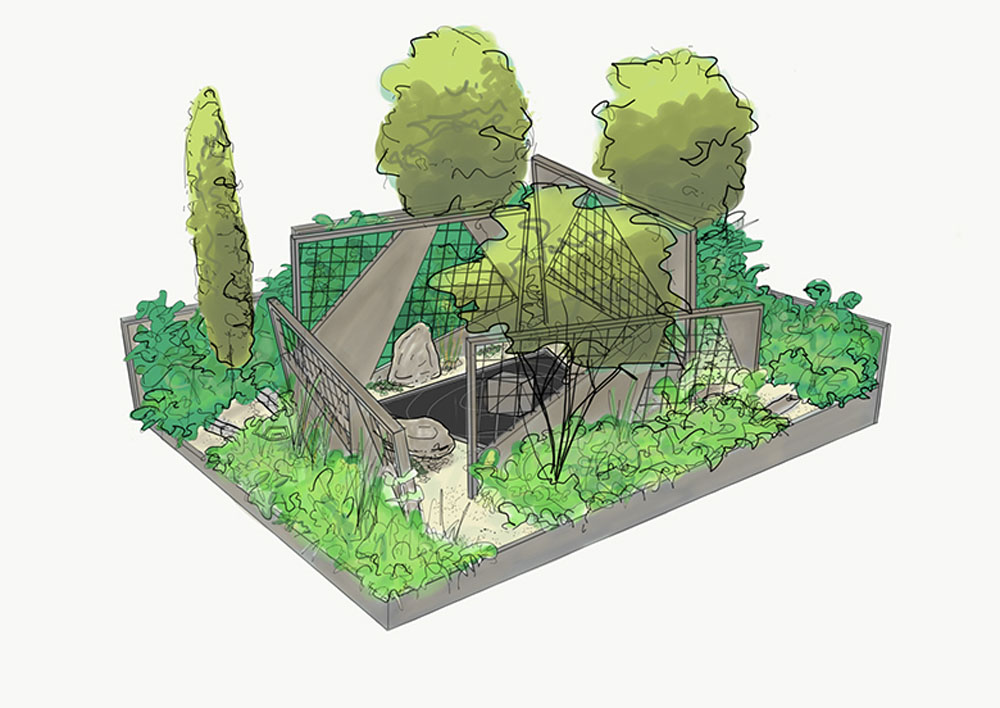 In the UK, depression or anxiety affects 1 in 4 adults. Here's another chilling fact; more than 6,000 suicides are registered in the UK and Ireland every year - but unfortunately despite various campaigns, mental health is still something that people don't like talking about. Drawing inspiration from his own experiences with depression, one designer hopes that his garden will not only raise awareness at the most prestigious horticultural event of the year, but will also bring a little bit of hope and comfort to those currently struggling with similar challenges.
It certainly makes sense, the connection between our well-being and the great outdoors has long been established. But 'Mind Trap' by Ian Price takes things up a level; by boldly interpreting his own struggles, Ian's garden delivers a clear message to those suffering with mental health issues: 'I know how you feel'.
Bringing this message to the biggest flower show in the world, Ian will not only offer understanding and consolidation to those suffering with depression, but he will also help to bring an eye-opening, tangible sense of the disease to those who have not experienced mental health issues. Ian has worked on developing his design for the last few years, and is finally able to bring it to life at this year's RHS Chelsea Flower Show, with green service provider idVerde and the charity Perennial sponsoring the garden. Here at CED Stone Group, we're very excited to be supporting Ian and are proud to be donating materials for his design.
"As a business, our working ethos is that there's no problem too big or too small – we'll try and find a solution for our clients. Unfortunately for many people, the reality is that there's no one easy solution for mental health issues and it's something that affects so many of us. Ian's put a lot of time, work, strength and also vulnerability into this garden, so we're delighted to be supporting him!" - Giles Heap, MD at CED Stone Group
The first Northern Irish designer to exhibit at the show for 30 years, the project has the full backing of Inspire Wellbeing, formerly Northern Ireland Association for Mental Health (NIAMH), which has been helping mental health sufferers for over six decades. This week, its been announced that Mind Trap will be supporting Heads Together the charity responsible for the first mental health London Marathon this year, with The Duke and Duchess of Cambridge and Prince Harry leading the campaign. A conceptual garden that's packed with metaphors and inspired by feelings, you could write whole essays analysing the design's different meanings and interpretations. But we'll keep the description short and hope you'll go and see Mind Trap for yourself!
"Mind Trap is all about different people having different perspectives - everyone will look at things differently. You'll only ever get an insight into how someone else is feeling, you'll never really know what they're experiencing completely in their own head because each person experiences mental health problems differently. Importantly, this garden shows that there are always options for seeking help." - Ian Price, Garden Designer
In the middle of the garden, a seat will sit in the centre of a dark pool. The pool will gently bubble and ripple, you can never see a true reflection of yourself in the broken surface. If you're sitting alone on the seat it will feel like the water completely surrounds you, but in reality there will be a grid hidden immediately under the surface so it's easy to step off. 'Bare' planting, Gabbro and Celtic boulders and four independent walls surround the seat, which protect from the outside world but also trap and imprison. With uneven angles and different heights, they have been cleverly designed to make you feel uncomfortable. Made from a combination of mesh and concrete, they are half transparent, so from the inside you don't quite get a realistic view of the outside world, and the outside world doesn't quite get a realistic view of what's going on inside either.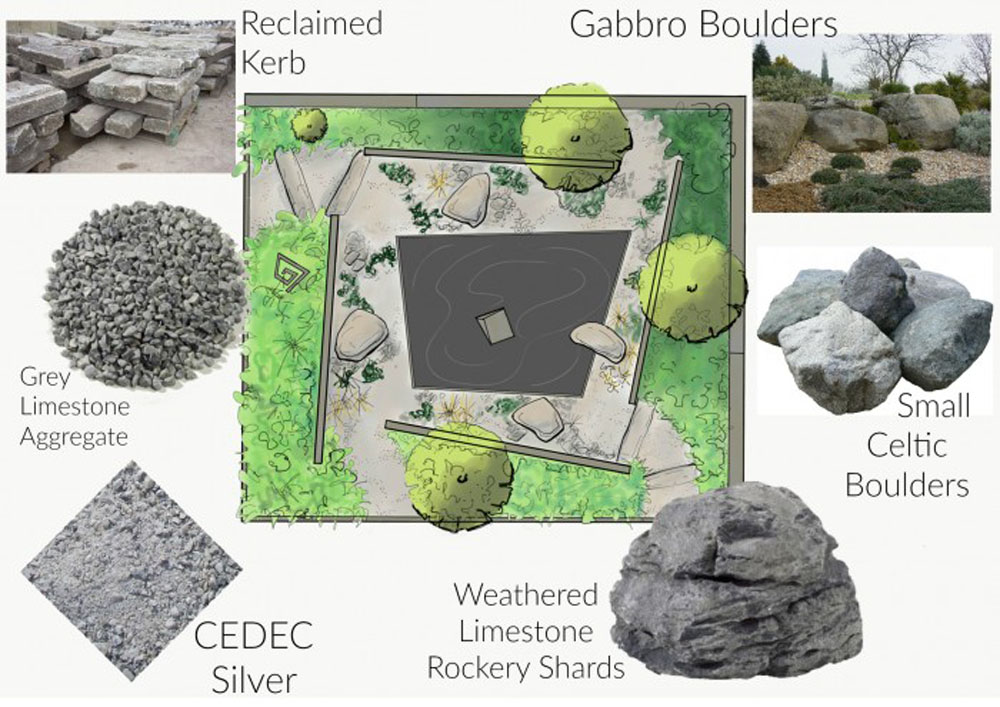 Repeating the pattern, four paths will wind out to various exits from the garden, representing the various ways that someone could seek help and recover. CED helped Ian to specifically select the CEDEC Silver footpath gravel
and
Grey Limestone Aggregate
for the paths which will feel crunchy underfoot; again, to feel a little uncomfortable, a bit wild and uneven. One path will be blocked by a back wall and two will lead to a very high step off the edge of the garden, created using seven pieces of
reclaimed kerb
- only one path leads to an easy way out with gradual stone steps made from
Weathered Limestone rockery
shards.
From the middle of the garden, it will be unclear to see which path is the easy one to take. A spiral water feature chute will be nestled by the easier path, symbolically reminding us that even when we have found a way out, we can always spiral and regress back again.
"CED have been very generous – the support they have given me and my design has been brilliant, with the team donating some of the garden's key conceptual features such as the boulders and CEDEC footpath gravel. They've worked alongside me to make sure that the materials chosen truly reflect the feelings I want my garden to convey – they've understood the importance of my garden's message right from the start". - Ian Price, Garden Designer
You can go and experience Mind Trap at the RHS Chelsea Flower Show on May 23rd – May 27th in the Fresh area of the show, at FR82.
You can also take a look at the blog Ian has been writing on the idVerde website here.
This news posted on 10th May 2017