CED Supports The HTA 'The Great Escape' Garden At RHS Chelsea Flower Show 2018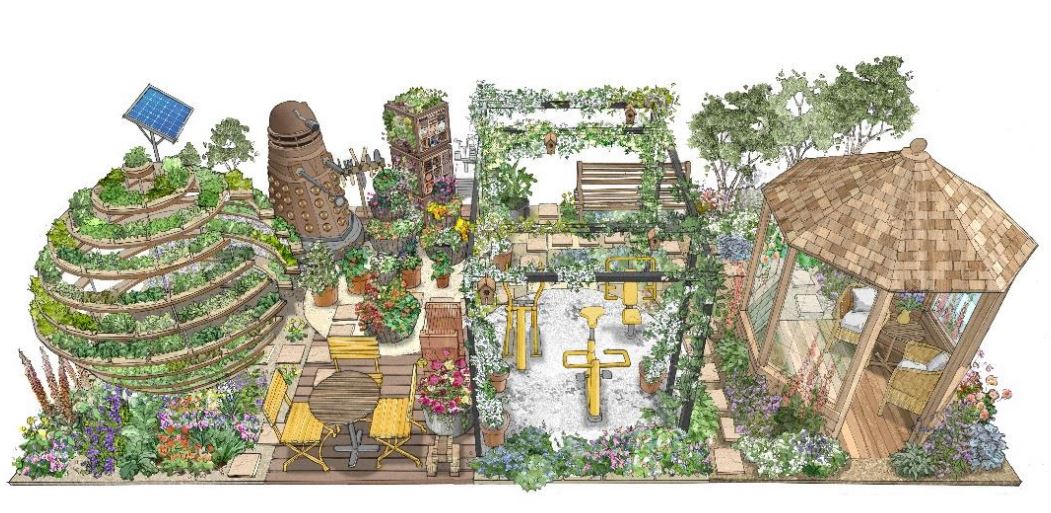 The Horticultural Trades Association (HTA), working on behalf of the UK garden industry, is exhibiting in the Discovery Zone in the Great Pavilion at this year's RHS Chelsea Flower Show. The HTA is the trade association for the UK garden industry; it helps its members to flourish by representing, promoting and developing the garden industry. 'The Great Escape' is both an educational and inspiring garden, helping to demonstrate the benefits of plants, gardening and being outdoors.
The concept for 'The Great Escape' is to highlight some of the ways people of all ages can enjoy their outdoor spaces – for relaxing, growing, playing and engaging with nature. The garden showcases the role of UK garden centres and initiatives such as National Children's Gardening Week, and helps to spread the message about the wider benefits of plants, gardens and gardening.
Designed by Chris Collins (Chris Collins Horticulture) the exhibit helps to show that you really don't have to go far to escape to your outdoor space and enjoy the benefits of being outdoors. Chris has been Head Gardener at Westminster Abbey, and also has his own BBC2 series called 'The Plantsman' as well as being the resident Blue Peter gardener from 2004 – 2013. His garden has four spaces that all seamlessly flow together to create one unified garden, representing the various ways in which your garden can benefit your health.
The Orb Den is a garden kitchen which can propagate and grow micro-crops, featuring a mounted bug hotel, compost robot, solar panel, stepping stones and an alternative water saving device.The Urban Garden is a pot garden that encourages the amateur gardener, featuring tiered hanging baskets, containers, mounted bat box, weather station, hedge hog house, insect tower, barbecue, stepping stones and reconditioned decking.
The Outdoor Gym promotes health and well being for all the family, and includes exercise equipment, containers, a fruit area, mounted tool rack and bird boxes.Finally, the Summer House is a place of serenity and relaxation, where the garden can be enjoyed all year round. This area features a summer house, birch and horn beam trees, planting, seating, bird boxes and camomile lawn spaces.
Adam Taylor, HTA's President, says 'We are excited to be back at the RHS Chelsea Flower Show to showcase the UK's garden industry. This year, situated in the Discovery Zone, we have a great opportunity to educate, engage and inspire the public on the benefits of plants and gardening.'
CED were delighted to support our friends at the HTA by donating our Grey Sawn Sandstone paving to 'The Great Escape'. If you are planning on designing a garden for an event and would like to discuss the possibility of using hard landscaping products from CED Stone Landscape, then contact the team and we will do our best to support you.
This news posted on 27th May 2018