COVID - 19 - Statement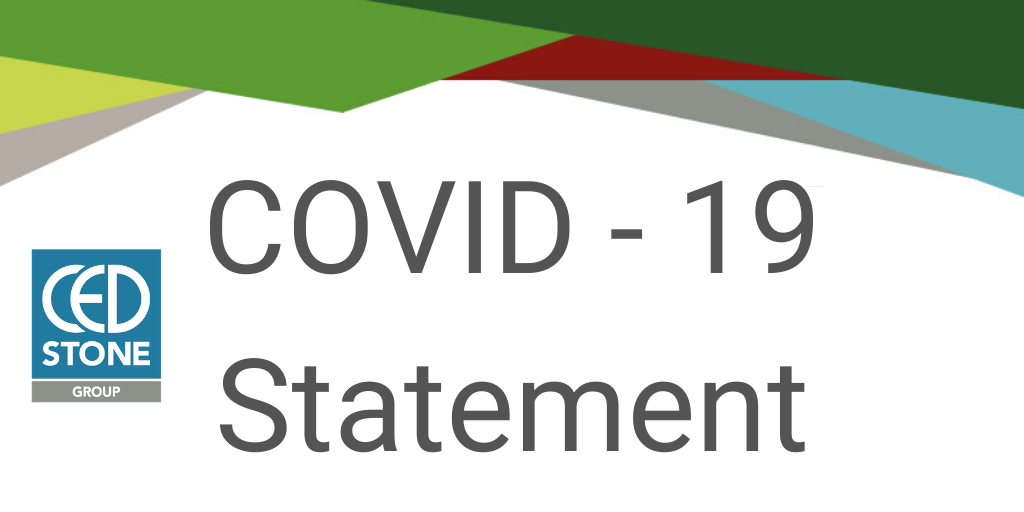 At CED Stone Group, our priority as we respond to COVID-19 continues to be the safety and wellbeing of our colleagues, clients and the broader community. On the 27th March, the decision was taken to temporarily close our nationwide depots. We know many of our customers are still working and so, in the past week we have adapted the way we operate our business. We have made these changes so that we may continue to meet our customers' needs whilst keeping our colleagues and clients, safe. We intend to remain open to support the industry and our customers for as long as it is safe, sensible, and legal to do so.
The majority of employees are now on furlough leave, and depots are trading with a restricted number of colleagues. Staff have been provided with cleaning equipment and hand sanitizers for their work stations and surrounding environments, and showrooms and offices will remain closed to visitors for our colleagues' safety.
Collections
Collections can be arranged from any of our nationwide Landscape Depots. PLEASE NOTE that the collection service is for TRADE customers only and appointments must be made for us to restrict the number of customers in our yard at any one time.
Orders

can be placed by email or telephone. We will raise an invoice, and you will be required to process payment by card over the phone unless you have a credit account. We are not accepting new credit accounts at this time.
Physical paperwork will not be given but instead will be faxed or emailed to the customer.
Social distancing will be strictly observed at all times with no requirement for you to leave your vehicle at any point during collection, except to make your loads safe for transport.
All loads will be collated at our depots before the customer arrives so there may be some delay between order and appointment.
Materials which would usually constitute a two-person lift will be palletised in advance and loaded by forklift
If at any point staff feel that their health or safety is at risk, they may refuse entry to the yard, or refuse to load the customer.
If you are a tradesperson looking to arrange a collection, please get in touch with your nearest depot and clear instructions will be given for the collection of materials.
you are showing any symptoms of coronavirus infection (COVID-19), however mild, please follow government advice and stay at home.
Deliveries
Delivery service has resumed, and we will continue to operate this as long as we can do so confidently, safely, and in line with the Government's guidelines. The following procedures have been put in place to protect the welfare of our delivery drivers and colleagues: CED Stone delivery drivers still working have been equipped with cleaning equipment and hand sanitizers, and have been briefed on social distancing guidelines to ensure we can deliver customer orders safely.
Where our CED Stone delivery service is unavailable, materials will be sent to you by our pallet haulage company.
Customers will not be required to sign paperwork for deliveries. We will take a photograph of the delivered items and sign paperwork on the customer's behalf.
Materials which would normally constitute a two-person lift will be offloaded by HIAB, or tail-lift and pallet truck, or by the customer's off-loading equipment.
Several businesses, including some of our suppliers in the UK, and elsewhere, have temporarily closed down, and although we are currently well-stocked, we may experience some stock shortages. We are in continuous communication with our suppliers and will do our best to accommodate customers, offering suitable alternatives in the event of materials being out of stock.
We would like to reiterate that the health and safety of our customers and staff members remain our priority at all times and services will be contingent on our customers support in upholding these guidelines.
Contact Us
Our Credit Control department is working from home. To get in touch, please email

.(JavaScript must be enabled to view this email address)

, and one of the team will be happy to help.
All

depots are contactable for sales, pricing, and technical advice.

Customers can still request product samples and, as always, our brochure is available to download from our website.
Our Commercial department will continue to manage and assess all ongoing and future project orders and imports from around the world.
We will continue to update our website and social media channels as the situation develops. If you have any concerns or for more information, please call your local depot, and our team will be happy to assist. Contact information can be found here.
We would like to thank our customers and suppliers, and in these uncertain and concerning times, we wish you all well.
.
This news posted on 27th Mar 2020