RHS Hampton Court Palace Flower Show Sees a Garden of Global Growth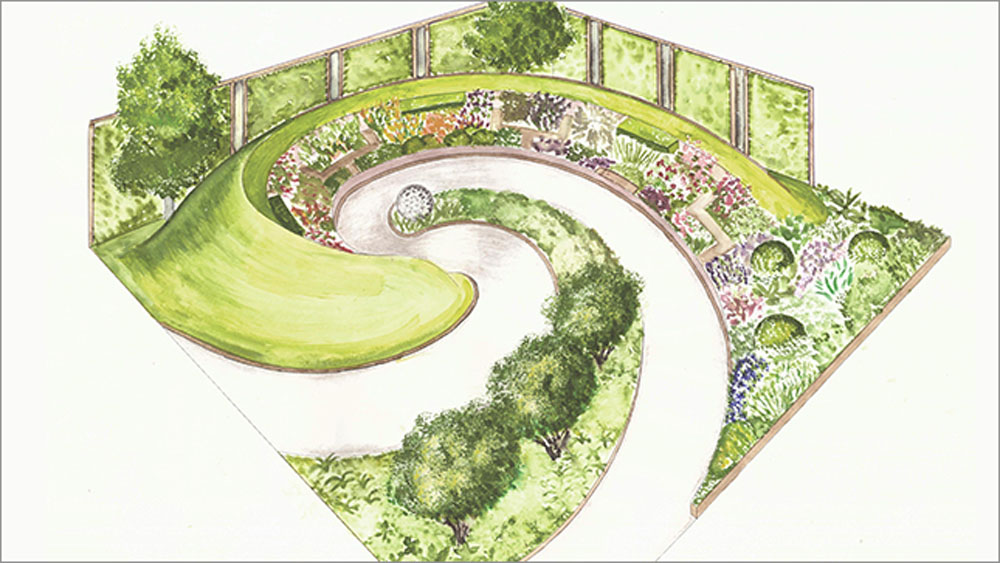 Witan Investment Trust PLC are a global equity investment trust and have a long history of involvement with supporting the RHS and RHS gardens.
Their most recent project, which is due to open in Spring 2017, is the 'Global Growth Vegetable Garden' project at RHS Hyde Hall, Essex. This innovative garden will showcase fruit and vegetables from around the world (which can be grown in most parts of the UK), challenging the image of a conventional kitchen garden.
Designed to be circular, the garden is split into four quarters, each representing different continents; Europe & Middle East, Asia, North & Central America and South America. With a glasshouse taking centre stage, the Global Growth Vegetable Garden hopes to inspire people to grow their own and push the boundaries of edible horticulture.
Having been involved with the Global Growth Vegetable Garden at Hyde Hall, garden designer Jane Bailey is bringing the concept of the garden to this year's RHS Hampton Court Palace Flower Show on behalf of sponsors Witan Investment Trust PLC.
Constructing the garden are Surrey based contractors Burnham Landscapes, established by Ed Burnham. With over 10 years experience, they strive to provide a comprehensive garden design and construction service.
Designed to be a welcoming yet engaging space, the RHS Hampton Court show garden, 'Global Growth Garden', is a reflection of the project at Hyde Hall. Taking its circular shape, designer Jane Bailey has incorporated it into the show garden's design in way of a double helical path, with a sculpture by Paul Richardson taking centre piece in place of the glasshouse.
The winding path that leads visitors past the vast variation in plants and colours, all of which represent the diversity and specialisms of Witan, will be comprised of CED Stone Group's specially developed footpath gravel, CEDEC Silver.
Originally developed to cure a problem at Canary Wharf, our CEDEC footpath gravels comprise of granite and quartzite (which are chemically inert and durable) and will not affect the pH value of the surrounding soil; this is important where newly planted trees or pH-sensitive plants are sited and its porous nature is good for trees generally. In order to function effectively' CEDEC needs to be rained upon and walked upon; it will not be effective indoors or under permanent shelter.
The principle of CEDEC footpath gravels is to form a firm but porous structure that retains moisture, yet allows any excess to flow through. The materials used are specially graded decorative aggregates, ideal for areas where the traffic is too heavy for grass but where a natural appearance is desired.
The Global Growth Vegetable Garden at Hyde Hall will include a diverse range of edible plants, from the every day to the exotic. With plants ranging from ornamentals to yams and chickpeas, to lima beans and tomatillos, the garden's restaurant will offer seasonal dishes, showcasing the harvested produce, allowing visitors to taste for themselves just how good home grown food is.
Designer Jane Bailey, who in 2008 decided to study for a degree in garden design, has included edible plants and flowers in the 'Global Growth Garden' show garden to link to Witan's sponsorship of the Global Growth Vegetable Garden at Hyde Hall, whilst her inclusion of mature trees reflects Witan's heritage, experience and authority, having been established since 1909.
You can view the Global Growth Garden during the Hampton Court Palace Flower Show which runs from 05th - 10th July. The Global Growth Vegetable Garden at Hyde Hall is due to open in Spring 2017. For more information, visit the RHS website here.
This news posted on 5th Jul 2016