Hotel's Devastating Flood Damage Restored by Community Spirit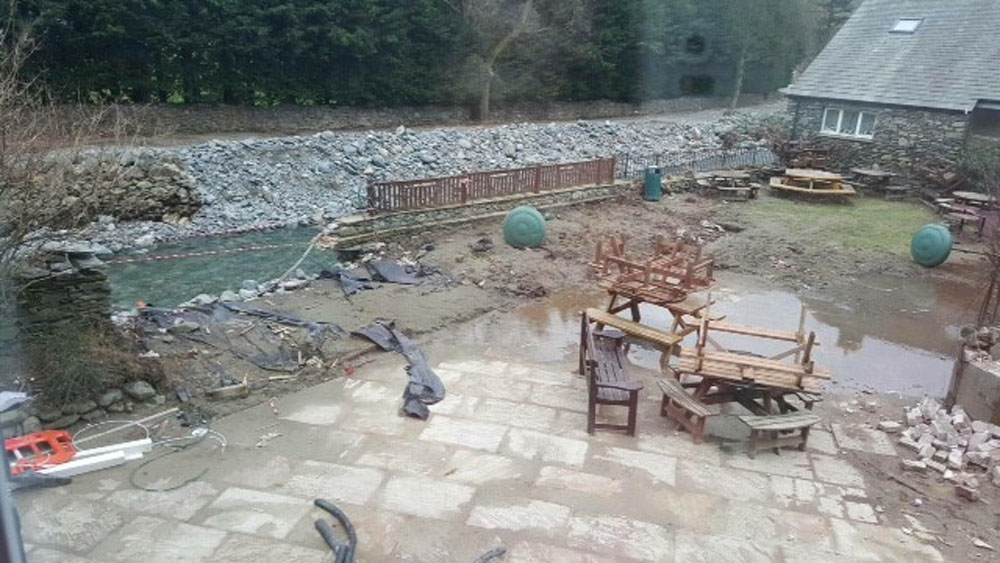 For most holiday-makers, thoughts of site-seeing, activities for the day and the weather outside are the hot topics for breakfast conversation. The biggest worries are usually whether we need to take a raincoat and if our youngest child is now tall enough to go to the one place in the bundle of leaflets left in the hotel reception that everybody actually agreed upon. After of course, the obligatory squabbles, temper tantrums and the changing of minds one hundred times.
You could forgive a get-away in the Cumbrian countryside evoking a different image; one of peace, tranquillity, amazing landscapes and long walks. And whilst a get-away in Cumbria is beautiful and welcomed by most, you just wouldn't expect a scene from a Hollywood disaster movie. On the 5th December 2015, staff and guests at the Glenridding Hotel were going to experience just that.
Heavy rainfall and strong winds were breakfast companions for all at the Glenridding Hotel, which overlooks the breath-taking Ullswater Lake in Penrith, Cumbria. Whilst not unusual for a wintry morning in Cumbria, little did staff or guests know that they would soon feel like they were in their own disaster movie not long after their morning meal.
With the realisation that the Beck looked higher than usual, which is a sign of above average rainfall, staff ensured that the hotel's flood defences were set up in their regular positions and continued with their day as normal. However, the continued rain brought the first landslide, hitting at 2pm, taking everyone by surprise. The flood defences were soon compromised and staff were unable to keep the water out of the hotel's lower levels.
There was little relief. With several calls to the emergency services, who were unable to even get into the village, it soon became apparent that there was little help available, the severity of the storm becoming obvious. With fear setting in and scenes described like those from Hollywood blockbuster 'Titanic', the water surrounding the hotel continued to gush at rapid speeds and nobody knew what to expect. As night descended, the furniture moved from the force of the water whilst the lights flickered on and off and unforgiving oil fumes invaded the hotel after oil tankers were ripped away from where they once stood.
The following morning brought some respite; the rain had stopped and the water started to recede, revealing the extent of the damage caused by Storm Desmond. In the days to come, community spirit would bring together local residents and businesses including Beckside Construction, a firm working in a nearby village.
After hearing of the devastation, Beckside Construction arrived with their JCB's and started to clear the village roads of debris and rubble. Work on rebuilding the river walls started, letting the water flow down its usual path. However, within a matter of days, the river wall had once again started to erode, allowing water to flood the hotel's lower levels once more.
Within the following weeks, the Glenridding Hotel went on to flood a further two times, with river levels rising by 6 foot during Storm Desmond. In total, the hotel flooded four times in as many weeks. The entire lower levels of the hotel were destroyed by the storm, including the Ratchers Bar, the hotel's well-loved beer garden.
Restoration work soon commenced to the hotel's entire lower level and despite various setbacks, it has now seen a complete renovation, including a new state of the art kitchen with brand new pizza ovens. However, the restoration work to the garden would require more help. The Glenridding Hotel contacted landscape industry association BALI, to see whether there was anything they could do to help.
Diane McCulloch, BALI's Media Sales & Sponsorship Officer, was happy to assist and got to work approaching BALI members to organise help. Peter Cunliffe of Northumbrian Landscaping Limited took on the roles of Project Designer and Project Manager. Members CED Stone Group, Lindum Turf, Johnsons of Whixley and Green-Tech also agreed to help, making this another significant collaboration between all companies in 2016. BALI and its members saw success earlier in the year at the RHS Harrogate Flower Show with the BALI 'Tea For Two' show garden, which won both the Premier Gold and Best in Show awards.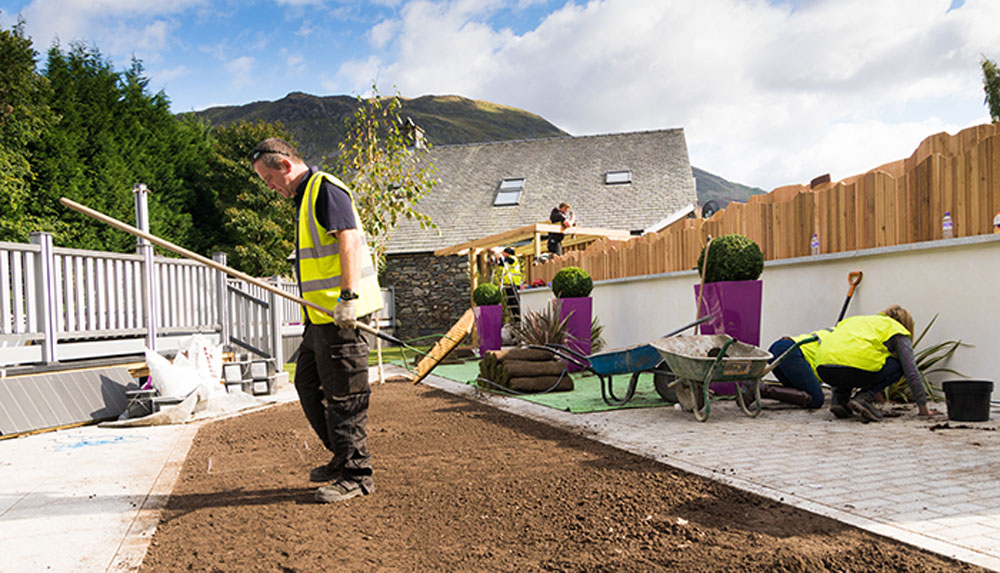 Diane herself has been greatly involved with the project, stating of her experience:
"I approached Paula Chalmers, Marketing Manager at CED Stone Group, in the hope that they could help with our Glenridding Hotel restoration project. Paula was delighted to be involved. Putting me in touch with Shane Reddish (Business Development Manager at CED Stone Group), who with his expert product knowledge and advice given on the best suitable products to use, managed to source, supply and arrange all of the deliveries to site for me; all the Granite Paving and Setts for the project, along with all the Composite Wood for the decked areas.

"Shane also got stuck in on the first weekend, giving his time for free, along with the rest of the team – he is pretty good at mixing cement and barrowing topsoil!

"CED have given so much support to many of my BALI team projects and I had no reservations whatsoever that I had the correct team on board for this amazing project. Thank you to Paula and all at CED, you have done us all proud and we at BALI were delighted to have your support as always. I would also like to thank Howard White (Operations Director at CED Stone Group), who also gave his time for free to produce some fantastic photography during the build."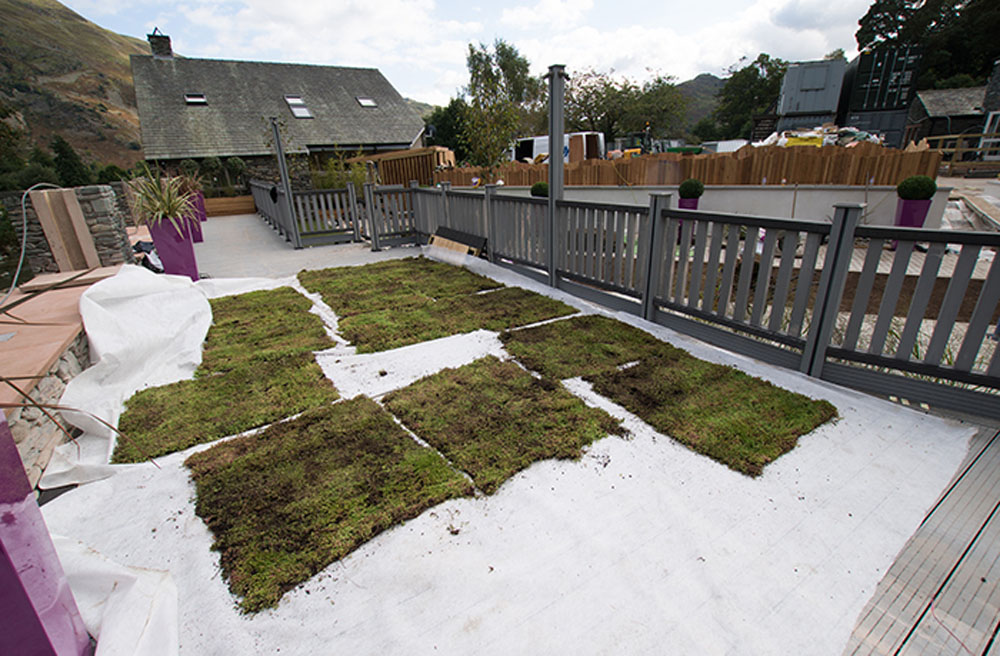 BALI members Brambledown Landscapes and Grace Landscapes are also among those who have donated time and supplies, along with non-members such as Beckside Construction, who have dedicated many hours over the days, weeks and months following the floods to restore infrastructure to the village. Because of the generosity, help and dedication that Beckside Construction has shown the Glenridding Hotel, the hotel has decided to rename the refurbished Ratchers Bar in commemoration of them. Once open, it will be known as Beckside Bar.
Speaking of BALI's and its members help, Elizabeth Ali, owner of the Glenridding Hotel states:
"The support we have received from both Diane and the BALI team has been phenomenal! After several site visits from members taking part, all of whom have given their valuable time for free, we now have a fantastic new garden design. We feel that BALI members not only help to build communities, but they also support communities like ours in their time of need. The support we have received has been so humbling and my family and I cannot express how grateful we are to you all. We are looking forward to welcoming you to a new and improved Glenridding Hotel in the near future."
With Beckside Bar due to open early December, work to transform the garden is now complete. CED's very own Business Development Manager, Shane Reddish, has been heavily involved in the project and has attended numerous site meetings where he has provided invaluable knowledge and advice on product ranges being considered. Products have been specified with careful consideration given to practicalities and thinking of the unthinkable (ie if the hotel was to ever flood again). CED Stone Group are proud to have provided 150m of Composite Wood decking, balustrades and railings, 120m of Silver Grey Granite Paving and 50m of Blue Grey Granite Setts – worth a total of £16,000.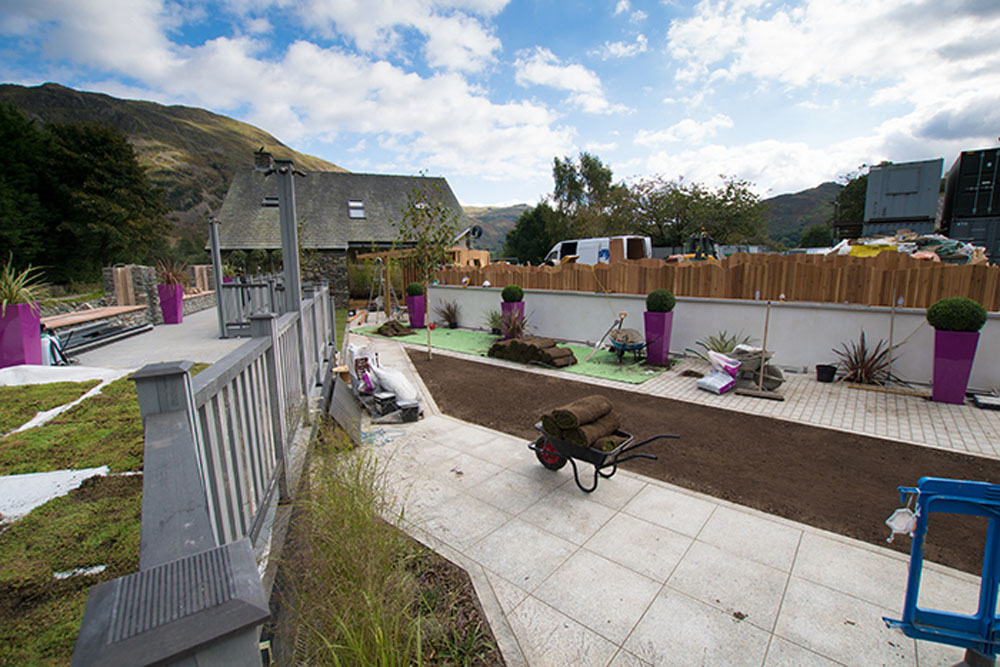 Shane, who has also volunteered his time to assist with planting said of his involvement:
"After our marketing department received a call from Diane (BALI), I was asked to assist on behalf of CED in any way possible. I was only too happy to do this and to play a small part in the project of bringing this beautiful hotel, sitting in one of the most picturesque parts of the country, back to life after the devastation caused by the floods.

"I personally have an affiliation with the area having lived in Carlisle back in the early 90's and I feel I can talk on behalf of CED Stone Group in saying how proud we are to be part of the BALI team that has helped make this outside space become interesting, tranquil and comfortable for the many future visitors of the Glenridding Hotel.

"This is the first time that I have personally worked on a project with Peter (Northumberland Landscapes) and I truly hope it is not the last; his professionalism and imagination have been a breath of fresh air.

"I would also like to commend Diane for doing such a fantastic job in pulling this whole thing together, she has worked tirelessly in her own time to make this work and the weekend I spent in her company and the company of the rest of the BALI members was great fun as well as hard graft. I went home that night aching but feeling satisfaction that I had made a small contribution to something special.

"May I wish Liz, Hassan and the Ali family every success in the future on behalf of myself and CED Stone Group. I do hope they are happy with the result and I look forward to spending time relaxing in the outside space created in the near future."
Despite the disastrous events that led to this, it is evident that an amazing showcase of teamwork and community spirit has helped restore the Glenridding Hotel to its former glory. Everybody involved should be extremely proud in showing what is achievable when we work together.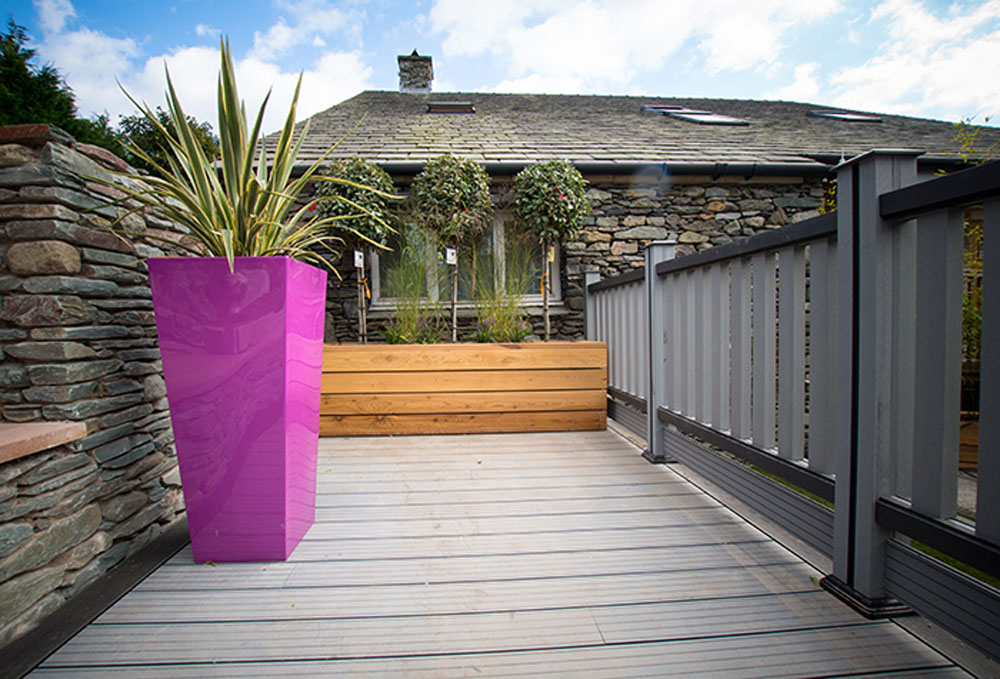 This news posted on 5th Dec 2016