Journey Latin America's Inca Garden Comes to Hampton Court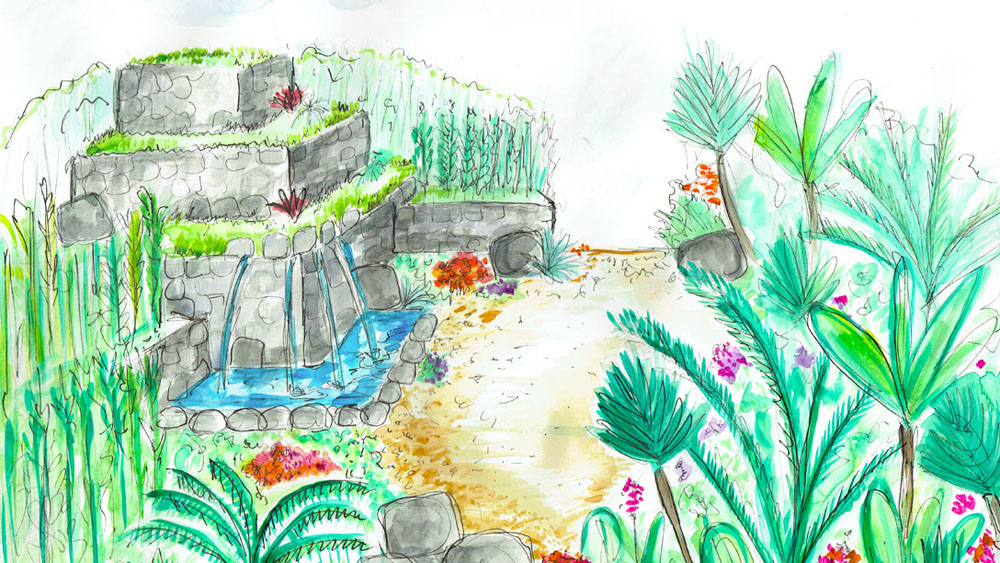 Located within the World Gardens exhibition area at this year's RHS Hampton Court Flower Show is 'Journey Latin America's Inca Garden', designed by Jennifer Jones, who is making her début at the show.
Inspiration for the garden's design derives from the ancient Inca civilisation of Peru and the 'lost' citadel of Machu Picchu. Located high in the Peruvian Andes the 'lost city' was rediscovered in the early 20th Century by American explorer Hiram Bingham.
The Inca Empire was the largest in pre-Columbian America, its civilisation arising from highlands Peru in 1438. The empire was centred in what is now Peru, Bolivia, Ecuador and Southern Colombia and lasted until 1533AD, with the last Inca stronghold being conquered by the Spanish in 1572.
The citadel, built around 1450, is one surviving example of Inca architecture. Purpose built terraces were used around the site and were intended to increase farmland, help prevent landslides and soil erosion, to help aid drainage and aid in the defence of the city against invasion.
To represent these, designer Jennifer Jones, has incorporated into the garden's design three tier terraces which will be planted with traditional Inca crops including corn, potatoes and quinoa. Built from gabion cages filled with granite gabion stones and faced with reclaimed setts, the terraces will stand at 3m tall, 'hidden' by native plants surrounding the entrance, completing the sense of discovery within the garden. 'Journey Latin America's Inca Garden' aims to evoke a sense of adventure, travel and the discovery of a mysterious 'lost' culture; the same experience felt by Bingham upon his discovery in 1911.
Delivering the sound of falling water is a feature strategically placed within the garden's design. It is intended to create a peaceful, harmonious atmosphere, completing the four cosmological principles (Earth, Sun, Moon and Water) believed to originate from Pachamama, her son Inti (the Sun god), her daughter, Killa (the Moon goddess) and Pachamama's husband, Pacha Kamaq.
The Incas were masters of dry-stone walling and used this method to create the terraces in and around Machu Picchu. To honour this skill, Jennifer has involved a vast amount of natural stone within the garden, with elements dedicated to mimicking their techniques. Jennifer originally believed that boulders would be her only option for this, but when visiting our West Thurrock depot, Jennifer identified the perfect product to achieve the look, with reclaimed dock edge, found within our vast stocks of reclaimed materials.
Building the garden are contractors Surrey Hills Landscaping, who have been providing garden design, construction and garden maintenance throughout the Surrey area since 2006.
Speaking of the Hampton Court show garden, Mark Leverton of Surrey Hills Landscaping states:
"We have worked on a vast range of projects all over Surrey but this is our first experience building at Hampton Court and we're very excited to be involved. Jennifer has come up with a fantastic design and we are looking forward to working with her on the build."
CED Stone Group are proud to be supplying all the natural stone elements to the garden which includes reclaimed granite dock edge, boulders, CEDEC silver footpath gravel, silver grey granite gabion stones and reclaimed granite setts. Jennifer personally visited our West Thurrock depot to hand-pick the stones and materials to ensure that an authentic look and feel is captured.
Speaking about her experience with the project, CED Sales team member, Brooke Hitchcock, states:
"It has been a really interesting opportunity to work with Jennifer on her garden at the Hampton Court Palace Flower Show. This is my first year being involved in the organisation of getting all the material ready and delivered on time and also adapting to Jennifer's requirements. She has been a pleasure to work with. Her design looks amazing and the material she used, such as the reclaimed setts, have really given a natural look to the overall design."
Speaking about her design of Journey Latin America's Inca Garden, Jennifer Jones states:
"I am fortunate enough to have visited Peru and its wonderful Inca ruins at Machu Picchu so I was able to draw on my experience and memories of the country as part of my design. I wanted the garden to capture the same sense of escapism and adventure that I felt when I first set eyes on the famous 'lost' city. Having read more about the Incas it was also enlightening to learn how skilled they were at horticulture, agriculture and botany, not to mention dry-stone walling, so I wanted the garden to be a sort of tribute to their pioneering efforts. CED were excellent at helping me find the right natural stone to bring my design to life."
Journey Latin America is a specialist in travel to Latin-America and has been creating award-winning holidays to the region for more than 36 years. Co-sponsoring the garden is British Airways, who as of May 2016, offer regular non-stop direct flights from London Gatwick to Lima, Peru. The garden is a celebration of these as the first ever non-stop direct flights between the UK and Peru.
This news posted on 27th Jun 2016