Landscape Show 2012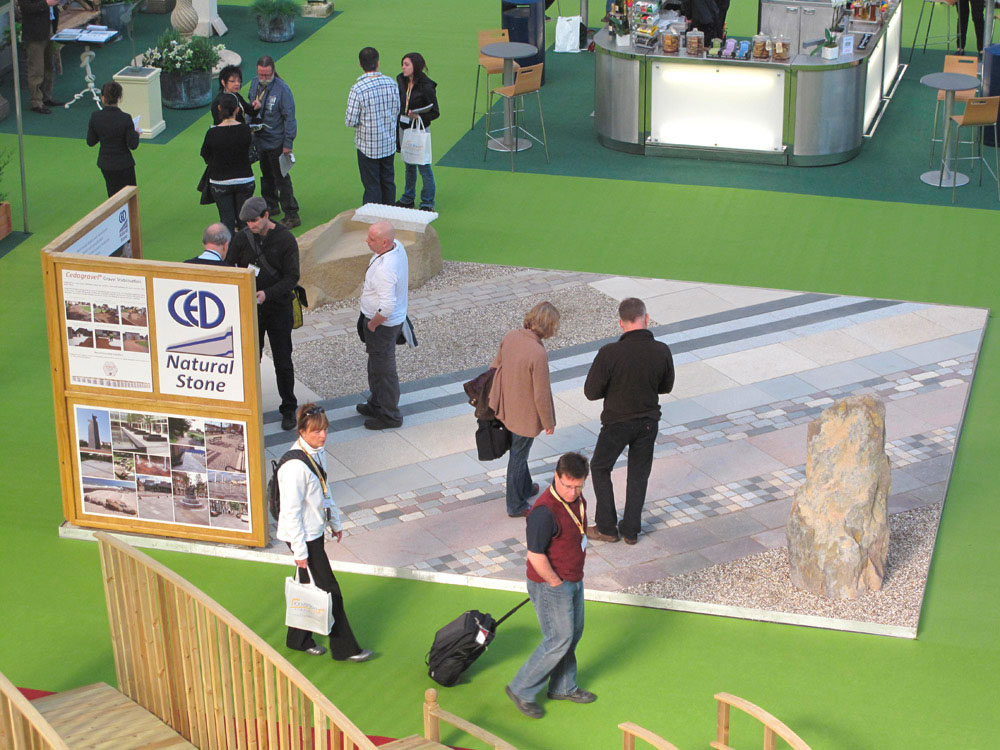 From the Thursday 15th through to the Saturday 17th we met with new and old faces. From garden designers and landscape contractors to private customers, it was good to meet them all.The three day event at London Olympia saw a steady flow of visitors. Landscape show was very well presented, difficult not to be in such a wonderful venue, and with lots of natural light flooding in over our stand further excelled our natural product range we had on display.
As always, the new and improvedCedagravel® drew huge interest, with a visitor to the stand providing a good demonstration of the stability it provides for disabled access areas. The new Plank Paving, laid in a mix of silver grey granite and black basalt, were a striking centre strip to the stand and the newly branded Imperial Settscaught the eye of many as well.
It was the first time, in recent years, we have exhibited with an open plan display. No built up sides made access to the stand extremely easy and welcoming, which is great and invited visitors to walk across the laid products. The stand was designed and built by our in house team and with the business getting busier and busier time was limited, so the pressure was on. A big well done to all those involved.
It was not just our stand though that CED products featured, both The Constant Gardener and Thomas Houghton Gardens had show gardens on display. The Constant Gardener featured Silver Grey Granite Paving and Aggregate, Flat Grey Pebbles and Slate Tier. Beautifully, the Tier was used for both walling and a flooring element. Thomas Houghton Gardens featured Blue Grey Granite Paving and Rustic Tier. Both gardens looked impressive and seemed to generate a good crowd.
Michael Heap, CED's Managing Director, held a seminar on the Thursday titled 'Using Stone Effectively'. It covered many aspects of natural stone, from construction and general advice to art in the streetscene. A good number of visitors attended and a copy of the seminar synopsis is available, please contact.(JavaScript must be enabled to view this email address) to get one. Michael commented "We really need a good, consistent landscape show in London. It would be nice to see this one grow even more next year."
This news posted on 27th Nov 2011