Moving Mountains for RHS Chelsea - The Trailfinders South African Wine Estate Garden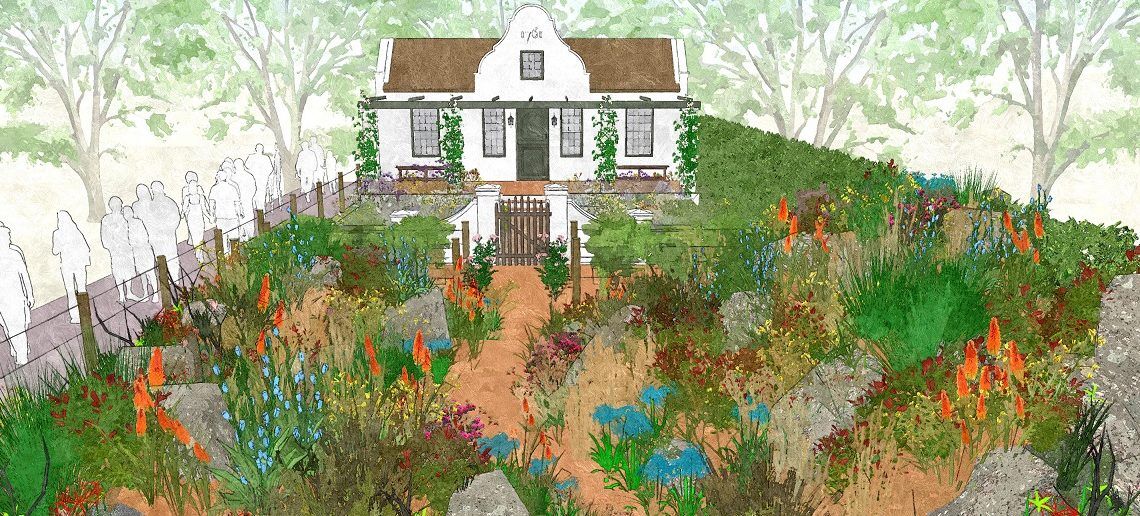 By our guest blogger Emily Cowan, who is based from our CED Stone Landscape - Scotland Depot…
Being experts in natural stone, CED Stone Landscape are often approached for advice and help to source and supply products for those designers brave enough to enter the world of show gardens! We have supplied many different products for show garden features; paddlestones for a river, walling stone for a bench, even boulders for a billabong.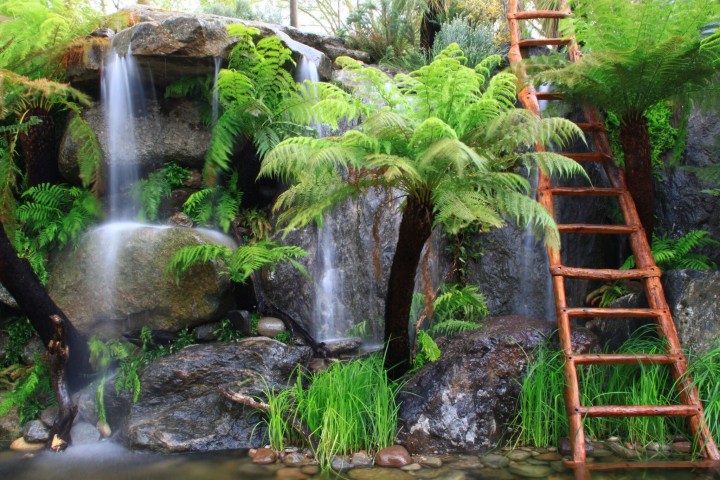 This year, we were contacted by London-based designer Jonathan Snow to aid him in sourcing rock for his ambitious RHS Chelsea garden entry – Trailfinders South African Wine Estate. The idea for Jonathan's design came to him whilst holidaying with his wife in South Africa. During this time they spent a few days in the wine country touring vineyards and sampling their liquid bounty.
One evening Jonathan and his wife were sat upon the terrace of an old homestead, sipping wine and contemplating their surroundings; the pretty flowered garden, the vibrant green vines lining the dusty plain with the distant rugged mountains splitting the hazy blue sky.
In that moment inspiration struck and a dream was born.
Jonathan embarked on a journey, one which would take two years. Two years of research, design, development and travel. He would secure a sponsor in Trailfinders and bring a skilled and experienced contractor in Mark Richardson's Stewart Landscape Construction onto the team.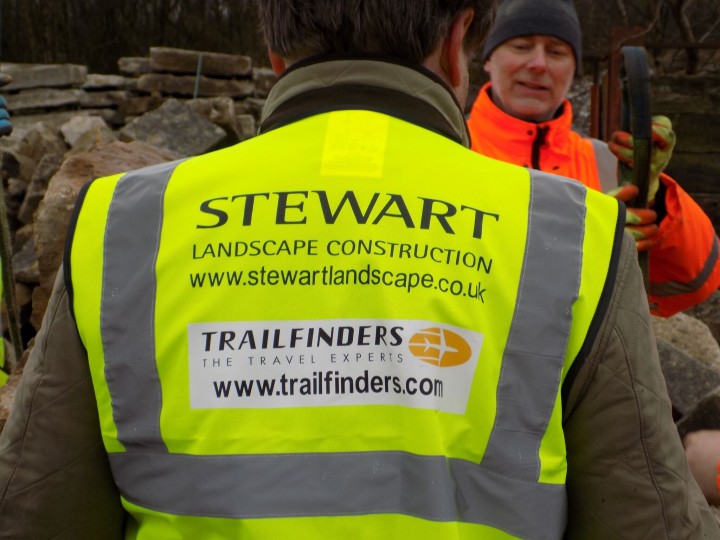 When the application for his first ever show garden was finally complete, all his hard work was rewarded by being allocated one of the most coveted plots at the RHS Chelsea Flower Show, Main Avenue.
Jonathan's design is pretty incredible. A snapshot of his South African experience, not only does his design capture the Cape Dutch homestead and terrace overlooking the charming domestic garden, but true to recall it also depicts the vineyard and distant fynbos mountains. Quite a challenge for any designer let alone a Chelsea newcomer.
The design has many interesting aspects; the building of the homestead facade at Stewart Landscape Construction's yard. Jonathan's trips to Italy, Spain, South Africa and Cornwall to source the many beautiful and unusual plants which will adorn the garden. Using burning oil drums to singe plants for the scorched fynbos landscape!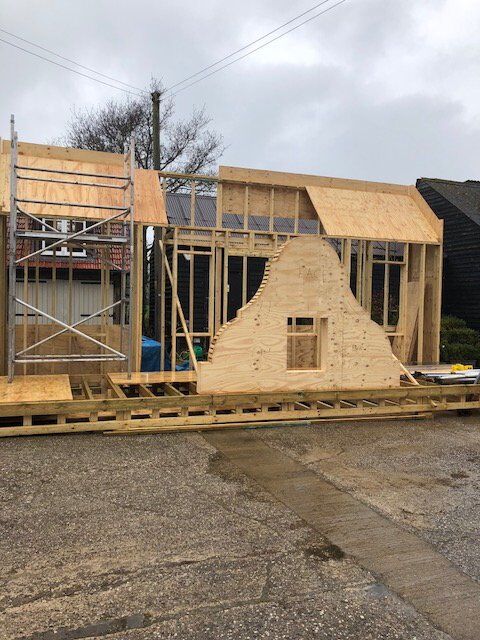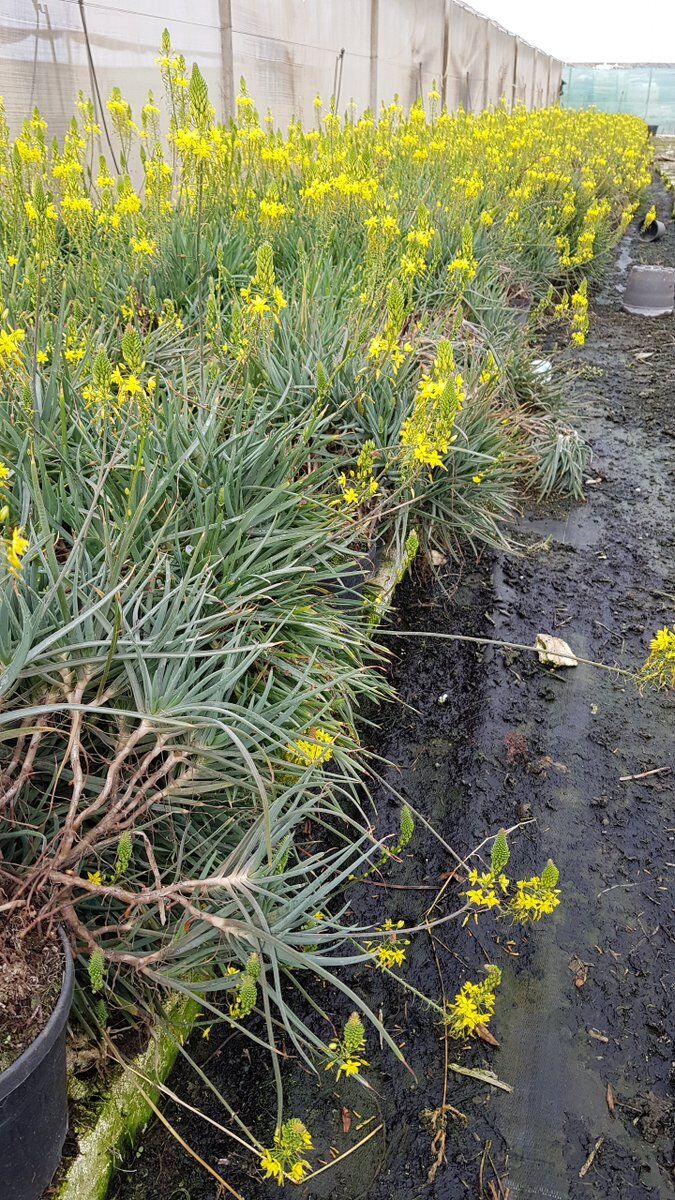 But we are CED Stone Group, and stone is what we do. Our task; to help build a mountain.
When Jonathan first got in touch to discuss his design requirements, Managing Director Giles Heap and Divisional Director Gary Ewing were left intrigued. Jonathan shared pictures of the mountains to be replicated and explained his vision for the design.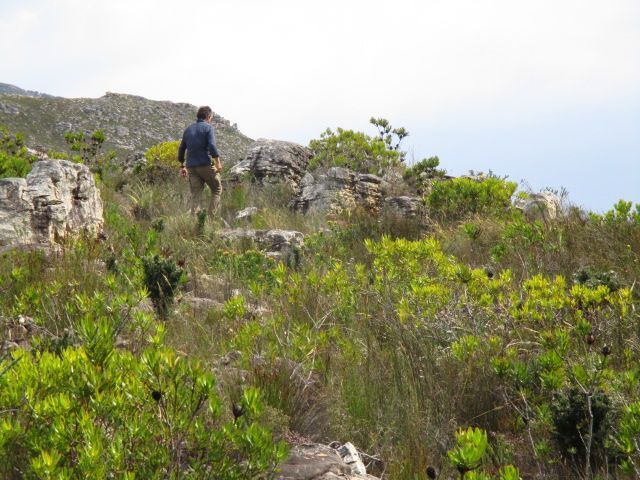 Being a show garden there were of course restrictions, a mere 85m2 of floor area with a maximum height allowance of 2.4m, making this a complicated feature to bring to life. An additional challenge which was becoming readily apparent from their conversations, Jonathan was going to need some rather large pieces of stone.
Luckily we have a guy for that, and so Jonathan would take a trip to the Scottish Highlands where he would meet with CED's Tony Mason aka The Boulder Hunter.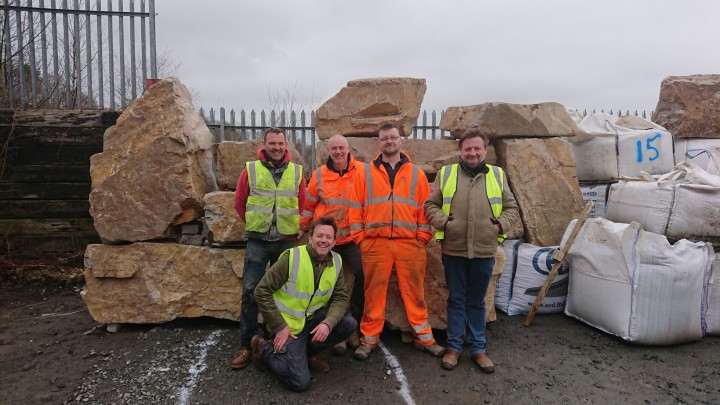 Tony had pre-selected some of the largest pieces of Golden Quartzite that the quarry had to offer and Jonathan spent the day inspecting these and scouring the quarry for any others that might work in his design.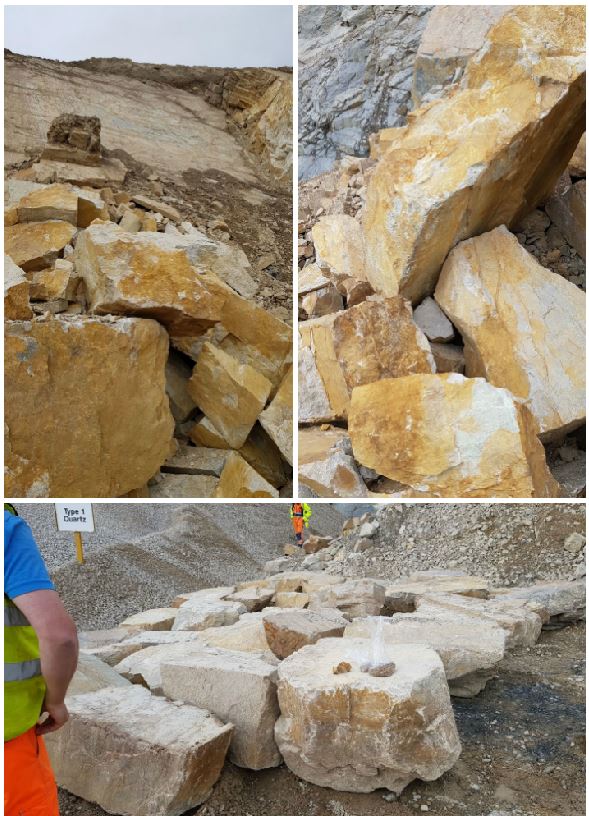 The trip proved very beneficial in Jonathan's view, "It was great to get a feel for the shape of the rocks in general and pick out the best colours."
The chosen rocks were left in Tony's capable hands to be transported down to our Castlecary Depot in Central Scotland where a mock build would take place. Team Castlecary patiently awaited their arrival, excited to see the raw makings of Jonathan's South African mountain. And when the quartzite cavalcade rolled in, the immense blocks glistening proudly in the sunlight, we were not disappointed.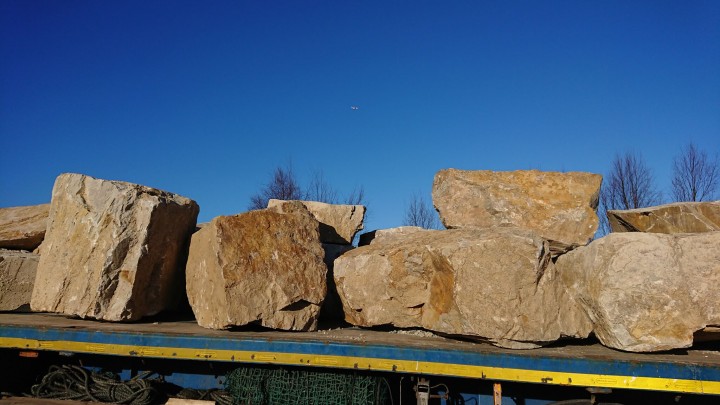 Jonathan arrived the following week joined by Stewart Landscape Construction's Mark Richardson and Jonathan Adams. They had only three days with us so there was no time to waste. The area was marked up, bulk bags of type 1 positioned to form a wall, and aided by Gary Ewing and Yard Foreman Pat Hughes, work began.
No stranger to a mock build having worked on Trailfinders – An Australian Garden, Pat was charged with the onerous task of manoeuvering the rocks into position.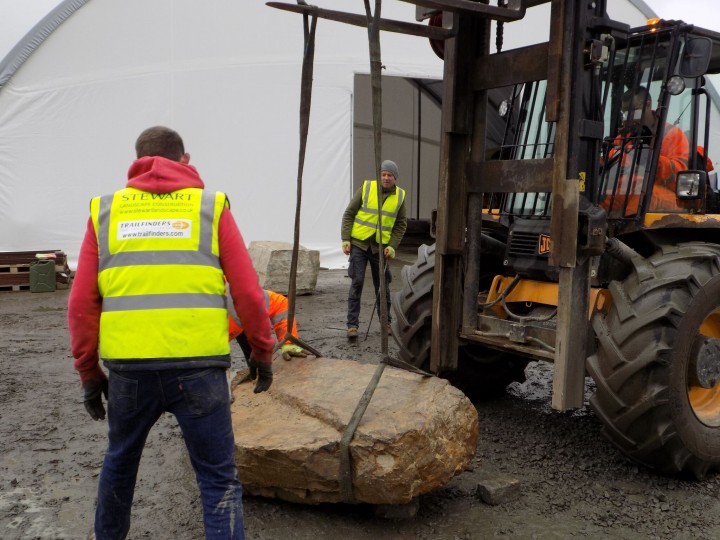 Mark Richardson commented, "The problem with modelling these types of landscapes is that you can spend an hour placing one rock and then when you look at it with the others it's not right so you have to start again."
This was indeed the case and the Quartzite blocks were stacked, demolished then re-stacked repeatedly, a process described pretty accurately by Mark and Jonathan as a game of 'boulder Jenga'. Some of the more irregular shaped rocks were particularly tricky and had to be strapped and slung into place, which was no mean feat.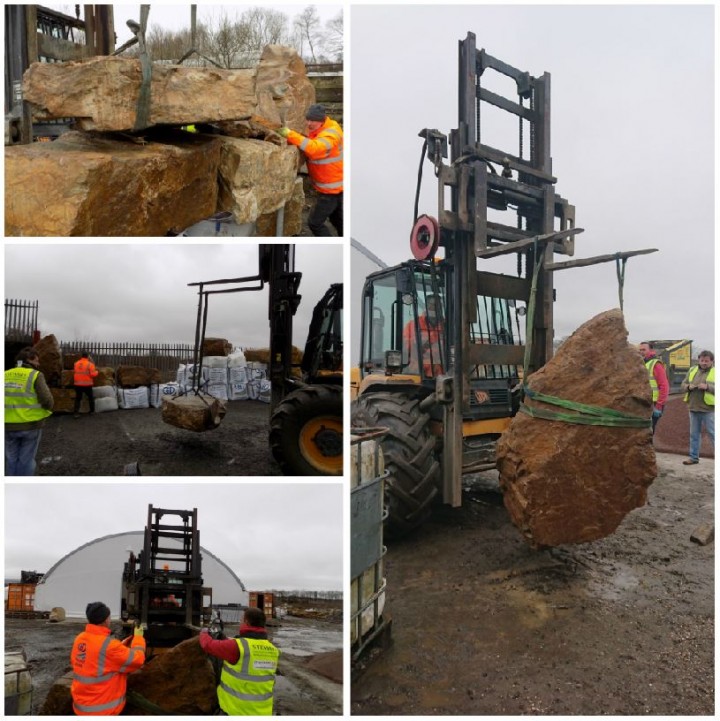 After several hours of positioning the mountainous boulders and by the end of a late shift on day two Jonathan was happy with the layout of the back wall.
Day three was spent adding the finishing touches to the design and selecting caged size rockery to be scattered across the mountain range, and as the working day drew to a close, the mock build was complete.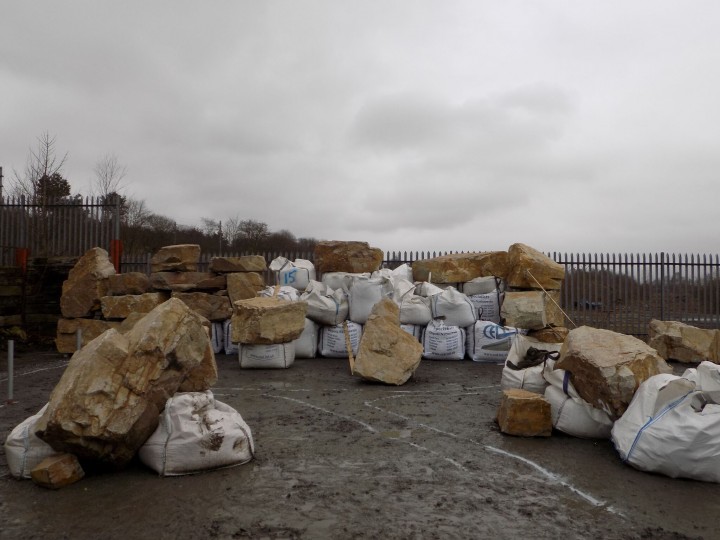 It may not look like much but having the opportunity to do this mock build was very important to the overall process. Mark explains, "We only get three weeks to construct the whole garden and so we have to have a program that matches on an hourly basis so doing a mock-up will take out a lot of the decision-making on site."
Before the team returned home they numbered each boulder and took numerous pictures to use as a reference. This will save them precious time doing the final build on Main Avenue.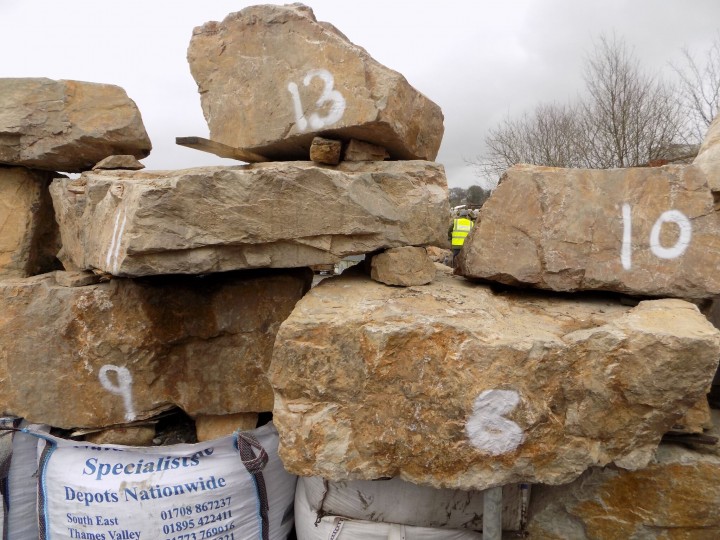 We have now said farewell to the forty plus tonnes of Quartz and they are heading to Chelsea where Jonathan and team are waiting with hard hats and heavy lifting gear to boot.
We very much enjoyed working with Jonathan Snow and Stewart Landscaping Construction on this fantastic, complex design and we cannot wait to see it in its entirety. We will be following their progress closely across social media and tv, crossing our fingers for a medal to match the Golden Quartz mountain. Jonathan you must be extremely proud of what you have achieved and we wish you and your team the very best of luck. I'll just leave these hashtags here. #Dreambig #Movemountains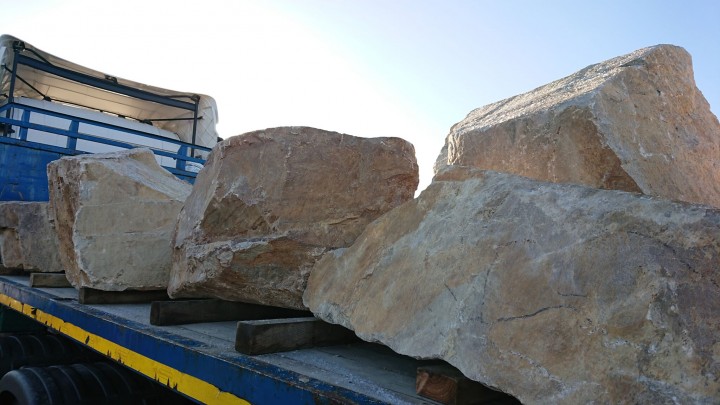 This news posted on 11th May 2018