Outstanding Natural Beauty at Hampton Court Palace Flower Show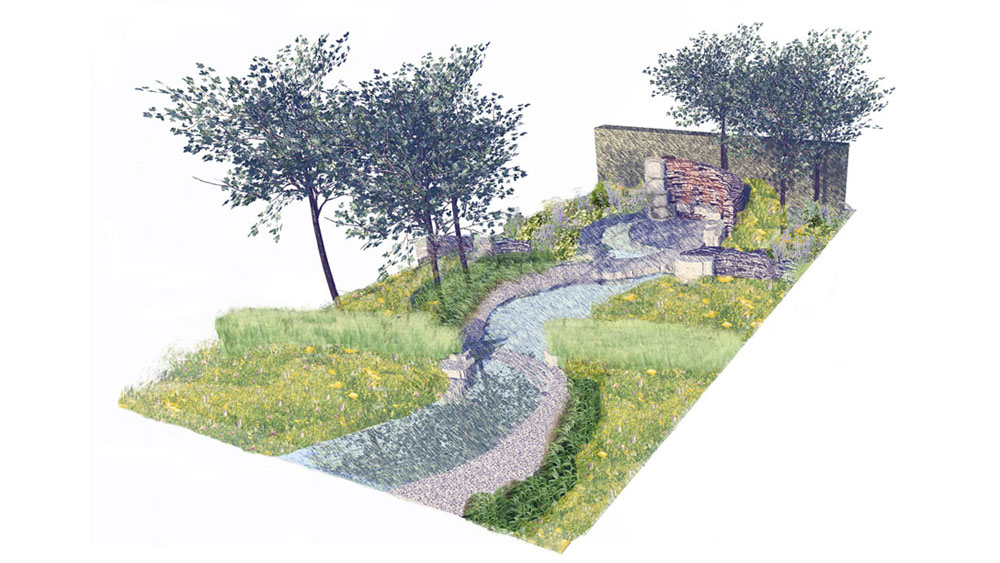 Sponsors Zoflora were established in Yorkshire over 90 years ago, so using the county as inspiration for their garden at this year's RHS Hampton Court Palace Flower Show seemed like an obvious choice.
Bringing on board award-winning designer Helen Elks-Smith MSGD and award-winning contractors Wycliffe Landscapes Ltd, there is an experienced and knowledgeable team to bring show garden, "Zoflora: Outstanding Natural Beauty" to life.
When thinking of Yorkshire, images of dry-stone walling, rolling hills and luscious meadows often come to mind and it is this that designer Helen Elks-Smith is representing in the Zoflora garden.
The natural features so renown to Yorkshire are a result of erosion by glacier ice. Weathering of limestone, shale, sandstone and millstone grit laid down about 300 million years ago has created the scenery that we see today.
As livestock numbers gradually grew, the typical Yorkshire landscape of dry-stone walls and field barns slowly began to rise, as land owners found ways of enclosing their herds.
With a gently flowing river running down the centre of the "Zoflora: Outstanding Natural Beauty" garden, dry-stone walling defines a linear landscape of pastures and meadows. Exposed rocks and shapely trees are on display, high in the hills where the wind sculpts the landscape.
Curving around a terrace and a seating area is another dry-stone wall, enclosed by a moat to create a tranquil place from which to view the garden. A stack of Yorkstone Boulders supplied by CED Stone Group finish the wall, with bespoke Yorkstone seating set into the wall itself. To make the Yorkstone seating look as if it has been there forever and frequently sat upon, the stone was sandblasted in house by CED staff.
The texture of this wall changes from large boulders at one end through to more linear forms. A weathered steel tree trunk, complete with roots flow down through the wall, forming the seat backs, representing the fracturing of the landscape and stone so familiar in construction use.
Stepping stones lead the way across a meandering stream, leading to a field boundary, represented by a stone and gravel path, followed by a meadow and seating area.
The garden is sculptured to form gentle undulations, reflecting the hills and dales of the Yorkshire countryside. Planting along the path flows between the areas of the garden, bouncing from one side of the water to the other.
CED Stone Group are proud to be sponsoring the natural stone elements to this garden, which includes bespoke items. Helen Elks-Smith has been working closely with our in-house geologist and Sales Team member, Will Meeks, who has been helping and advising on material choices, to ensure that the right materials are selected.
Speaking of the experience, Will states:
"Working with Helen and Martin has been a pleasure. Helen has designed a beautiful space with a contrast of smooth and rustic features whilst maintaining continuity throughout. After getting to grips with the desired feel of the garden I was able to source the desired materials for maximum effect.
"The core of this garden is made up of Yorkstone and quartzites in various forms. The walls, bridges and rockery display Yorkstone and yellow/golden quartzite in its rustic form. These materials were supplied from stock, albeit hand selected following the brief from Helen. The exciting part of this project, I feel, comes from the bespoke features of the garden which were formed from rough materials and transformed into smooth seating and paving without detracting from the over all colour and atmosphere of the garden. I am really, very excited to see the finished garden."
With CED staff on hand during the event, helping to staff the garden, Zoflora will be launching a new fragrance at the show. The new scent aims to emulate the smells of the Yorkshire countryside, its meadows and its valleys.
RHS Hampton Court Palace Flower Show runs from 05th – 10th July 2016.
This news posted on 1st Jul 2016