Great Gardens of the USA: The Charleston Garden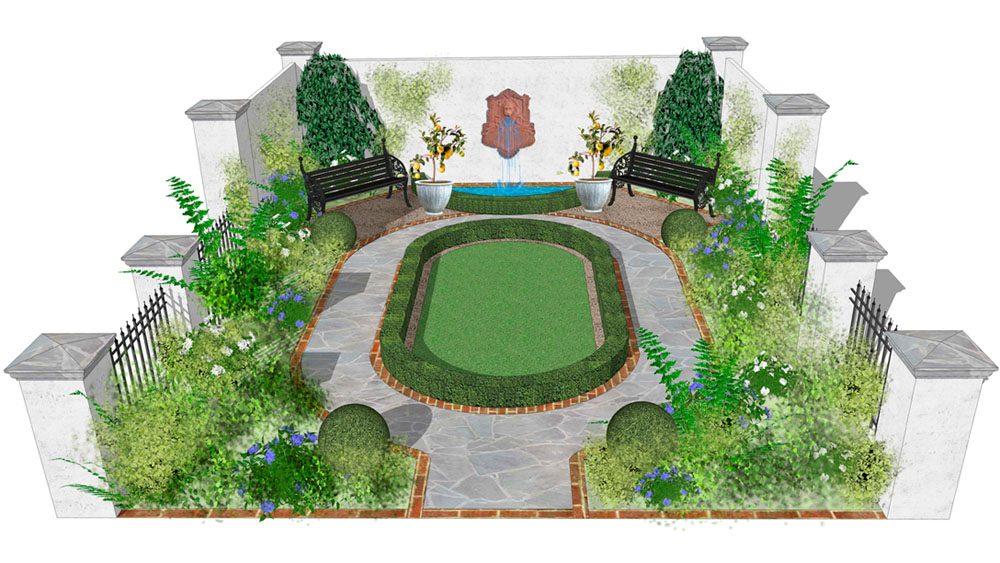 Designed to capture the spirit, charm and elegance of Charleston, the 'Great Gardens of the USA: The Charleston Garden' is designed by Sadie May Stowell, on behalf of Brand USA and completes her three gardens submitted to this year's RHS Hampton Court Palace Flower Show.
Taking inspiration from Charleston's famous 'hidden' gardens, a sense of history, the famous sub-tropical climate and atmosphere of the iconic city are on offer to visitors throughout the flower show.
Incorporating characteristic elements of the city, such as wrought iron gates, the garden showcases a central focal point within the design in way of a pair of ornate benches and a water feature set against the back wall.
Founded in 1670 as Charles Town, in honour of King Charles II of England, Charleston (as it has been known since 1783), is the oldest and second largest city in the State of South Carolina. With its rich history and well preserved architecture, Charleston is a popular tourist attraction, yet many of the gardens are kept off limits to the public.
Some of the most lush, intricately designed and well manicured gardens are part of private residential estates and are restricted from public access for the most part of the year. However, every Spring and Fall, the gardens are opened to the public, where visitors can go behind the walls of the city's most beautiful and well preserved homes.
For almost seven decades, the Historic Charleston Foundation has offered local residents and visitors a chance to stroll through the city's 'secret gardens', usually hidden behind intricately designed wrought iron gates. Sadie's design will incorporate these elements into her garden, giving visitors the sense that they are too, glimpsing a peak into the secret gardens of Charleston.
So, what actually makes a Charleston Garden?
Many of the city's public and private landscape traditions were influenced by world renowned landscape architect, Loutrel Briggs. Originating from New York, Briggs fell in love with Charleston's spring-time beauty and set up a seasonal office in the city in 1929. In 1959, he became a permanent resident.
Using native plants, Briggs developed flourishing, verdant gardens, structured in such a way to lead visitors to a focal point, such as a water fountain or sculpture; a principle that is clearly evident in Sadie's design.
As Charleston gardens place emphasis on pattern and texture, rather than colour, it makes Sadie's choice of using a mixture of CED Stone Group's Slate Crazy Paving made up of Black Slate, Green Slate and Black Limestone obvious. With its naturally riven surface, the slate provides natural slip resistance whilst promoting a subtle mix of blacks, charcoals and sea green colourings. The Black Limestone will add a hue of different shades, but most importantly, a contrast in its riven patterning. As Sadie is using Crazy Paving, there will not be uniformity obvious in the paving, but instead, a randomness of shapes and sizes that come together to form the oval shaped path leading through the garden and the lush planting scheme.
The garden's designer, Sadie May Stowell states:
"This garden is designed to create the intimate feel of the walled gardens found in Charleston, South Carolina. A mixed pallette of materials such as Slate paving, reclaimed brick and oyster shell will be used to create a sense of place."
Born in 1893, Briggs received his first major commission for Mrs Washington Reobling, widow of Washington Roebling, the engineer who supervised the construction of the Brooklyn Bridge. Interestingly, Roebling's most passionate hobby in his later life was collecting rocks and minerals which were donated to the Smithsonian Institution following his death. The 16,000+ specimens became an important part of its mineral and gem collection.
Loutrel Briggs went on to design over one hundred gardens in and around Charleston, before passing away in May, 1977.
This news posted on 29th Jun 2016