CED Stone Group join Lynn Hill for 'The Garden Party' at Gardening Scotland
Edinburgh based garden designer Lynn Hill returns to Gardening Scotland for the 3rd year. In previous years her gardens have been designed with an 'outdoor living' theme, The Tangible Garden in 2017, Best New Show Garden, and The Garden Retreat in 2018, Best Show Garden. The focus is still on 'outdoor living' in this year's design but as a new member of The Gardening Scotland Board, this year her garden is just for fun and all part of Gardening Scotland's 20th-anniversary celebrations!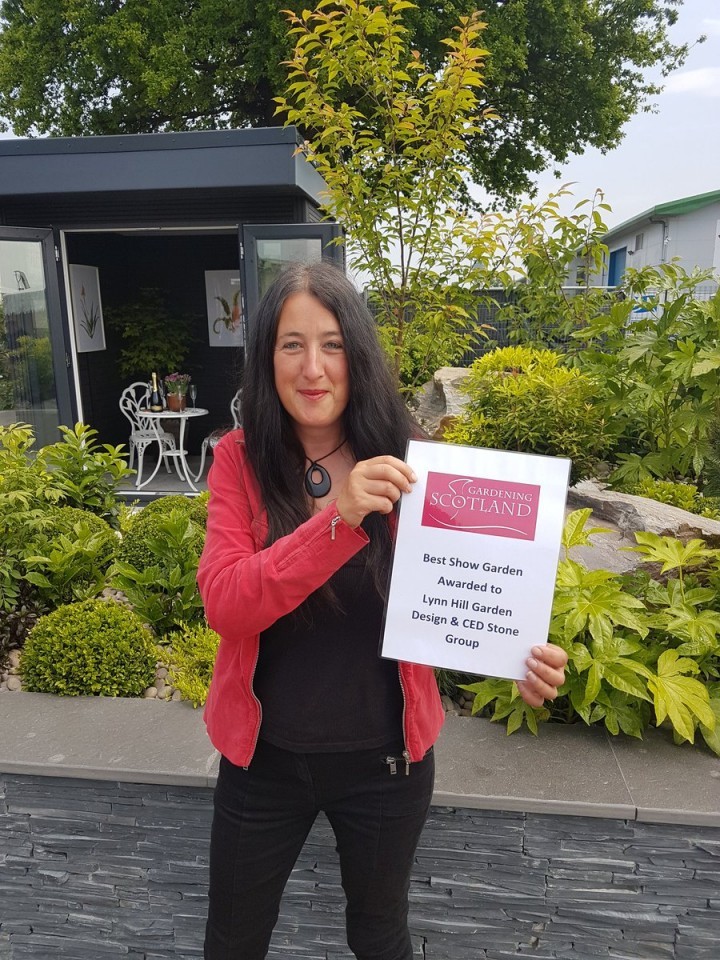 Set up in 1999 by a group of volunteers passionate about the art and science of growing plants, this year to mark two decades of Gardening Scotland bringing plants, design ideas, new products and expert advice to gardeners in Scotland. This year the show will have a garden party theme with lots going on for visitors. The show will feature a Floral Pavilion filled with top nurseries from across the UK, a Plant Village, Show Gardens, and College Street, which will be filled with inspirational design ideas for front gardens. There will be a Theatre with lively demonstrations and gardeners' Q&A sessions, a Craft Pavilion, exhibitors selling gardening tools and outdoor living accessories. And a Big Back Garden with games and activities for all the family.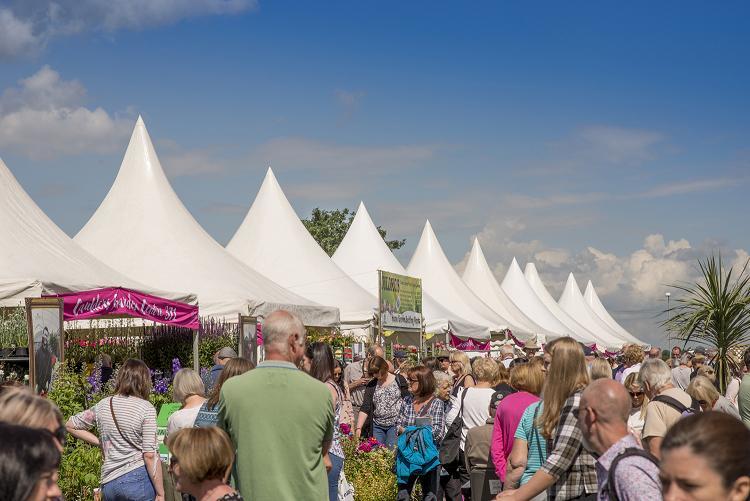 The centrepiece of the show will be an outdoor party space with a vortex in slate at the entrance created by renowned Scottish sculptor James Parker. The space will host a fully functioning outdoor kitchen by Grillo, a Secret Gin Garden and Lynn Hill's garden, 'The Garden Party'. Supported by BALI Lynn's garden will feature a Rosso Dotto cocktail bar with Norse Stone bespoke Caithness bar top, CED Stone Golden Quartz Rockery, a Slabby Sandstone wall and EMPEROR, Nero Santiago Porcelain Paving with Corten Steel panels for the backdrop. Lynn notes, "Plants are a vital part of the garden, but we want to show that gardens are also places to have fun, so we've mixed rustic elements such as Caithness stone with Nero Santiago porcelain paving, which is very modern."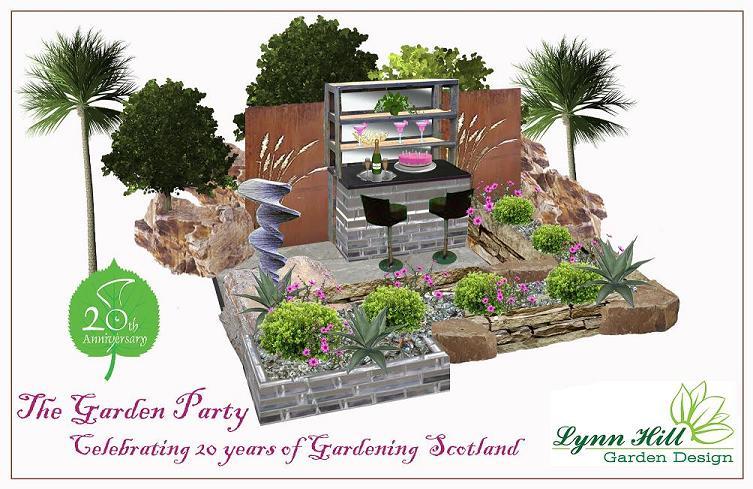 The garden will be built with the help of some highly skilled friends keen to join the party, Ogilvies of Haddington, Root One East, GM Land Solutions, Endrick Landscapes and Ashlea. Lynn says, 'We are so lucky to have such a great team behind us. They are the ones who make the magic happen, who bring the garden into being. Without them, our gardens would be little more than a bunch of lovely products and some great ideas. Whatever our vision as designers, our contractors should be celebrated. After all, it is their skill that brings our vision to life. And a special thanks must also go to the British Association of Landscape Industries (BALI) for supporting this project."
This entertaining space is not just for show, entertain it will, with cake for everyone and a special Gardening Scotland Raspberry and Rose Bramble cocktail featuring the Secret Garden Range, Apothecary Rose Gin.
You can watch cooking demonstrations by top-named chefs hosted by Grillo Outdoor Kitchens. Or why not relax in the Secret Gin Garden created by Edinburgh nursery, The Secret Herb Garden, who will have a fantastic selection of flavorful, colour-changing Old Curiosity gins made with botanicals grown at their nursery.
Martin Dare, organiser, Gardening Scotland, says: "For 20 years the show has been bringing Scottish gardeners the very best of plants, expert advice, design ideas and products for their gardens. Our 20th anniversary is planned as a celebration and The Garden Party outdoor entertaining space, with its party patio, Grillo kitchen and Secret Gin Garden, will get the celebrations going."
CED Stone Group are proud to be once again supporting Lynn Hill on another fantastic garden at Gardening Scotland and we are very much looking forward to 'The Garden Party'.
Happy 20th anniversary Gardening Scotland.
This news posted on 1st Jun 2019