The Honeysuckle Blue Garden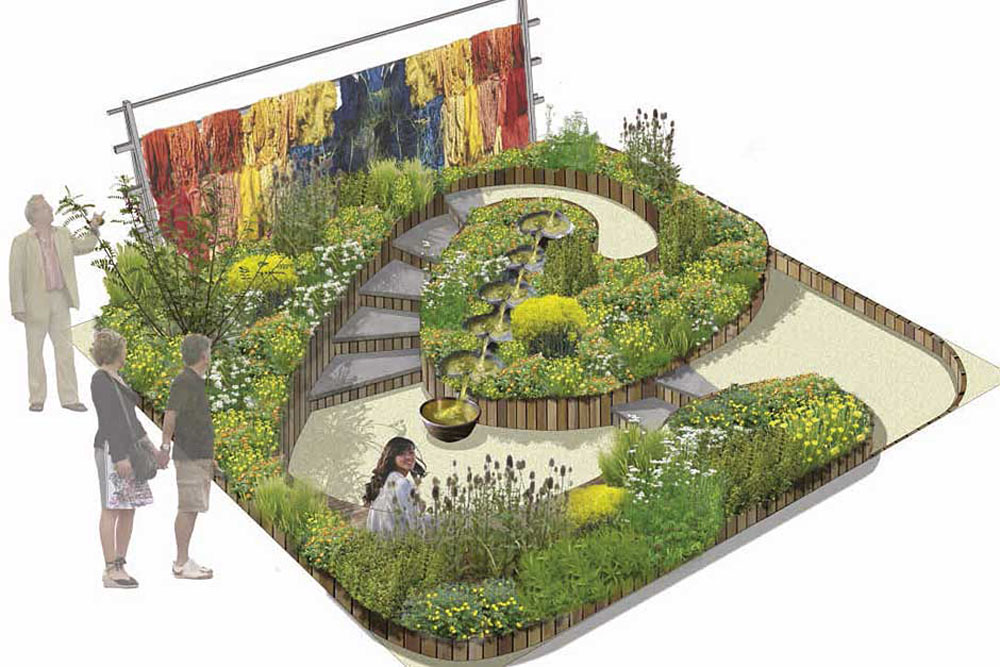 Not only a RHS Chelsea Flower Show Garden, Honeysuckle Blue is part of a larger initiative to teach children and educational groups the age-old techniques of using plants to create their fabric dye.
The garden is designed by Dutch artist Claudy Jongstra, whose studio raise their own sheep, keep bees, cultivate a botanical garden and grow their own plants for dyes which are then used as materials in their work.
Collaborating on the design is Stefan Jaspers, a landscape designer with sustainability at the centre of his designs. With a wealth of knowledge and experience, Stefan prides his studio on design with subsequent management in mind, meaning that you are not later confronted with unexpected surprises.
Reflecting the values of both designers, the Honeysuckle Blue garden, sponsored by AkzoNobel, will consist of plants that were historically harnessed for their dye qualities and to remind visitors of the sustainability of using natural materials.
Natural dyes, such as those from plants, were prominent during the Dutch Golden Age – a period of time roughly spanning the 17th Century, where Dutch trade, science, military and art were among the most acclaimed in the world. It wasn't until the mid-19th Century, when synthetic dyes were introduced, that natural dye saw a significant decline in usage and popularity.
The aim of the Honeysuckle Blue garden is to showcase the rich colours, tones with depth and the variety of shades achievable with plant dye. Producing colours with movement, that are rich and alive, they will appeal to our sense of nature.
Native plants will also feature within the garden, which are vital for wildlife and providing homes for insects. Having sourced the stone required for the steps within the garden from their native country, Stefan approached CED Stone Group for assistance with the gravel within the garden.
After some discussion, it was agreed that CED would supply CEDEC Silver footpath gravel, covering an area of approximately 11sqm. CEDEC, which was purposely developed to solve an issue at Canary Wharf, is a footpath gravel whose principal is to form a firm but porous structure that retains moisture, yet allows any excess to flow through.
Bringing the design to life are Essex based contractors Cube 1994. With a background in civil engineering, Cube designer, Sean Butler, has a vast knowledge of how to construct outdoor spaces using high quality materials to an excellent standard. With a history of show garden awards, including RHS Chelsea and RHS Hampton Court Flower Shows, Cube 1994 have previously worked with designers such as Ruth Wilmott and Frederick Whyte.
Speaking of the garden, CED's Marketing Manager, Paula Chalmers states:
"It is a pleasure to be involved with such a sustainable garden designed by Stefan and sponsored by AkzoNobel. Both are experts in this subject, so being able to support this garden is a real honour.

"Sustainability is such an important issue, one that we should all be more aware of and we are glad to be involved in a small way with helping to highlight this subject.

"I am really looking forward to seeing this garden complete, I am especially interested in how the array of colours that have been promised will look."
The RHS Chelsea Flower Show will run from 24th - 28th May.
This news posted on 18th May 2016