Great Gardens of the USA: The Oregon Garden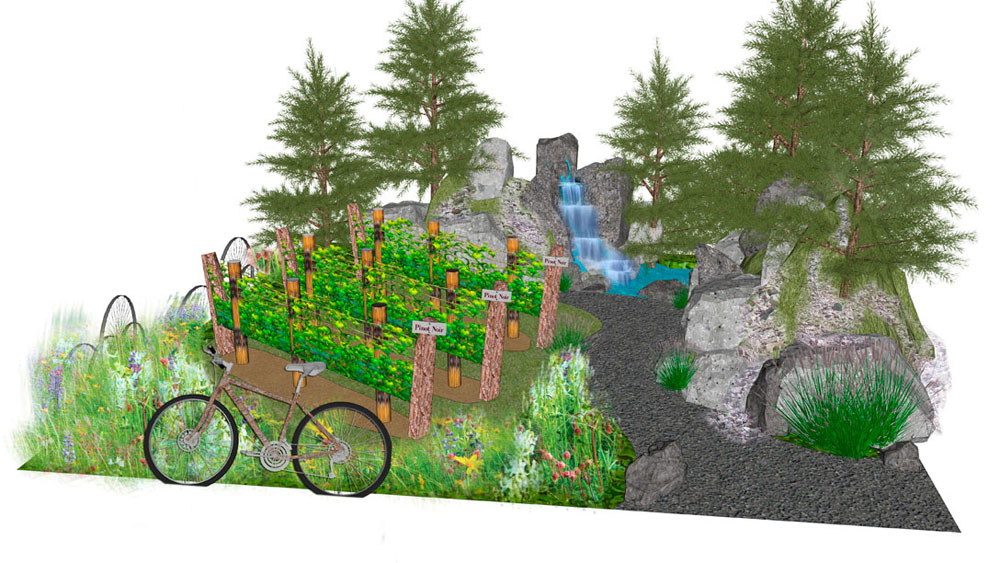 Last year, garden designer, Sadie May Stowell designed two gardens for Brand USA at the RHS Hampton Court Palace Flower Show, where she won a bronze and a silver medal. This year sees her returning with three gardens on behalf of Brand USA, all three of which CED Stone Group are excited to be supplying.
Originally trained in fine arts, Sadie studied Garden Design at Pershore College of Horticulture, going on to qualify to post-graduate level in Landscape Architecture at the University of Gloucestershire. However, it wasn't until being announced as the overall winner of Channel 4's national garden design competition, 'The Great Garden Challenge', that Sadie received local and national acclaim.
Between 2008 and 2015, Sadie has won six medals at Hampton Court Palace Flower Show, with 2014 seeing her début at RHS Chelsea Flower Show with Viking Cruises' 'Norse Garden'. Sadie now hopes to add to these with her gardens at this year's Hampton Court Palace Flower Show, 'Great Gardens of the USA', which celebrate three very different states.
Sponsors, Brand USA, was created in 2010 to encourage travellers all over the world to visit the United States and to view the continent as a premier travel destination. With a purpose to inspire travellers to explore America's boundless possibilities, the three show gardens have been designed to reflect this.
The first of the three show gardens is 'Great Gardens of the USA: The Oregon Garden'. Taking inspiration from the state's natural landscape, including mountains, scenic gorges and its wine industry, the central part of the design purposely incorporates vineyards, representing those found within Oregon. At 98,000 square miles, the western state has a diverse landscape, ranging from rain forests in the Coast Range to barren desert to the South.
To represent the coastline along the Pacific, which is fronted with rugged cliffs, rising to the Coast Range and the Klamath Mountains to the South, is a backdrop made up of a mixture of our Gabbro Boulders – ranging in size from as small as 240kg to as large as 4060kg. Our Gabbro Boulders are rustic looking, slightly sombre with atmospheric shades of mid to dark greys and browns, allowing them to look as if they have been in-situ forever, wherever they are placed. Cascading water will fall over the Gabbro Boulders, mimicking the various small lakes and rivers which punctuate a series of relatively low but heavily forested peaks among the coastline and within the mountain ranges.
Forming much of Oregon's landscape is volcanic activity, which can be traced back to 40 million years ago. The Columbian Plateau, which covers most of Eastern Oregon, is formed by ancient lava flows, commonly called a flood basalt. A flood basalt is the result of giant volcanic eruptions or a series of, that coats large sections of ocean floor or land with basalt lava; represented in the show garden at Hampton Court Palace Flower Show by the fines from our Weathered Limestone Rockery.
Speaking of the garden, designer Sadie May Stowell states:
"The Oregon garden is designed to highlight the beauty of the Oregon Landscape. The large granite boulders provided by CED will form a boundary and backdrop, providing height and a base for the cascade of water. Conifers and meadow planting will bring a natural feel, while the central section of the garden will display vines planted as if they are in a Vineyard."
Building the show garden are Sadie's team from Sadie May Studios – experts in garden design, build and landscape architecture, based in Warwickshire. With 24 years combined experience in garden design, they believe in creating inspiring, beautiful outdoor spaces, tailored for each individual clients lifestyle choices.
The garden will be on display within the World Gardens category at Hampton Court Palace Flower Show, which runs from 05th – 10th July 2016.
This news posted on 28th Jun 2016