Together We Can Make History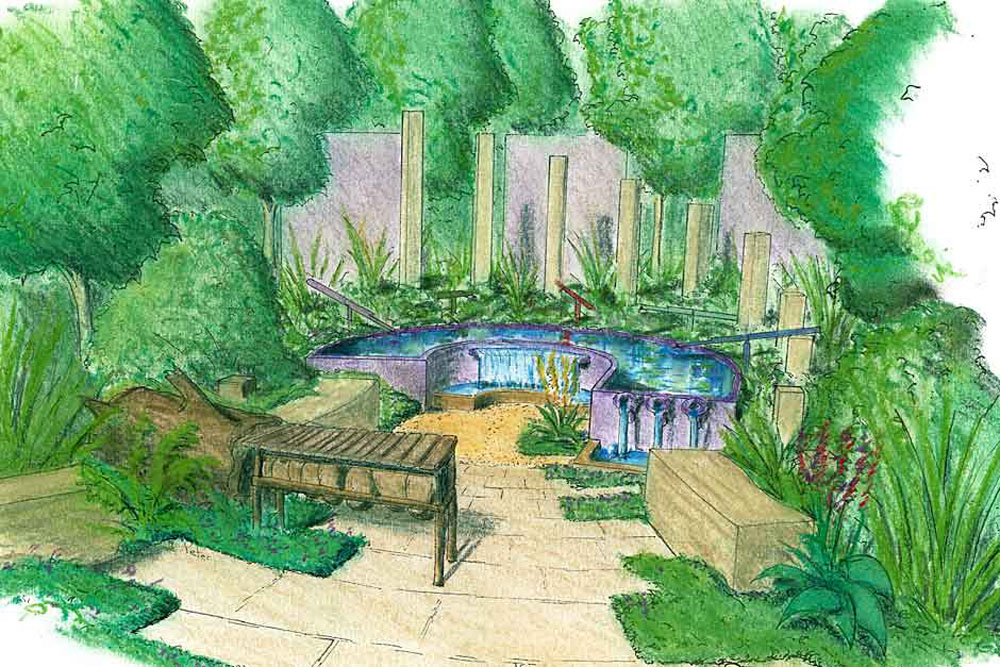 Perhaps one of the most exciting features at the Chelsea Flower Show this year is the interactive acoustic garden by Papworth Trust; something which has never before been hosted at the world recognised event.
Joining forces to make show history are world famous solo percussionist Dame Evelyn Glennie and leading disabled charity, Papworth Trust. Their garden, 'Together We Can' takes inspiration from Papworth Trust's campaign, 'I Can', which launched in 2014 with Paralympians fronting the campaign, which aimed to show disabled people for what they can do.
Reflecting Evelyn's passion and ability, the garden was designed based on the natural rhythm in the landscape. As a deaf musician, one of Dame Evelyn's aims is to show that you can create music from almost anything.
Generating the garden's acoustic pulse will be a water marimba which boasts a backdrop of a natural woodland copse, made up of an interwoven selection of hazel and birch. Adjacent to the water marimba will be two small semicircular pools which will feature pool edgings, supplied by us, that will be used as vertical upstands to create the pools.
Materials supplied by our West Drayton depot will also include golden quartzite (8-4mm), Scottish Beach Pebbles and new product, 'Stokksnes Pebbles' – a stunning mixture of flat black pebbles with hues of grey, blue and beige. Delabole slate, supplied by CED Stone Group's Commercial Department, will form the basis of an interactive natural instrument.
Designing the garden, whose overall form will be reminiscent of the structure of the human ear, is Peter Eustance MSGD from Symphonic Gardens. With over 20 years experience, Peter has a vast history of gold medal wins at the Chelsea Flower Show.
Fuelled by his enthusiasm for pioneering interactive and educational projects, Peter has designed 'Together We Can' with close creative calibration with Dame Evelyn Glennie, who will be performing during the show.
CED Stone Group Chairman, Michael Heap states:
"Peter came to us with some clear ideas about the layout of the garden, in particular the musical references. We sourced slate pieces that would produce a clear tone and came up with many ideas for the associated gravels and pebbles from which Peter could make a lovely selection.




The Yorkstone is being cut into many precise shapes, and, because of its uniformity, this particular stone lends itself to allowing the detail of shapes to clearly show."
A customer of CED Stone Group for over 10 years, Landform Consultants will be the contractors for this inspirational garden with one of the challenges being to construct the bespoke yorkstone paving.
The yorkstone will be laid in a series of concentric radial arcs, which resemble sound waves transmitting towards the audience, with the total paved surface being approximately 6 – 8sqm. Due to the curve of the stone, each piece of yorkstone will be a bespoke cut, ensuring a perfect fit.
Hope and overcoming obstacles is the prominent message in the Artisan Gardens at Chelsea this year, with 'Together We Can' being no exception.
The Chelsea Flower Show will run between Tuesday 24th May and Saturday 28th May.
This news posted on 16th May 2016