CED Natural Stone and the Trailfinders Australian Garden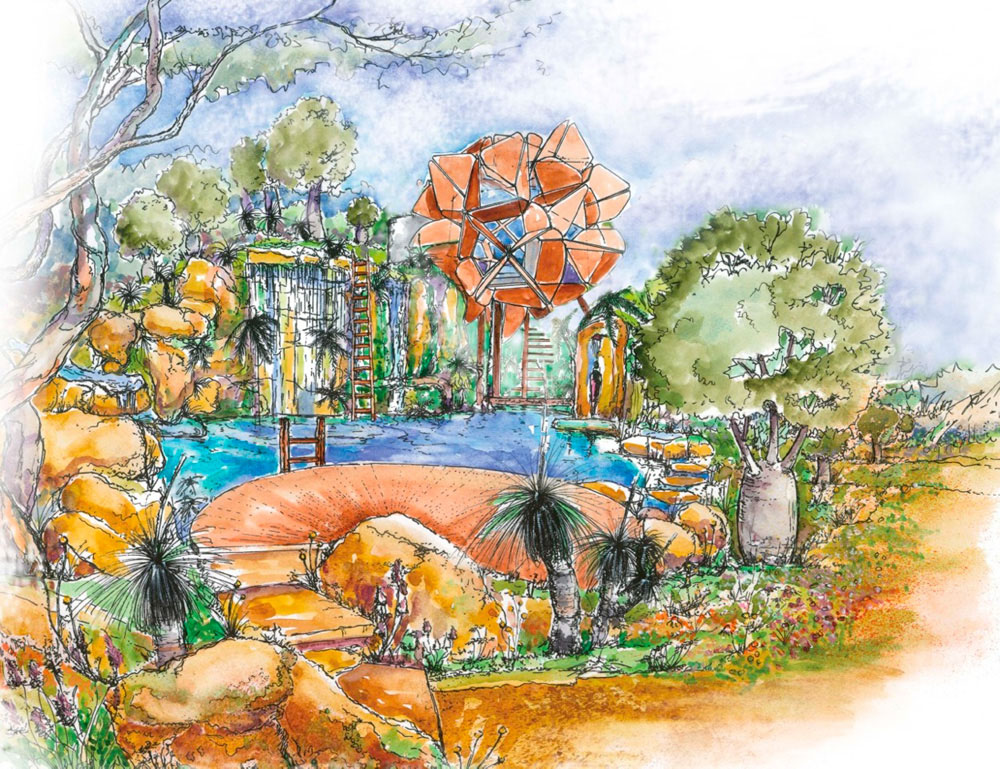 Australian favourites, Fleming's Nurseriesreturn to RHS Chelsea Flower Show with a bang and joining forces with the talented Melbourne landscape designer Phillip Johnson.

The team is planning to go 'off the grid' with Phil's Chelsea debut and an innovative and sustainable landscape, designed to create a relaxing and inviting ecosystem within an Australian urban environment. The garden will be entirely reliant for energy on solar panels, while water will be taken and filtered from surrounding sites. All plants and stone being used have been sourced locally, or are reclaimed, as much as possible.
CED Natural Stone are extremely pleased to be the main supplier to the Trailfinders Australian Garden, presented by Flemings. Supplying approximately 200 tonne of Gabbro Boulders, 60 tonne of Scottish Beach Cobbles and Pebbles, 20-30 tonne of Scottish Sandstone Walling, 40m2Cedagravel and 20m2 of Reclaimed Yorkstone Flags.

It was in the early part of 2012 that Phil was introduced to CED through Flemings, when they were currently working on their 2012 garden for Chelsea. On seeing Phil's design it was clear he was thinking big…..very big and so he returned to Australia leaving his 'shopping list' with CED who began the task of sourcing the stone to make his dream garden a reality. It was then in October of 2012 that Phil made his trip to Scotland, with two trusted colleagues David Long and Steven Weber. Along with CED's Divisional Director Gary Ewing, they travelled the length and breadth of Scotland to select the ideal stone for every position of the garden and brought them back to CED's Scottish depot in Castlecary for the mock build. They then spent solid days and nights building the garden and carefully placing the boulders and recording their positions ready for the actual build up in May of 2013 at Chelsea. Gary commented "I had no idea what this would entail, but what unfolded was in fact one of the best fortnights I have spent in the industry. Working literally from dawn to dusk, 7 days a week, Scotland and Australia worked as one unit to create Phil's vision."
It was such a successful trip, not just for Phil, but for the staff at CED Castlecary as well, as they were able to witness first hand, the hard work and time involved in creating a garden worthy of the 100-year centenary Chelsea Flower Show.

Please click here to view the time lapse video of the build up in Scotland.
While the Royal Horticulture Society (RHS) did originally accept Phil's design concept they interestingly asked for a redesign and expansion to enable the garden to be located on what is the highest profile site of the show, to accommodate the scope and impact of the design. The garden is truly going to be something that Chelsea has never seen before and CED offer their full support to Flemings, Phil and the team in winning gold and accomplishing all they set out to achieve.
Please click here to watch Phil's interview where he talks about his design and passion for the garden.
Gary went on to say "I have been involved in this industry for over 15 years now and I have met many interesting and knowledgeable people, working on wonderful and innovative projects. Nothing however prepared me for my first meeting with Phillip Johnson. Phil is an inspirational character who, to my mind, is best described as a cross between David Bellamy and that loveable Tasmanian devil, Taz. Landscapes can achieve many things, and on this occasion it has brought two continents together and created life long friendships. I can't wait to see the guys again and wish Phil and his team a big GOOD LUCK for the show."
This news posted on 28th Mar 2013