From Amersham Building Site to London Zoo's Penguin Home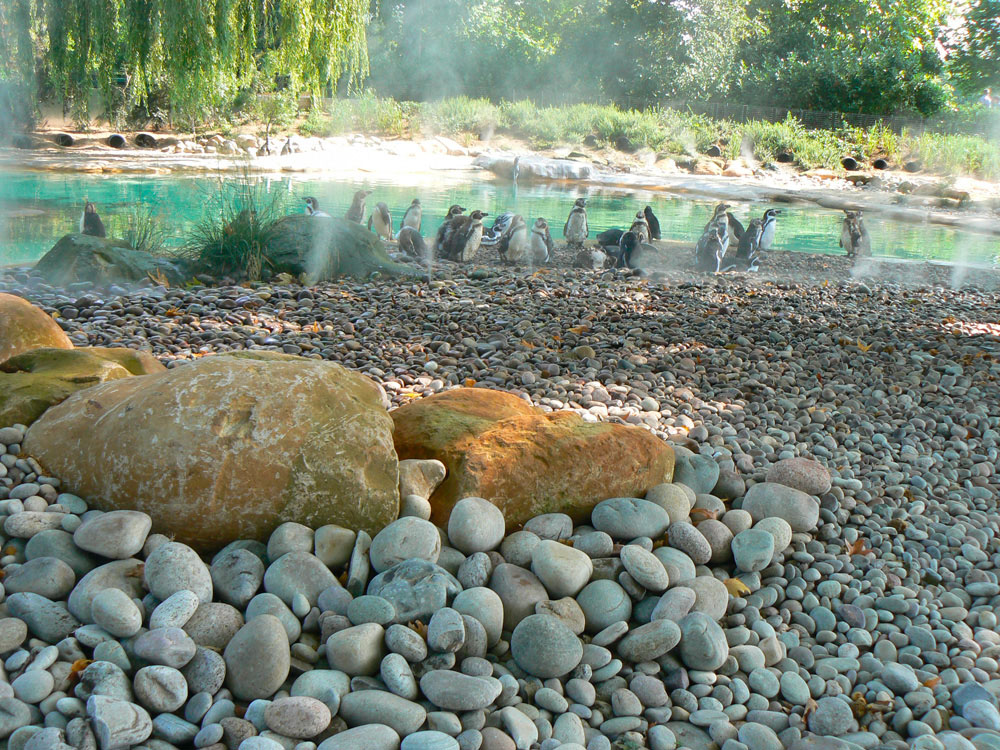 When CED's director Giles Heap was called to a site to identify some golden coloured rocks, no-one could have guessed the interesting journey they would end up having.
The site was a housing development in Amersham, Bucks, and large chunks of the stone, approx 100 tonnes in total, were being unearthed and piled into one corner. When Giles arrived at the site to investigate he realised the stone in question was something very odd indeed and that it was definitely worth saving. The stone had a water worn look on it meaning it could have been from an old river or sea bed. CED identified these rocks as natural sandstone deposits, purchased them and arranged for them to be put into stock to be sold as feature stones at our Thames Valley Depot.
Early in 2010 Matt Moore, contracts manager from Landform Consultants, and Steve Ruddy, head of events for Kew Gardens, visited CED's Thames Valley Depot in search of products to use in the South African landscape they were creating at The British Museum. This was the third in a series of five mini landscapes to be developed in partnership with Kew at The British Museum, that Landform Consultants were invloved with. Steve and Matt saw these feature stones along with CEDEC Gold, golden quartzite rockery and golden quartzite aggregate and they both felt these products would be perfect in creating the South African landscape. CED agreed to loan the feature stones for the duration of the project which ran from 29th April 2010 to 10th October 2010.
Whilst in the South African landscape the feature stones were spotted by another designer James Aldridge. James had been comissioned to design the landscape and 'penguin beach' for London Zoo's new penguin enclosure. He instantly noticed the feature stones, thought they would be ideal and arranged to purchase them along with a mixture of various sized Scottish beach cobbles andpebbles.James commented "The new landscape will allow the visitors to experience the penguin's natural setting as much as possible within an urban zoo." The zoo's original penguin pool was built in 1934 and sadly closed eight years ago, after experts deemed it no longer suitable. Using CED's products the new and improved home recreates a South American beach landscape in the heart of London and one day will house a 200 strong breeding colony.

When visiting the enclosure to take photographs it was clearly noticeable how much the penguins enjoy their new home.
This news posted on 27th Aug 2011