A Look Back At 2019 - Part 1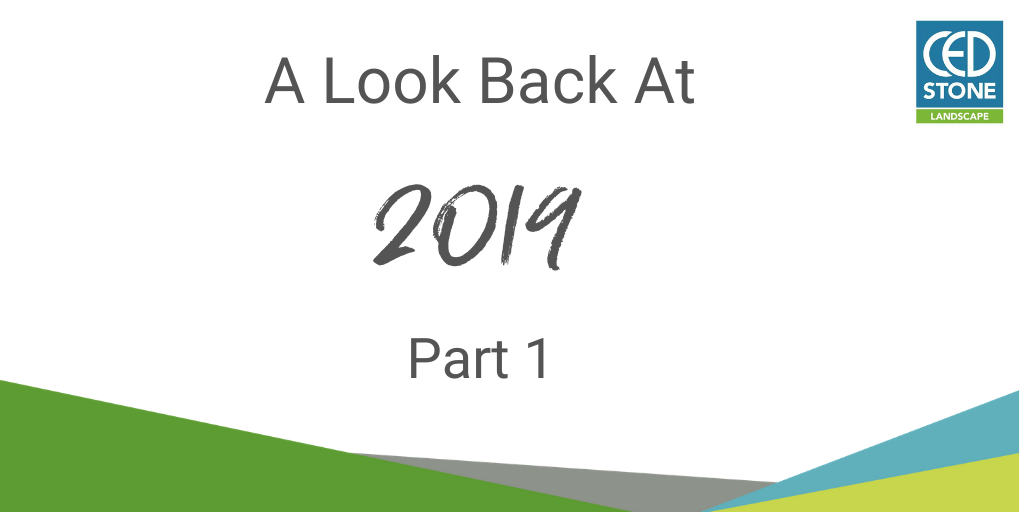 With 2020 in our sights we take a look back on 2019 and it certainly has been a busy year, such a busy year in fact that we have had to make this article a two part series. We hope you enjoy part one.
Kicking Off With Change
Following on from 2018's rebrand here at CED Stone Landscape we have continued to make changes, giving our customers more choice and a greater service. To achieve this we began by investing in haulage. We now have ten CED Stone Landscapes vehicles on the road delivering nationwide to your doorstep.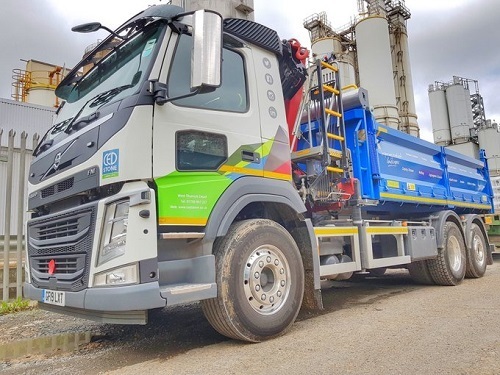 That's not all.
We also added to our already extensive product range and are now stocking DALTEX Resin Bound Surfacing System. It has proved a welcome addition to our range and we have enjoyed seeing the fantastic transformations carried out by our customers using this new product.
And we didn't stop there.
This year we also announced the introduction of our brand new range of revolutionary bedding and jointing products for domestic projects, StoneBed. The StoneBed Range is a collection of specially developed products which will ensure that the finish and strength of your garden paving or driveways will last for years to come.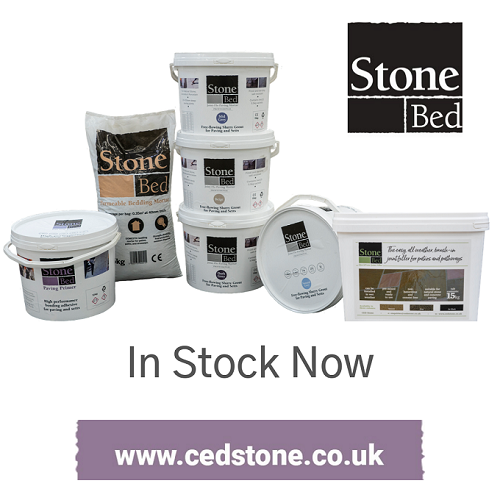 We are very proud to be offering our customers more choice than ever before.
Charities
CED Stone Group will always try to support charities and non-profit organisations looking to source materials, here is some of the charities we have worked with this year.
Back in April our Commercial Division supplied a beautiful plinth crafted from Scottish Green Schist for charity K9 Memorial. Our Wirral Depot supported the Greenfingers Charity with materials for the construction of The Garden of Colour at Claire House Children's Hospice which opened in June.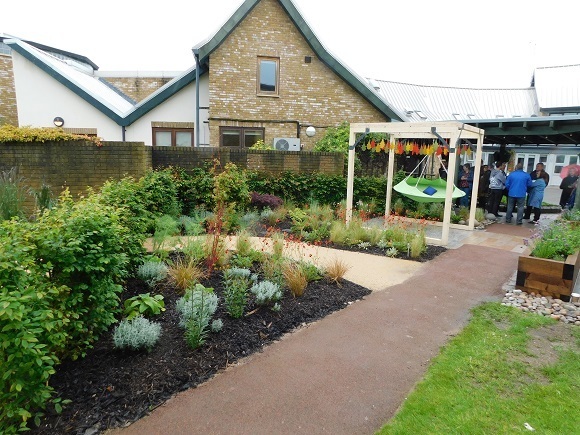 West Drayton Depot supplied CEDEC gold footpath gravel for Bedfordshire SANDS memorial garden, which opened to the public in October, and our West Thurrock Depot was delighted to support artist Steuart Padwick and his London Design Festival installation, Talk To Me in support of Time To Change.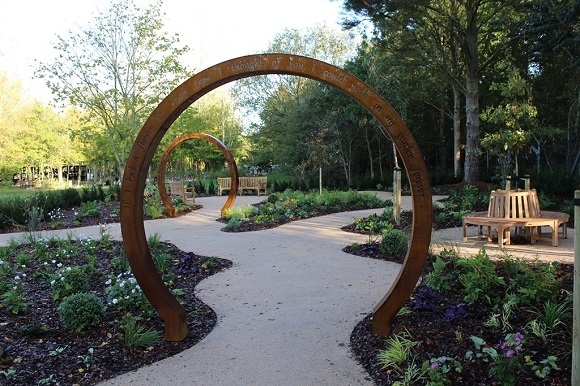 We have also supported industry charity Perennial throughout the year, donating materials to their show gardens and spreading the word in our depots. And our Operations Director Howard White went the extra mile for the charity when he took part in their 'Marathon In A Month' fundraiser, walking the equivalent of 9 marathons and raising over £500.
Show Gardens
The flower show season kept our Landscape Depots busy again this year, and we supplied materials to over thirty show gardens across eleven different flower shows.
At Gardening Scotland our Castlecary Depot joined Lynn Hill for 'The Garden Party' to celebrate Gardening Scotland's 20th anniversary! RHS Chelsea saw us help Jilayne Rickards bring a little bit of Africa to London, supply Stone Monsters to Alistair Bayford, and create a buzz with Caitlin McLaughlin.
At RHS Hampton Court Garden Festival our products featured in several gardens promoting the therapeutic and calming benefits of gardens, including Dave Green's Stop And Pause garden, Michelle Brandon's The Forest Will See You Now and Lawrence Roberts' Through Your Eyes.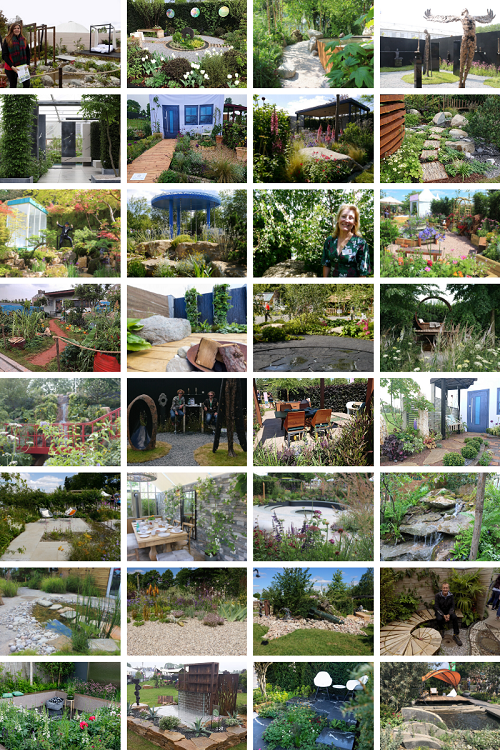 MD Giles Heap has always stated that 'While we could just let the quality of our products do the talking, we always go the extra mile for our clients so that we're delivering the very best service.' And this year was no exception.
For both Joe Perkins Facebook Garden and Jonathan Snow's Undiscovered Latin America Garden, Giles made quarry visits with the designers, to source the perfect stone for their needs. We set aside time and space at both our Scotland and London East Landscape Depots to help with mock builds for Joe and the Facebook Garden contractors, The Outdoor Room, and Jilayne and the CAMFED Garden contractors Conway Landscapes. And Dan Conboy, our London based sales rep got stuck in, helping out on build day at RHS Chelsea.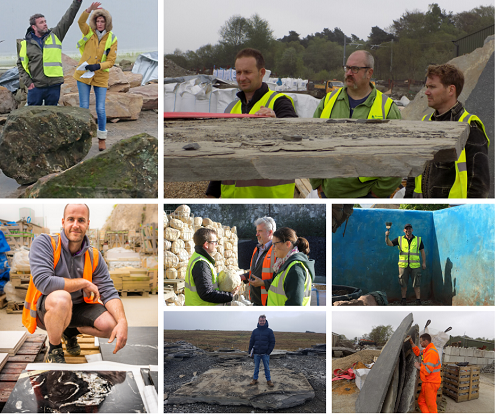 If you are planning on designing a garden for a flower show or event and would like to discuss the possibility of using hard landscaping products from CED Stone Landscape, please do get in touch and we'll do our best to support your project. We are incredibly proud to be a go-to supplier for designers sourcing stone for their gardens, and we love seeing our materials featured in such amazing designs.
Why not head to our YouTube channel and view all the beautiful show gardens mentioned and more.
End of Part One
This news posted on 16th Dec 2019