Show Garden at Balmoral Show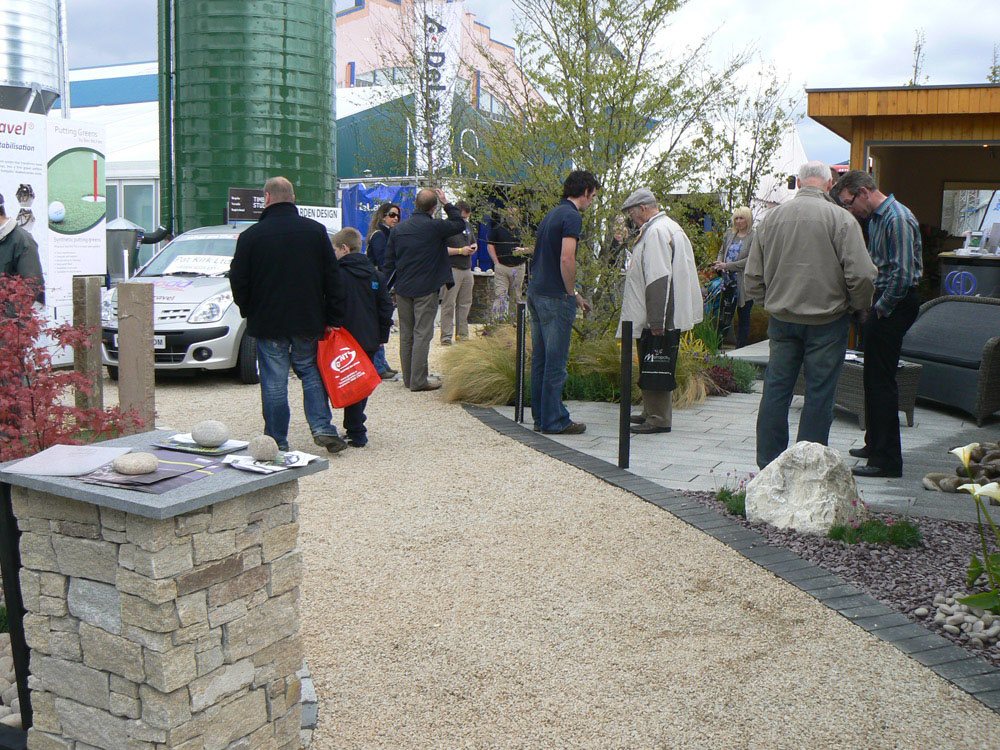 From 16th to 18th May CED were pleased to exhibit at the 144th Balmoral Show. The show took place at the King's Hall Complex in South Belfast. It offers a colourful combination of competition and showmanship along with daily displays of livestock, food tasting and world class attractions ensuring the event has something for everyone. Our stand stood out from the crowd as it was something different and was frequently described as 'the show garden'. It was a stunning design created by Maurice Maxwell Garden Designs and a great deal of hard work went into building it over a 5 day period by Ben McKee Landscaping. Both Maurice and Ben joined us on the stand over the 3 days, along with Adrian from Timber Studios who supplied a contemporary garden building. This drew a lot of attention and complimented the theme of the garden extremely well.

Our stand was made up of many stocked products. A Cedagravel®pathway filled with buff flint and Irish barley quartzite, edged withblack limestone setts and temple setts weaved from one side of the stand to the other. The tier panel system was used to create piers coupling each entrance. To the left of the stand was silver grey granite plank paving which led to a beautiful water feature made up of black quartz paddlestones and large Scottish beach cobbles. Black basalt and grey sandstone steps were used to create the step up to each side of the timber lodge studio and a small patio area was created using the buff sandstone paving. Other products includingplum slate, black basalt aggregate, golden flint gravel, polished black pebbles, blue limestone paving, riven yorkstone paving andmeadowgrass marble rockery were set around our stand to further complement the design. In addition Tully Nurseries kindly supplied outdoor furniture and planting to enhance our stand furthermore.

The Cedagravel® pathway attracted much attention. This popular product always goes down well at shows and it was helped even more by the sponsored car parked on the stabilised area. Having such a good demonstration of what Cedagravel® can do worked wonders with visitors to the stand. However it was not just Cedagravel® that drew the attention. A service that Ben McKee Landscaping offers is synthetic grass and putting greens, and so a putting green was included in the stand which invited much interest.
James Kane, CED's Irish Depot Manager, commented; "The idea of our stand was to encourage customers to our Omagh depot and increase its presence in Ireland. Thankfully the weather didn't hold the crowds back from Balmoral and the footfall was in the thousands. Overall we are extremely pleased with the outdoor space we created and having the whole package of supplier, designer and landscaper proved a real aid to gaining the leads we have from the show already. The Balmoral crowds are a retail market and being able to recommend one another was an impressive service."
This news posted on 27th May 2012