RHS Hampton Court Garden Festival 2019 - Part 1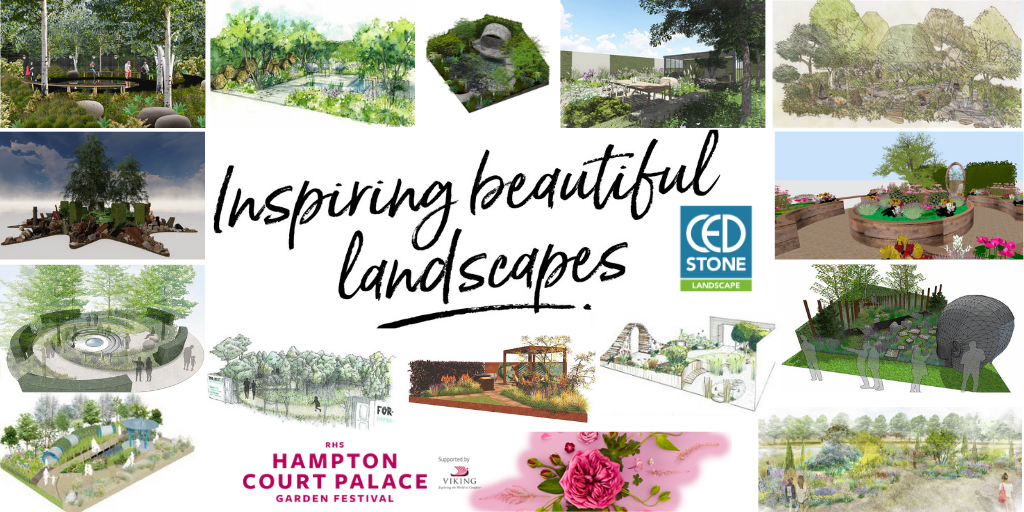 We are delighted to be supporting some fantastic gardens at RHS Hampton Court Palace Flower Festival this year and are very proud that the designers have chosen our natural stone products to feature in these incredibly creative show gardens. Here is a breakdown of the gardens which will feature CED Stone products, we wish each and every one of them the very best of luck.
Designed by: Lawrence Roberts and William Roobrouck
Contractor: Elements Garden Design, Shrub and Stone
Sponsor: Kebony, CED Stone Group, R&G Metal Products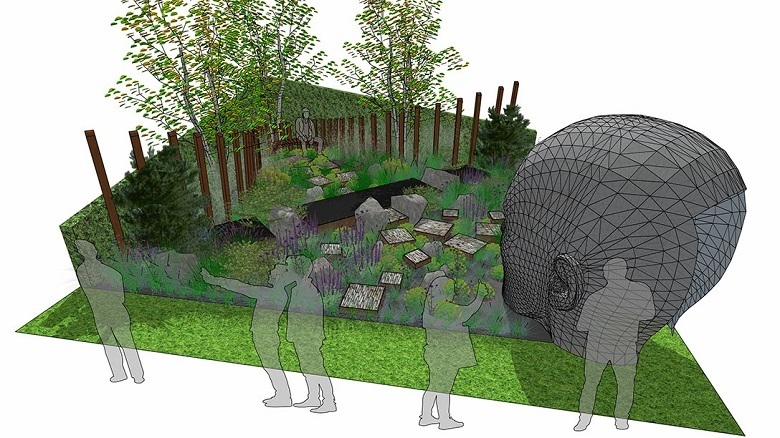 Garden designer Lawrence Roberts is back at RHS Hampton hoping to repeat or perhaps even better the Silver Gilt he was awarded for last year's entry the 'Mystique Garden'. This year Lawrence is once again collaborating with Belgian sculptor William Roobrouck with, Through Your Eyes, a design which encouraging visitors to take a moment to reflect and reconnect.
The garden is inspired by the works of the Japanese landscape architect and Zen Buddhist priest, Shunmyo Masuno - a master of Zen gardens. Although a true Zen garden can only be accomplished by a disciplined practitioner of Zen Buddhism, Lawrence has included key Zen principles in his design including simplicity(Kanso), and naturalness(Shizen).
All the elements of Lawrence's garden are symbolic of different facets of life; Family, friendships, mental health, loss and age are all symbolized through the planting and materials used throughout the garden.
"Rough stepping stones, representing the choices we make, weave through lush planting and low pines to a central reflective pool with no obvious way to cross. This pool is flanked by two pools of troubled water, dark and turbulent. A split boulder guides the way through low grasses to a bench nestled at the rear of the garden beneath the embrace of two river birches. Timber posts snaking through the garden join to form the back of the bench; a restful place to contemplate life, looking back across the garden and the path taken."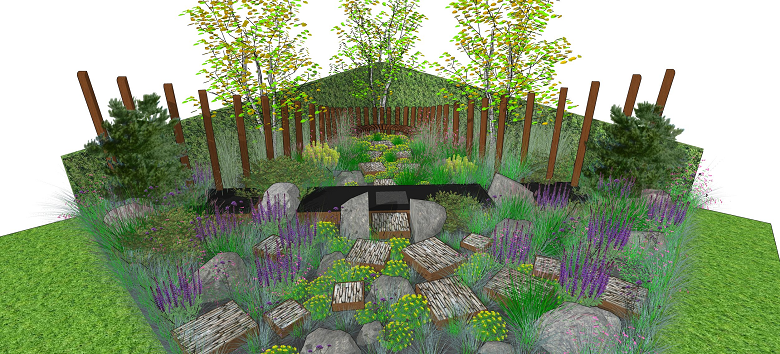 Belgian artist William Roobroucks contribution in this collaboration is a 3.3m tall sculpture made from layered corten steel. The sculpture overlooks the garden and can be entered, offering visitors a chance to pause and reflect, a moment of mindfulness.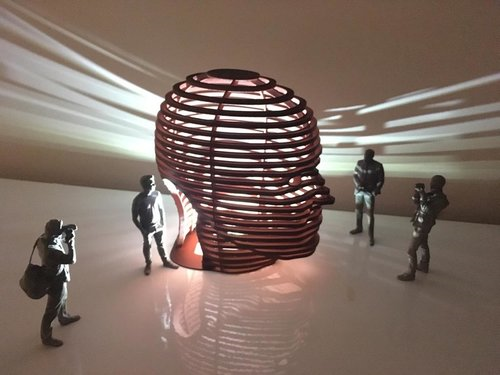 We are delighted to have supplied Gabbro Boulders and Imperial Paving, Black Basalt for the garden. Also, Yellow Paddlestones, which have been painstakingly crafted by Lawrence into beautiful boxed stepping stones.
Read more about the garden design here.
Designed by: Will Williams
Contractor: Burnham Landscaping
Sponsor: Viking Cruises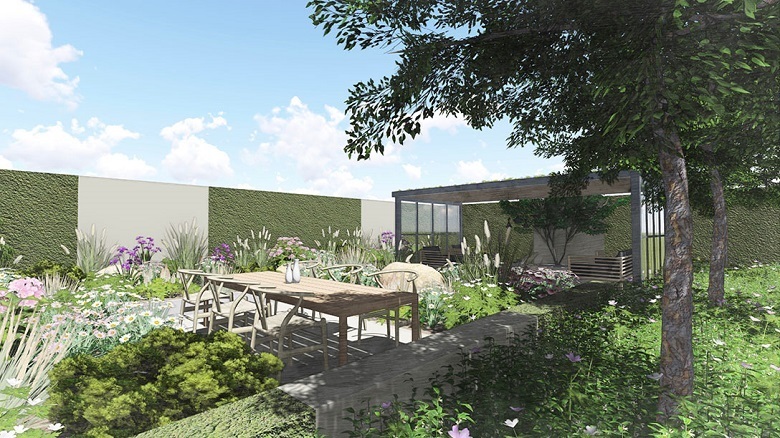 At
23 years of age, Will Williams, winner of last year's RHS Young Designer of the Year, is the youngest ever garden designer to present at RHS Hampton Court. Will is creating 'The Viking Cruises Lagom Garden', for headline sponsor Viking Cruises
with
Burnham Landscapes building the garden.
Taking
inspiration from the Scandinavian word Lagom, meaning 'just the right amount' the garden will demonstrate how we can make the most of small spaces. The
design
balances a tranquil environment where we can interact with nature, with a garden where we can relax and enjoy the company of family and friends and Will aims to offer visitors a unique immersive experience. This garden will feature CED Stone
CEDApath
with
Granite Aggregate and
Gabbro Boulders
.
Designed by: Caitlin McLaughlin
Contractor: Conway Landscapes
Sponsor: Warner's Gin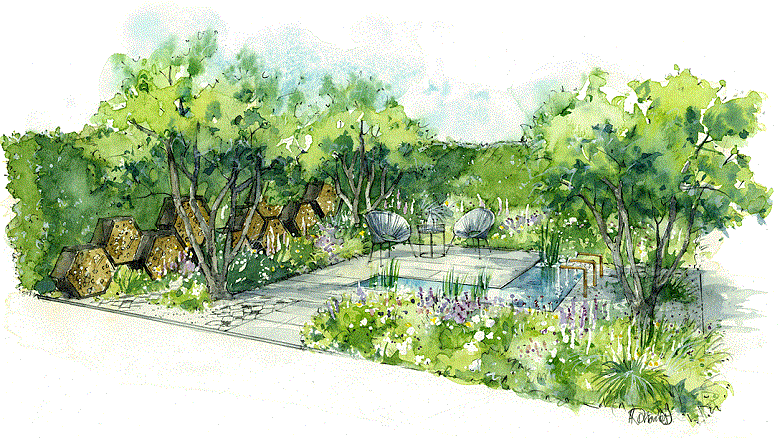 This year Garden designer Caitlin McLaughlin is creating a buzz at Hampton Court Palace with her entry 'The Urban Pollinator Garden' sponsored by Warner's Gin.
The garden is designed as a place for the owners to relax and connect with nature where they can surround themselves with the unsung heroes of our gardens, the pollinators. It will be a haven for insects and pollinators, specifically bees and will feature a sculptural habitat wall running the length of the garden. The contemporary honeycomb shapes will be packed with twigs and branches for solitary bees to nest and
Bee Bricks
from Green & Blue will also feature in the wall. Hexagonal paving will feature in the garden and bee-printed tiles will identify entrances to underground bumblebee nests. The planting will also encourage solitary bees and other pollinators to thrive, which in turn helps to support a range of wildlife and promote biodiversity.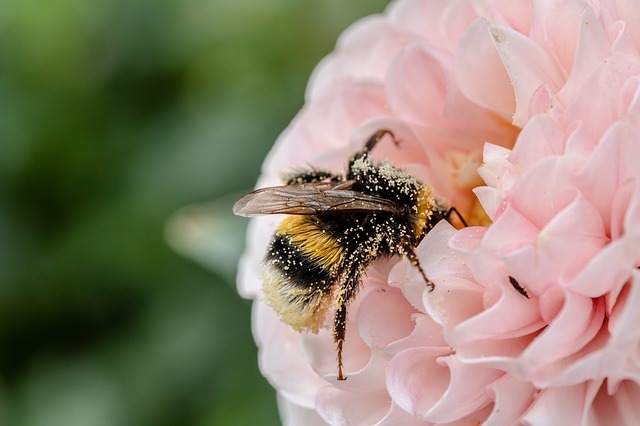 For this bee-
autiful
garden, CED Stone Group have supplied
Silver Grey Granite
Aggregate
and
Scottish Beach Pebbles
in several different sizes. After the show, the garden will be
re-homed
at Cransley Hospice in Kettering, Northamptonshire, for the benefit
of the patients, visitors and hospice staff.
Read the full article here.
Designed by: Tony Woods
Contractor: Garden Club London
Sponsor: Thames Water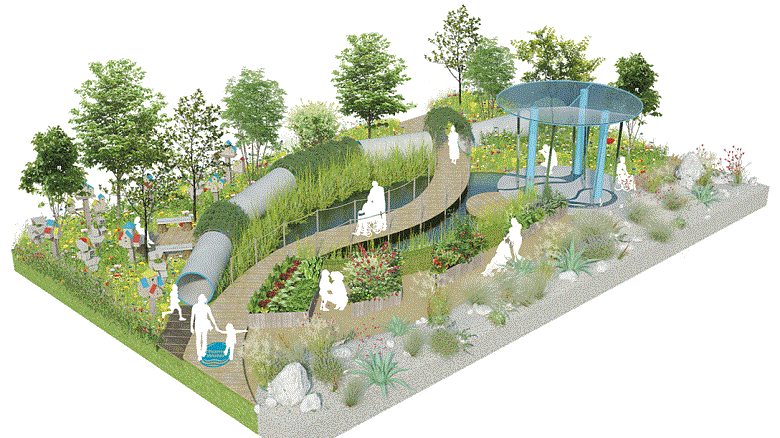 After the success of last year's RHS Chelsea entry 'Urban Flow' which was awarded both a gold medal, and the Best Space to Grow Garden, Designer and Garden Club London director Tony Woods is going for gold again, this year at RHS Hampton Court Palace. Hampton Court Palace Garden Festival as it is now know, returns on the 2nd of July and Tony Woods has again partnered with Thames Water to bring us 'The Thames Water Flourishing Future Garden. The focus is once again on protecting our most precious of resources, water and visitors will see how they can reduce water use, prevent flooding and encourage biodiversity. The design features a rainfall pavilion showing the essential cycle of water that we all rely on to live and grow and a wild flower meadow, a miniature version of Thames Water's urban wetlands. The garden will also house the Thames On Tap water bar where visitors can get free water refills of world class Thames Water, helping to prevent plastic waste. For this design we have supplied several products including Scottish Beach Cobbles, Golden Amber Footpath Gravel, Breedon Buff Aggregate and Gabbro Boulders.
Designed by: Tony Wagstaff
Contractor: Southend Youth Offending Team (YOT)
Sponsor: Southend-On-Sea Council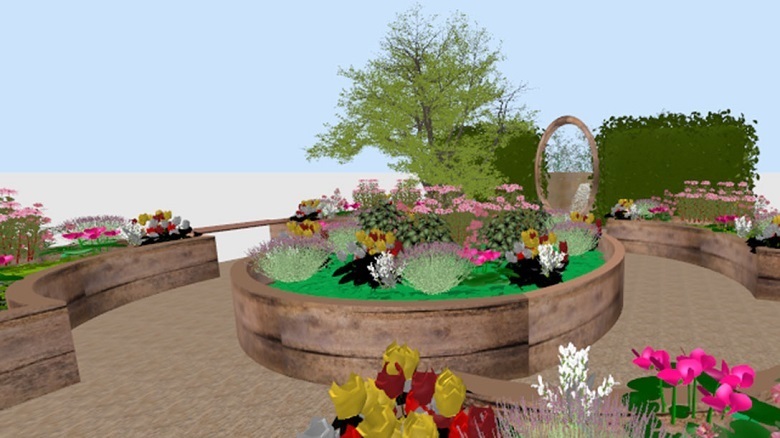 Tony Wagstaff and the Southend Youth Offending Team (YOT) are back at RHS Hampton Court with 'The Therapeutic Garden'. For the last nine years Tony, Senior ISSP Worker for the Youth Offending Service, has been designing and
creating show gardens at Hampton Court with Southend Council's Early Help, Family Support & Youth Offending Service along with support in recent years from the Dementia Community Support Team.
The Therapeutic Garden promotes the health-giving properties of horticulture and shines a spotlight the beneficial role that plants and gardening have in supporting people living with dementia, anxiety and other mental illnesses. The garden will feature plants such as eucalyptus, thyme and Eryngium, plants known for their health-enhancing effects. It will also feature bright and colourful planting to attract wildlife and boost the visitor's mood while raised beds supplied by Wood Blocx make the design accessible for all. CED Stone Group have supplied our Red Felsite Aggregate for the pathway between raised beds, and also our Scottish Beach Cobbles which will be used in gabions to form a water feature.
Read the full article here.
Designed by: Joe Francis
Contractor: Josh Jupp Landscapes
Sponsor: MayTree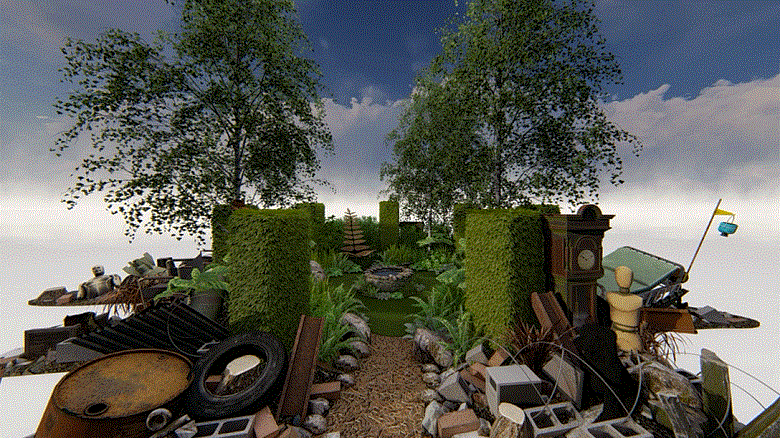 Joe Francis is back at RHS Hampton this year with a garden entirely funded by donations and crowdfunding. Calm Amidst Chaos highlights the importance of creating peace and tranquillity in our lives to enable us to better deal with the inevitable 'downs' that befall us. The garden expresses the contrast we can feel within ourselves; The effects of the chaotic and sometimes overwhelming physical world, and that inner sense of peace which can help us overcome the challenges our daily lives can throw at us.
Joe says "Life can feel like a crazy, chaotic experience that stretches us to our limits, so it's no wonder that in today's society we are facing an epidemic of mental health challenges."
The garden is dedicated to the Maytree charity and The Gardens For Good team aim to take parts of the show garden to Maytree house once the show is over. Maytree House provides a unique residential service for people in suicidal crisis. Their house in London offers those in need a five-day stay, and trained volunteers provide non-medical 'befriending' for the duration of the person's stay.
'Our aim is to provide a safe, confidential, non-medical environment for our guests. Somewhere our guests can explore their thoughts and feelings, and feel heard with compassion and without judgement.' Maytree
Having this opportunity and space for peace and relaxation in our lives is one of the keys to helping us overcome the challenging times and a garden space can be the perfect place to achieve this. Spending time in nature is proven to improve mood and have huge mental health benefits.
'Raising awareness is one of the keys, as well as promoting solutions to these challenges that so many of us face, which is what this garden is all about. Try it for yourself – find a beautiful outdoor space, whether it's your garden, the countryside or any place in nature and spend some time just enjoying the beauty of the place, away from the hecticness of everyday life." Joe says
The Calm Amidst Chaos garden will feature our Gabbro Boulders and we are very proud to be supporting this fantastic garden with such an important message.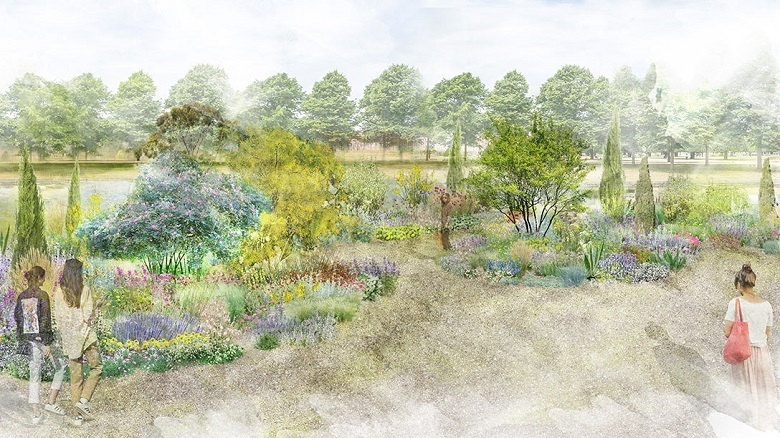 Designed by: David Ward

Contractor: David Ward and Beth Chatto Gardens staff
This year RHS Hampton Court Palace Flower Festival is paying homage to the legendary Beth Chatto who passed away last year at the age of 94 naming her as as the RHS Hampton Court Palace Garden Festival 2019 Horticultural Hero. Beth Chatto was a renowned gardener, author and plantswoman who won many, many awards in her 60 year career including 10 successive gold medals at RHS Chelsea Flower Show and being awarded the honour of OBE for her services to horticulture.
The Beth Chatto: Drought Resistant Garden has been designed for the festival by David Ward. As Garden Director of the Beth Chatto Gardens, David worked with Beth for over 35 years and he and the Beth Chatto Garden Staff team will create a garden based on Beth's 'right plant, right place" ethos focusing on drought-tolerant plants. We are very proud to have our CEDApath and Flint Gravel feature in this very special garden dedicated to the memory of such an impressive and adored figure in the horticulture industry.
This news posted on 29th Jun 2019