RHS Hampton Court Garden Festival 2019 - Part 2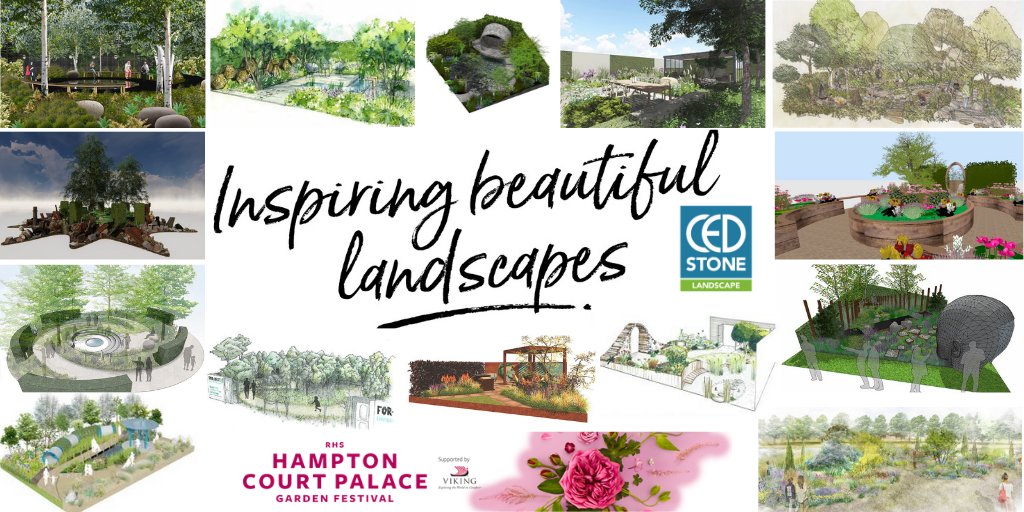 We are delighted to be supporting some fantastic gardens at RHS Hampton Court Palace Flower Festival this year and are very proud that the designers have chosen our natural stone products to feature in these incredibly creative show gardens. Here is a breakdown of the gardens which will feature CED Stone products, we wish each and every one of them the very best of luck.
8
Designed by: Matthew Childs
Contractor: Belderbos Landscapes
Sponsor: Campaign For A Smarter Britain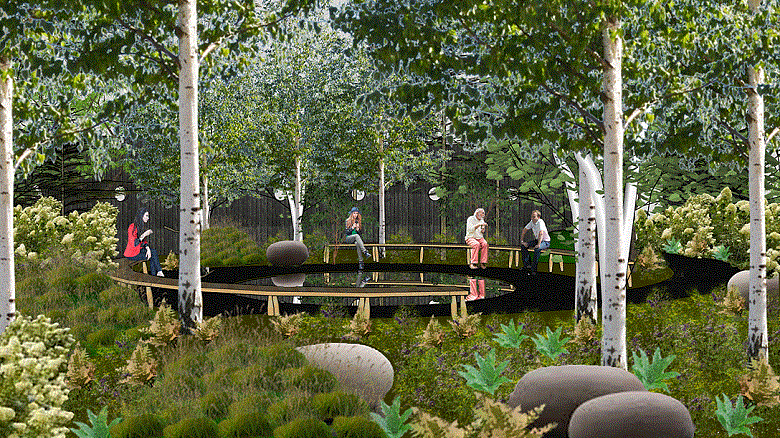 With a strong message about the relationship between carbon emissions and our natural world, The Smart Meter Garden will surely turn a few heads at the RHS Hampton Court Flower Show next week. Designed by Matthew Childs, the garden is an 'immersive metaphor for our future environment'. The garden has been designed to encourage visitors to install a smart meter and be more aware of the energy we use and our carbon footprint. Sponsored by The Campaign For A Smarter Britain, the garden has many different elements within it to symbolise our use of energy and its effect on our planet.
The garden will have a perimeter of trees and planting which will form the boundary. There is a black path leading into the centre, where a large circular area sits that is blackened and cracked. Lights and 'smoke' seeps through these cracks as well as a layer of water, forming a giant mirror that reflects the lush trees surrounding the water feature. Some curved benches are also sat around this central feature. The circular section of the garden symbolises the burning of unnecessary energy and its effect on the planet, whilst the gardens perimeter represents the future that we could have.
CED Stone will be supplying some Gabbro Boulders of which will sit in the natural section of the garden, acting as accents in amongst the trees and planting. We will also be supplying Black Basalt Aggregate, of which will be used in the water feature area to compliment the other black elements of the garden.
With our company trying our best to slowly improve our own carbon footprint and do better for the environment, we are extremely happy to be working with Matthew Childs on this garden, and we do hope that the message it gives resonates with every person who comes to visit it over the course of the show this year.
9
Designed by: Robert Grimstead
Contractor: Landscapes By Design
Sponsor: Lower Barn Farm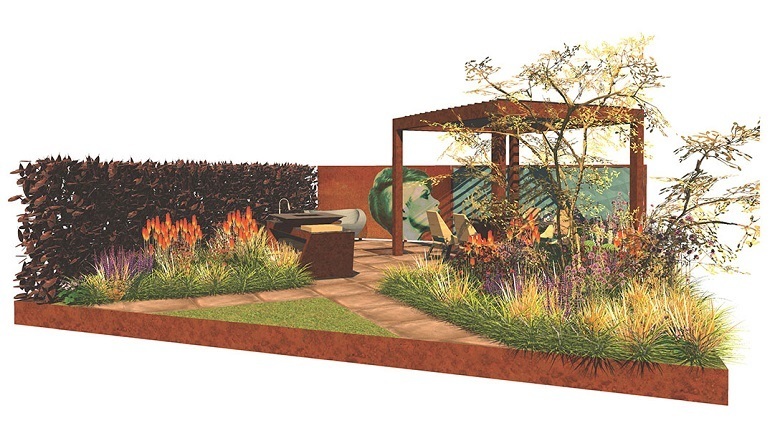 Lower Barn Farm are giving us a taste of their Outdoor Living collection at RHS Hampton this year with The Lower Barn Farm Outdoor Living Garden. Designed by their multi-award winning in house garden designer Robert Grimstead, the garden is a nod to the current 'outdoor living' trend and is designed to show visitors that your garden can be enjoyed not only in the height of summer but also when the days grow short and the nights grow long.
Lower Barn Farm is a one stop shop for "Everything home & garden" and their new Outdoor Living Collection has everything to style the garden of your dreams, including fire pits, designer furniture, bbq's and terrace roofs.
Built by Landscapes by design the show garden will feature an outdoor kitchen for alfresco dining and a corten steel bio-climatic pergola provides shelter for entertaining friends and family. Colourful planting and a reflective pebble pool create a relaxing atmosphere at the end of a busy day. The Lower Barn Farm show garden is 'Outdoor Living' at its best and features our Flat Green Pebbles.
10
Designed by: Michelle Brandon
Contractor: Landscaping Solutions Ltd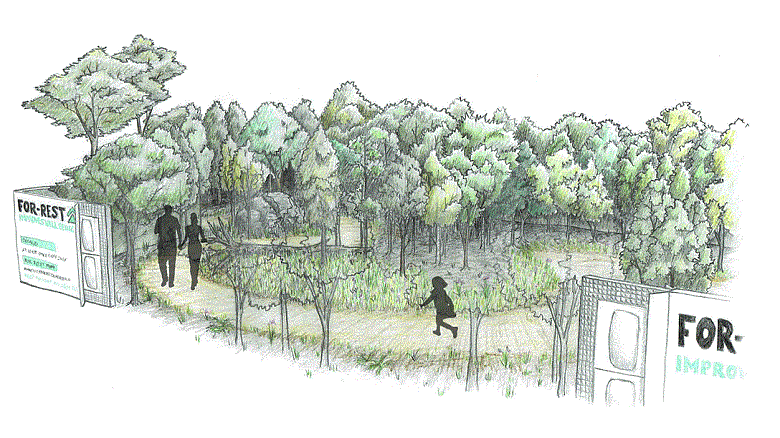 Garden designer Michelle Brandon is giving visitors a strong dose of nature with her first ever show garden 'The Forest Will See You Now'. Michelle's design is the representation of a forest, highlighting the benefits of nature, especially a forest environment. Her message, nature itself is medicine and can be used to alleviate and even cure many 21st century ailments.
The garden, wrapped in a large packet of blister pills created by 989 design, will be built with the help of Landscaping Solutions Ltd and will present a typical UK forest setting with recognisable trees including Scots pine, Birch and Corylus. The forest floor will be strewn with fallen leaves and branches and shade tolerant woodland perennials supplied by Harrowden Turf. One of the main garden features will be a fallen tree with its roots on display, encouraging visitors to take a moment and absorb the beauty of nature. Of course no forest floor is complete without boulders and for these Michelle approached our CED Stone Landscape - West Drayton Depot. With the help of Depot Manager Ralph Allen, Michelle selected several Yorkstone Boulders for her forest. To give them an authentic forest look Michelle is attempting to grow moss on them especially for the show using her special homebrew 'moss smoothie' made from moss cultivated at her home.
Read the full article here.
11
Designed by: Dave Green
Contractor: PC Landscapes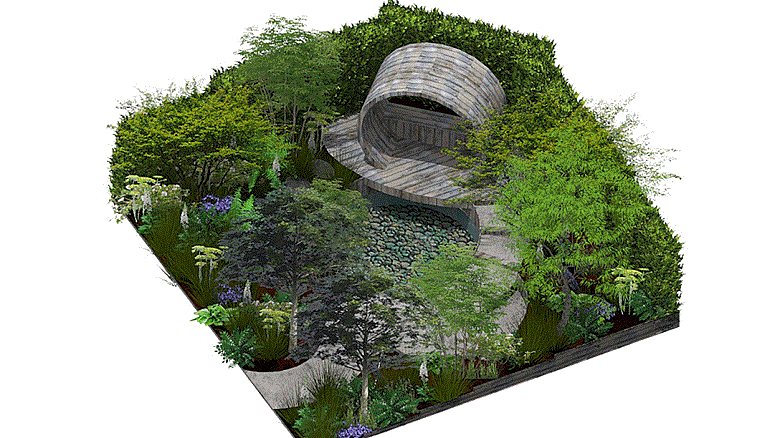 Another garden at this year's RHS Hampton Court Garden Festival highlighting the benefits of spending time in nature is garden designer Dave Green's 'Stop And Pause'. The garden is inspired by meditation and the ways it can be practised. The show garden is designed as a woodland space. At the centre, surrounded by trees, is a reflection pool, hidden from the outside world, a perfect tranquil place to practice meditation. Soft woodland planting add to the calm and pathways throughout the garden offer places to pause and take in the surrounding nature.
The garden is being donated to Solihull Hospital Charity and will be rehomed in hospital grounds after the show allowing others a place for quiet and reflection at times when it is most needed.
The garden features our Scottish Caithness Paving which has been used as large stepping stones in the garden and also our CEDEC Silver which has been used for the pathways.
12
Designed by: Seonaid Royall
Contractor: Highgrove Landscaping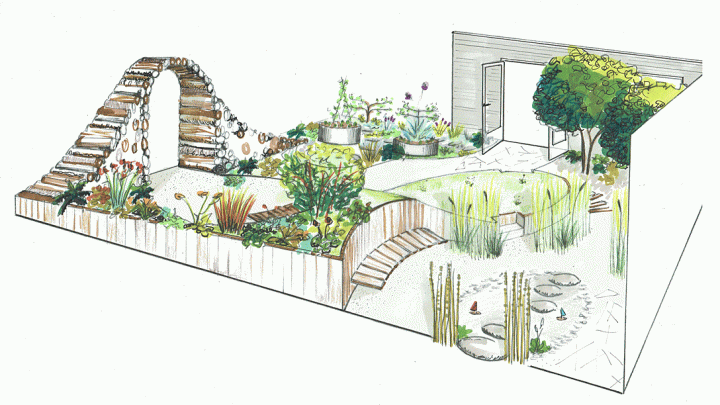 A garden that is created by children, for children, will be at RHS Hampton Court Flower Show this year. Designed by Seonaid Royall, the Believe in Tomorrow garden will be 'part oasis, part playground and part classroom', with features throughout that children can interact with, such as edible planting beds, a fire pit, secret pathways and a pond. In the lead up to the show, Seonaid has been running gardening workshops in five different schools in South London, allowing them to grow the plants and build elements that will appear in the finished garden. This has allowed the students to get stuck in and learn about reconnecting with nature again, and they will be invited to the show in order to see the finished project that they helped create and interact with it further.
All of the elements created by the children,have been transported to RHS Hampton Court, where Highgrove Landscaping will be building the official garden. CED Stone have donated quite a few products, including Gabbro Boulders that are going to be stepping stones in the pond, Indian Green Sandstone Crazy Paving for an element of the pathway, Scottish Beach Cobbles, Red CEDEC Footpath Gravel and Slabby Sandstone Paving. We are delighted to be sponsoring such a wonderful garden that has had such amazing input and educational benefits for the school children in South London.
Read the full article here.
13
Designed by: Tom Simpson
Contractor: Rosebank Landscaping
Sponsor: Cancer Research UK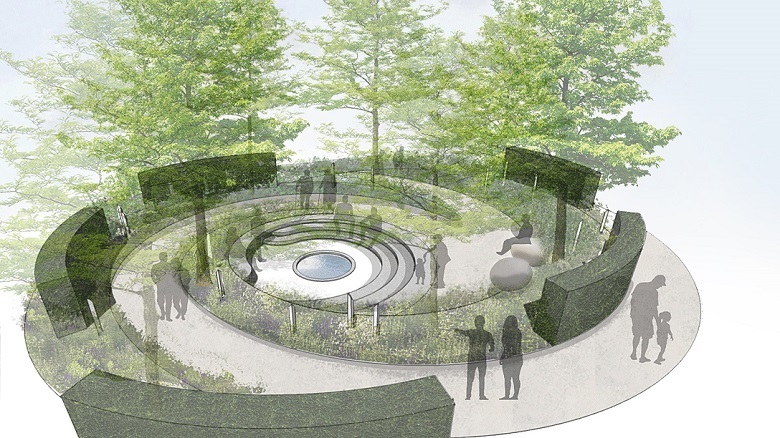 After winning a gold medal last year with his first ever garden at an RHS show, 'The South West Water Green Garden', garden designer Tom Simpson returns to RHS Hampton Court this year with Cancer Research UK. 'Pledge Pathway To Progress', is designed to raise awareness of the importance pledging gifts in wills has in funding Cancer Research UK's progress. The garden is open to visitors throughout the show and they can explore this wonderful space with its striking curved layout. The spiral pathway which features CED Stone CEDEC Silver footpath gravel meanders through richly scented planting including plants associated with cancer treatments. Dotted amongst the planting are carved timber posts, some etched with the names of people who have pledged a gift in their will and some marking important milestones in cancer research. The centre space is a sunken seating area where visitors can stop for a moments reflection.
14
Designed by: HRH The Duchess of Cambridge and Landscape Architects Andree Davies and Adam White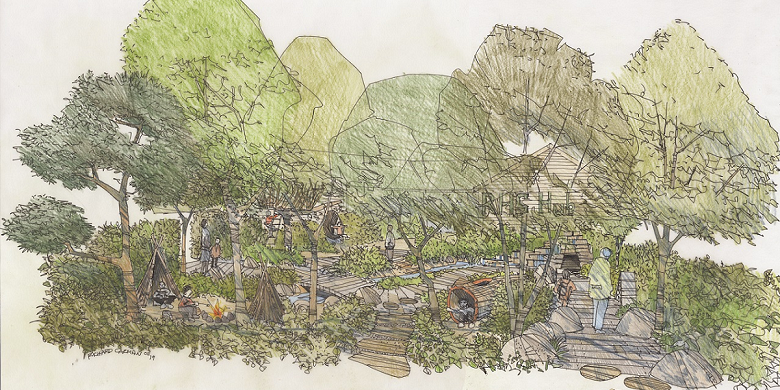 HRH The Duchess of Cambridge and Landscape Architects Andree Davies and Adam White are at Hampton Court redesigning their RHS Back To Nature Garden which appeared at RHS Chelsea Flower Show back in May. The design will change a little but the garden's theme will remain the same.
The design is inspired by childhood memories which are so often triggered by the natural world, the feeling of excitement as you drop your pooh stick in the water and dash to the other side of the bridge to see who is in the lead. The feeling of pride and accomplishment as you sit high in the 200-hundred-year old Chestnut tree house. These feelings are captured in our memories, memories of moments which although our own are shared by many. The garden was designed to recapture these moments and feelings for adults and spark excitement and love for nature in future generations.
Woodland trees and natural planting give the garden a calm and relaxing atmosphere. The planting includes plants for craft activities, edible plants such as wild strawberries and fragrant flowers to attract pollinators. Natural play elements feature throughout the garden including a stream which CED Stone group supplied boulders, Icelandic Pebbles and Rounded Flint Stones for.
Read all about the garden which featured at RHS Chelsea here.
This news posted on 30th Jun 2019