Lynn Hill Garden Design and CED Stone Group Win Best Show Garden at Gardening Scotland 2018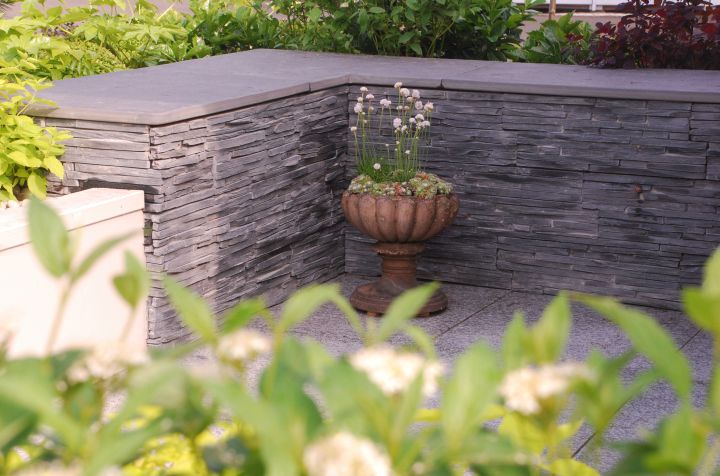 Known as Scotland's national gardening and outdoor living show, Gardening Scotland 2018 is in full swing this weekend. A highlight for any garden-lover's diary, it hosts the biggest plant fair in Scotland with hundreds of exhibitors, trade stands and ideas to take inspiration from. Over the last few weeks, the team from our CED Stone Landscape Scotland Depot in Castlecary have been working with the talented Lynn Hill of Lynn Hill Garden Design to create The Garden Retreat: A Place For Living.
Edinburgh-based designer Lynn is no stranger to success; at last year's show she worked with CED Stone Landscape and the British Association of Landscape Industries (BALI) to win Best New Show Garden 2017 for the Tangible Garden, which you can read more about here.
The Garden Retreat: A Place For Living was designed to be an oasis of calm and tranquility – representing how an outdoor area can make us calmer, happier people. We were more than delighted to donate our natural stone materials to this year's garden, and are very proud to announce that the design was named Best Show Garden! Many congratulations to Lynn and the Scotland Depot team!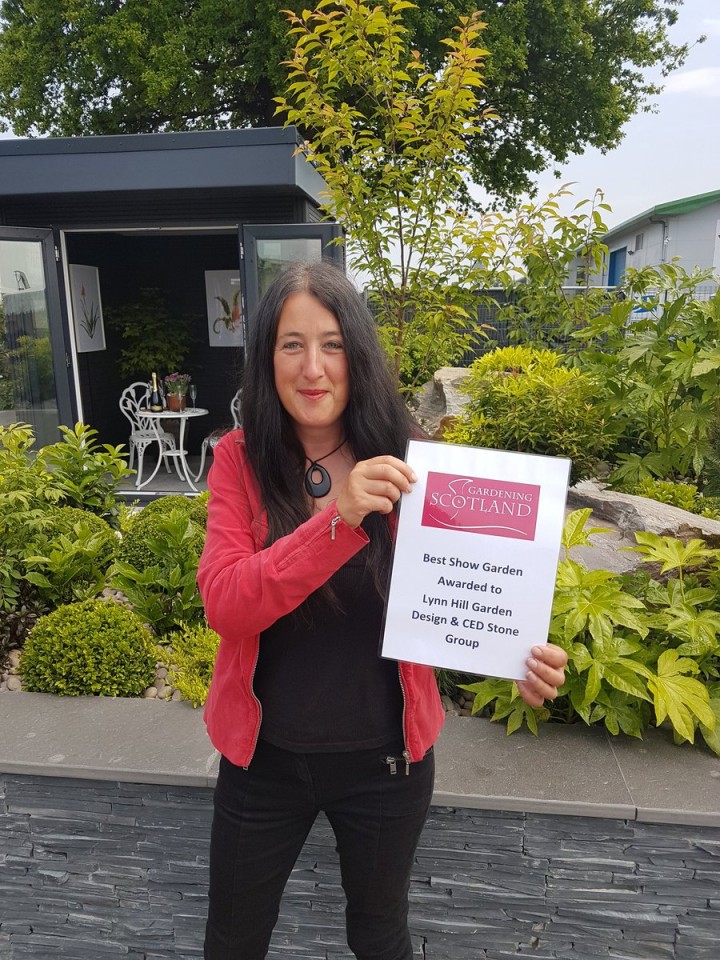 'Imagine if you will at the end of a long day at the office, pouring yourself a refreshing cool drink and escaping the world as you ease yourself into the tranquil surroundings of your garden retreat,' said Lynn. 'Sink into a world of calm amongst the lush green of the planting as the wind makes its music through the leaves of the trees above.'
This designer really knows how to combine a range of hard landscaping into one brilliant scheme! By using our natural stone wall cladding TIER Panel System in Slate to create a low-sitting wall, Lynn demonstrates how a key feature of the garden can serve a functional purpose: 'One of the first things I wanted to think about was how the space should be framed and contained. Using a wall with stone cladding is an easy and cost-effective way of using a quality stone product whilst giving maximum visual impact to the garden's boundaries.'
Lynn knew she wanted a dark grey material for the wall's coping stones and the team at the Scotland Depot suggested Caithness, a beautiful Northern Scottish Stone from our British Isles Paving range. 'The Caithness works perfectly with the TIER, and using a native Scottish stone was ideal to reflect the heritage and history of the highlands. It was exactly what I wanted, to use a locally sourced material that would contribute to the environmental and sustainable elements of the garden'.
Using contrast to draw the eye, our stylish Silver Grey Granite paving is laid throughout the outside patio area and helps to give focus. The lighter, bright shades perfectly stands out against the cool and edgy dark black-grey and brown Caithness. 'I loved using a range of grey tones in my design because the palette really makes the green planting sing! This garden is about tranquility and calm; part of that concept is having the greys and the stone colours as the backdrop of the garden to highten and complement the green planting'.
Essential for any British garden, a garden room made from composite wood gives all the benefits of an outdoor space with the comfort and security of protective walls and a roof. Lynn's garden room is perfectly decorated, with botanical artwork of Eleanor Christopher on the walls, bringing a creative quality to the scheme.
'There's a lot of stone in this garden and I think it looks really lovely!' The team at our Scotland Depot worked closely with Lynn to also select a range of Tyrone Feature Stones which were arranged amongst the planting, and Scottish Beach Cobbles and Pebbles were also used to mulch planting beds.
Any advice from Lynn to other garden designers who are looking to create show gardens? 'Plan what you can but prepare to be flexible as you go along, as you've got to think on your feet as the show progresses!'
Gardening Scotland 2018 is on from the 1st - 3rd of June and tickets can be purchased here. If you are planning on designing a garden for an event and would like to discuss the possibility of using hard landscaping products from CED Stone Landscape, then please do contact us and we will do our best to support your project.
This news posted on 1st Jun 2018