Medals and Stars: The RHS Chelsea Champions Who Used CED Natural Stone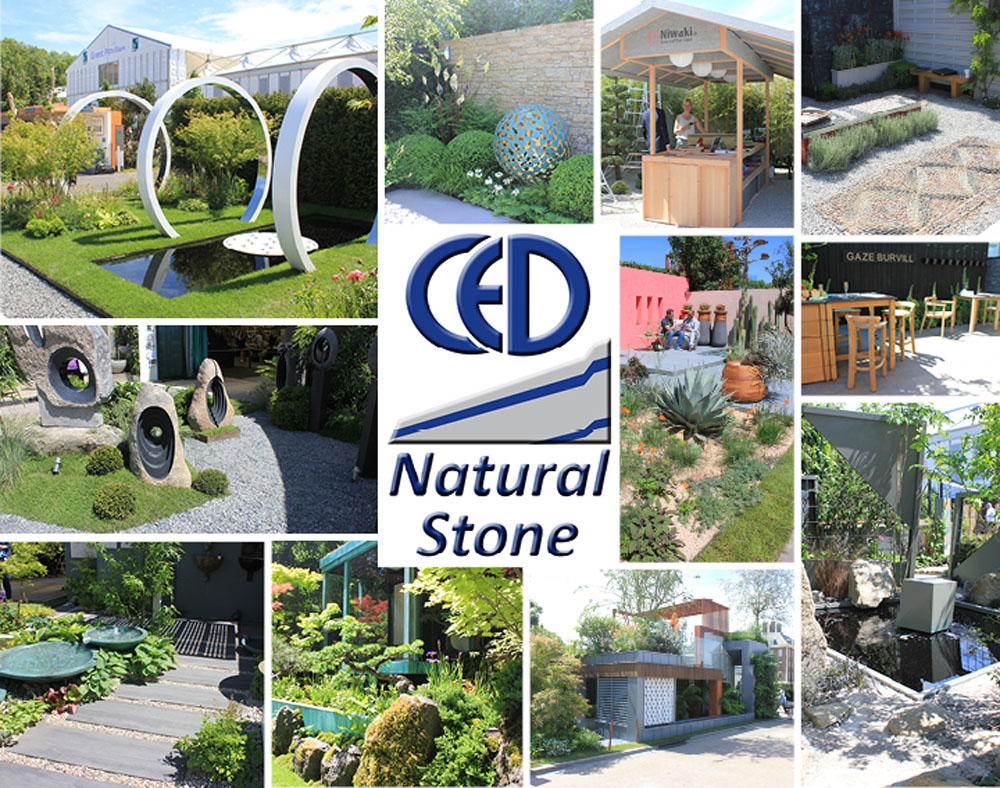 This year's RHS Chelsea Flower Show has come to an end. Within days everything has been dismantled, leaving no trace of the horticultural wonders that were there before except for some empty plots of soil and footpaths. It's been incredible, with some of the finest designers showcasing their perfectly formed, beautiful outdoor spaces. Visitors came in their thousands, and the show featured in magazines and newspapers all over the world. We take a look at the 11 gardens and tradestands that featured CED's Natural Stone products at this year's RHS Chelsea Flower Show…
The Medals:
The awarding of medals is a key part of the RHS Chelsea Flower Show; the accolade of a medal confirms the quality of the show garden. The judging panels reflect a broad range of horticultural, gardening and design skills and have all been specially trained by the RHS to consistently assess both detail and impact. Judging is also based on how closely designers have stuck to their initial design briefs, which they submit early on before the show.
1) City Living – Best Fresh Garden - Gold Medal.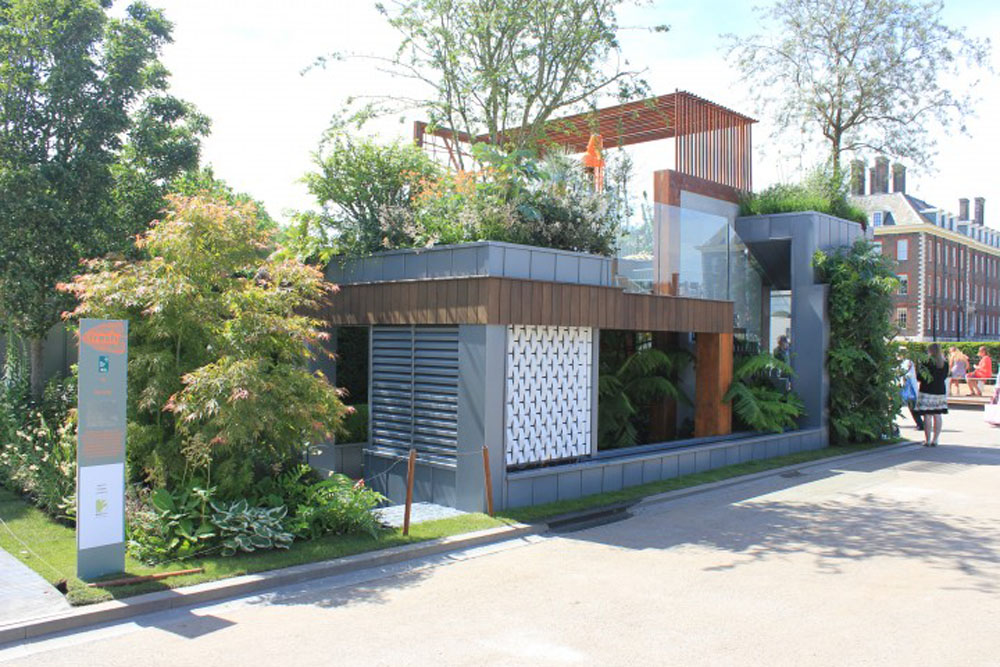 A contemporary scheme that redefines urban outdoor design, City Living by designer Kate Gould showed how a high-rise city apartment block can be easily transformed with the use of cleverly designed green spaces. Kate came to CED for the custom-made hexagon EMPEROR Porcelain Paving tiles from the Urban range in Manhattan, which she used to amazing effect on the ground floor of her garden.
2) Mind Trap – Fresh Garden – Gold Medal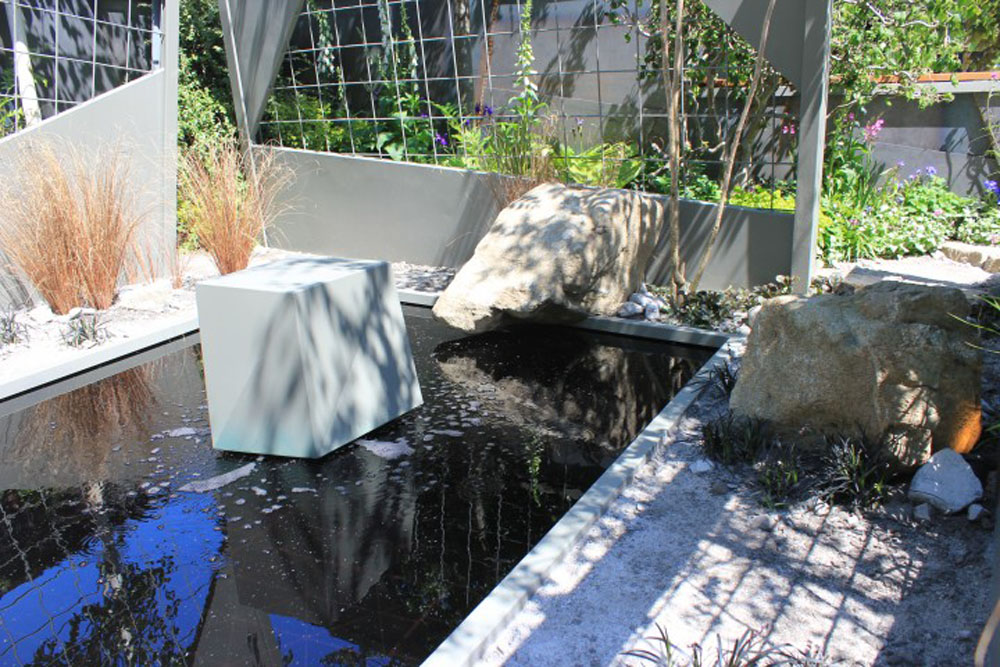 Supporting Heads Together, the mental health charity led by The Duke and Duchess of Cambridge and Prince Harry, garden designer Ian Price's interpretation of his own struggles with anxiety and depression won gold. This conceptual garden used Gabbro and Celtic boulders, CEDEC Silver footpath gravel, Weathered Limestone rockery shards and reclaimed kerb from CED.
3) Gosho No Niwa No Wall, No War – Artisan Garden - Gold Medal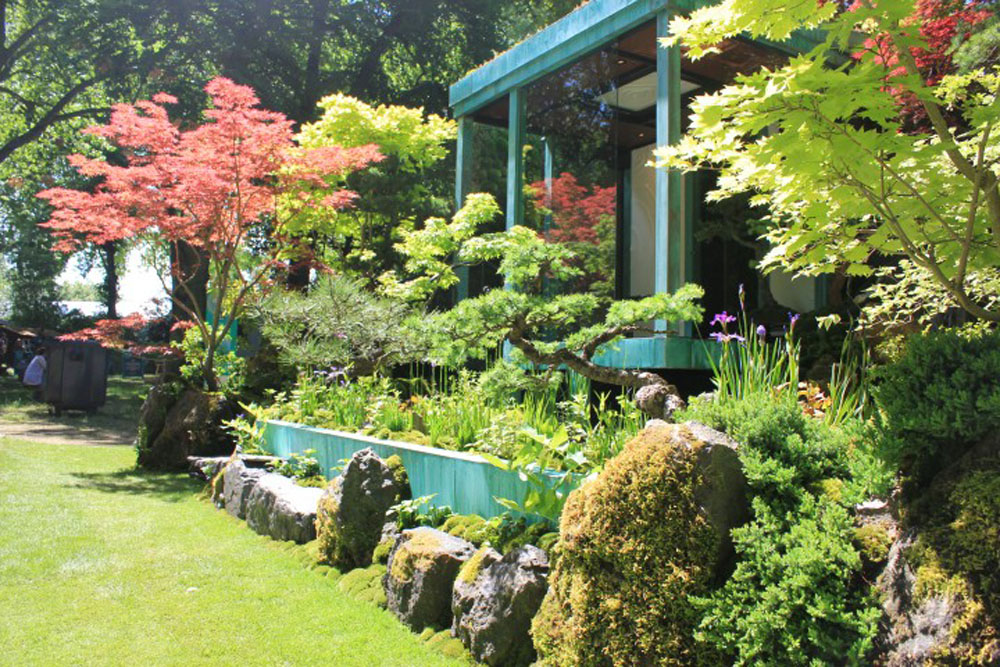 Ishihara Kazuyuki returned for his 12th year with Gosho No Niwa, a spectacular water garden inspired by the Kyoto emperors of Japan. With a waterfall made from mossy boulders planted with acers and bonsai conifers sitting beneath a copper and glass garden room, flowering miniature Irises help inject colour into the predominantly grey and green scheme. This beautiful garden used a range of natural stone materials from CED, including Weathered Limestone Rockery, natural Grey Paddlestones, Pearly Quartz and Scottish Beach Cobbles.
4) Breast Cancer Now: Through The Microscope – Fresh Garden - Silver-Gilt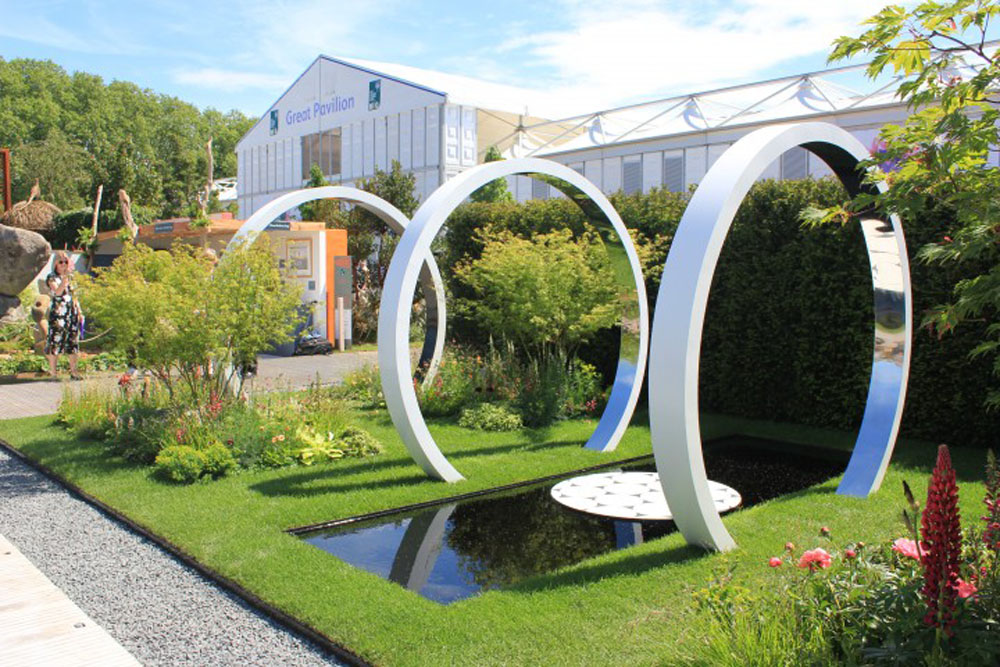 Inspired by the dedicated work of the 400 Breast Cancer Now funded lab researchers, the garden represented the process of looking through a microscope. Ruth wanted to use rockery to represent 'cancer cells' and on arrival at CED, Ruth wanted to use slate for its dark colour and jagged texture. After walking around the yard with Managing Director Giles Heap, with his advice she selected six Firebird Gneiss rockery stones which have shots of pink running through them when they are wet.
5) Beneath A Mexican Sky – Fresh Garden, Silver-Gilt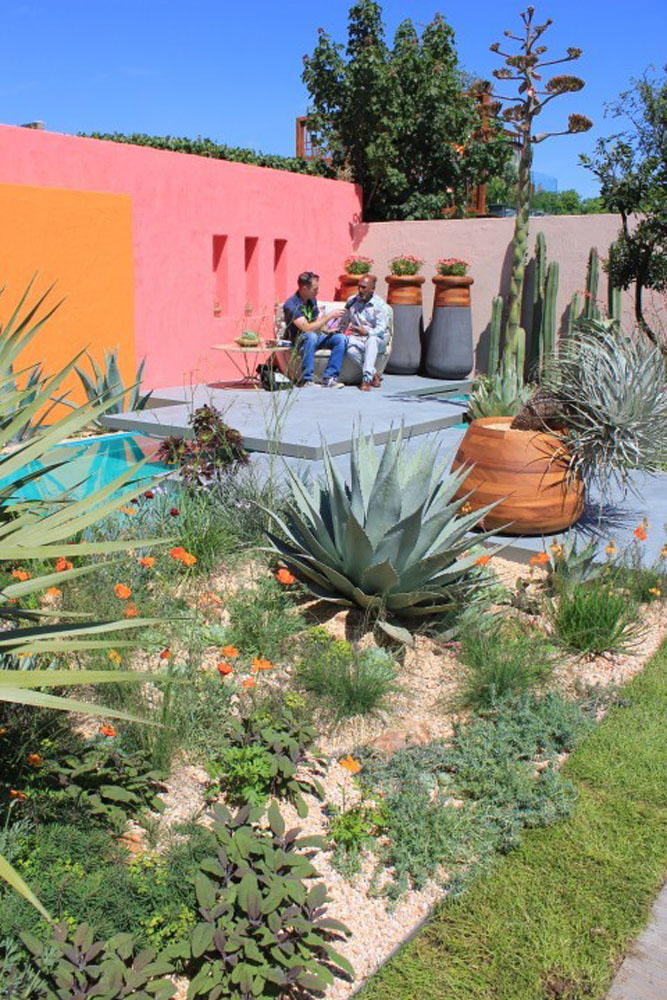 Inspired by the works of Mexican Architect Luis Barragan, Beneath A Mexican Sky was the first garden that designer Manoj Malde brought to a flower show. With vibrant colours and Mediterranean planting, CED were delighted to donate Golden Quartzite aggregate and Golden Quartzite rockery pieces to the garden.

The Stars:
Exhibitors are encouraged to display their products to the highest of standards. When it comes to earning stars, presentation is everything and that's what the judges are there to assess. The number of stars you earn one year can have a real bearing on the space you are allocated at the next show if you apply. Assessments are based on creativity, presentation and design.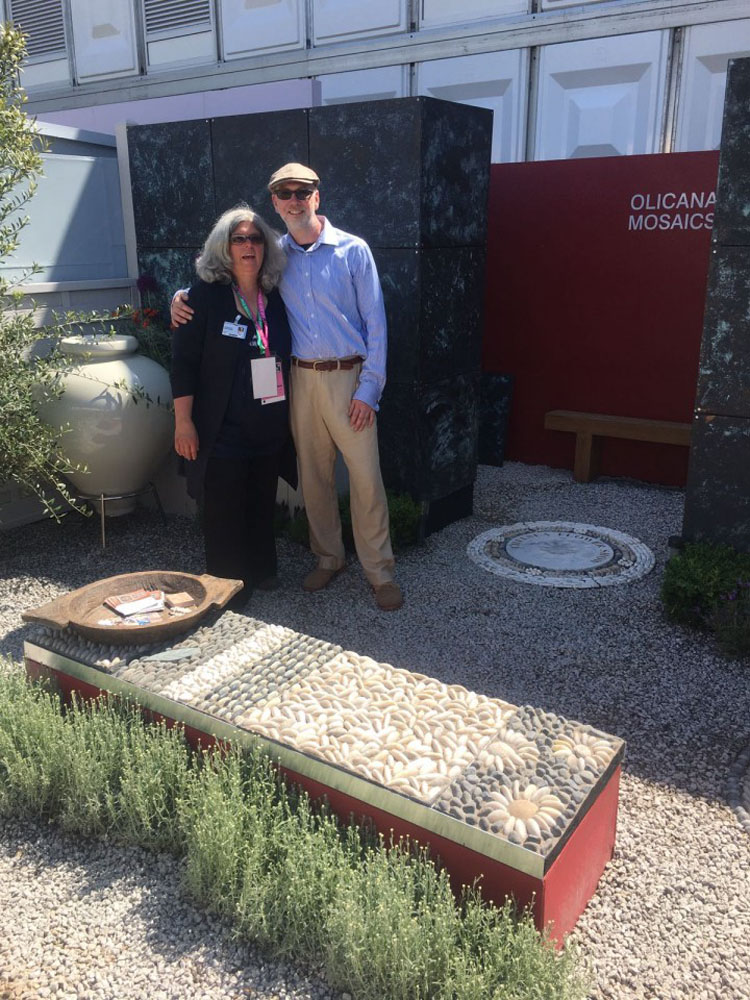 These intricate and beautiful mosaics are designed by David James – with purposefully flat surfaces, they're ideal for outdoor pathways and paving as they can be walked on or driven over. Each mosaic is made in multiple pieces, so they can be easily transported and installed. Using pebbles of different sizes, shapes and colours, David can take these natural stone products and turn them into an artistic visual feature within a garden scheme. Olicana Mosaics have had numerous successes at various flower shows – this year CED donated polished black pebbles and flat white pebbles to their RHS Chelsea tradestand.
7) Niwaki, Great Stuff From Japan 4*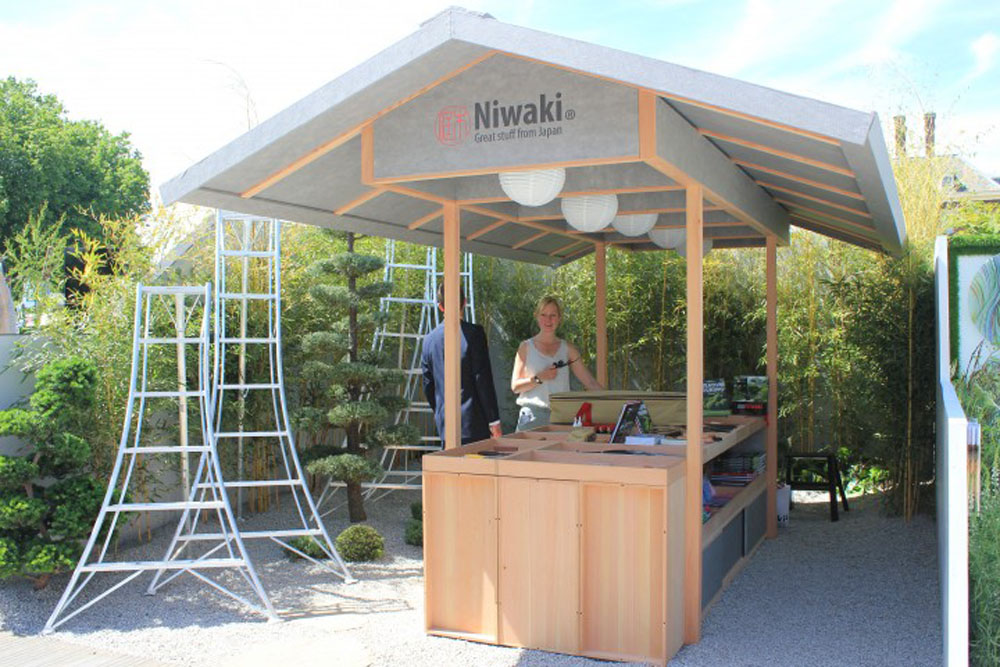 Niwaki was started by Jake Hobson after he fell in love with the gardens and trees of Japan back in 1977. Now a bit of an expert on Japanese landscapes and topiary, he has a range of traditional Japanese gardening tools available from Okatsune shears to Tripod Ladders. The Niwaki tradestand was, of course, inspired by traditional Japanese garden designs and featured a Douglas Fir pavillion structure showcasing all of their quality tools. Cloud pruned Cupressus Arizonica were set amongst Silver Grey Granite Aggregate from CED and large pieces of Slabby Sandstone paving steps led the way up the side of the stand.
8) Maddocks Contemporary Design 5*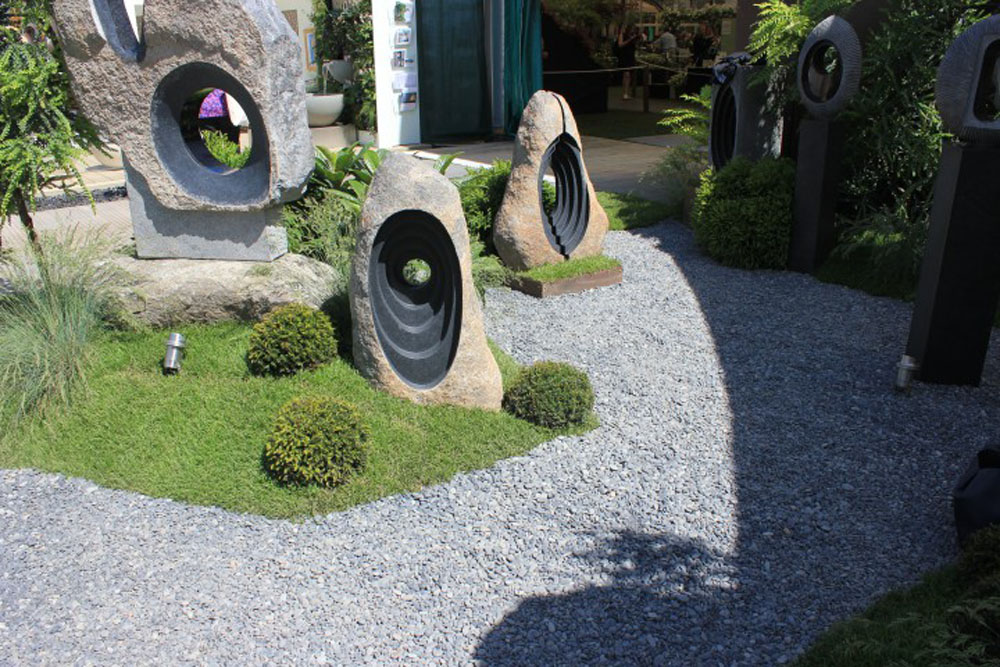 Matt Maddocks is a talented sculptor who produces an excuisite range of hand carved granite garden features, usually exploring the contrasts between geometric and natural forms. He uses his artistic abilities to choose each stone individually based on its natural connection with his designs. His Chelsea tradestand showcased a range of his sculptures, with one particularly large piece standing towards the front and a seating area towards the back. A natural green planting scheme framed the stone pieces, with grassy banks built up around the sides, which was designed by Rachel Owen from Manuka Landscapes. CED were delighted to donate the beautiful Icelandic pebbles for the ground, which created a dark and dramatic effect when teamed with the dark khaki walls. The pebbles were laid on top of CEDApath, CED's gravel stabilisation system, to keep the pebbles in place.
9) Lucy Smith Garden Sculpture 5*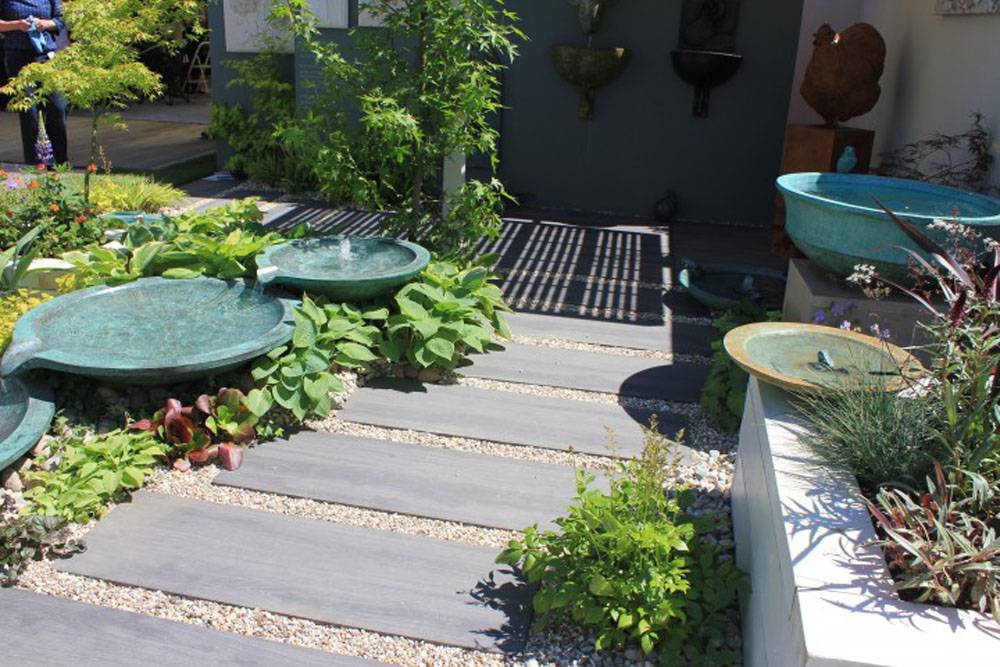 Lucy Smith is a talented ceramicist whose style is mainly inspired by nature. Using delicate detailing, she creates wonderful pots, pools, water features, wall plaques and plinths that add a touch of magic to any garden scheme. CED provided the Mokka porcelain paving for her tradestand along with the small flint pebbles.
10) David Harber, Garden Art, Indoor Sculpture, Public Sculpture 5*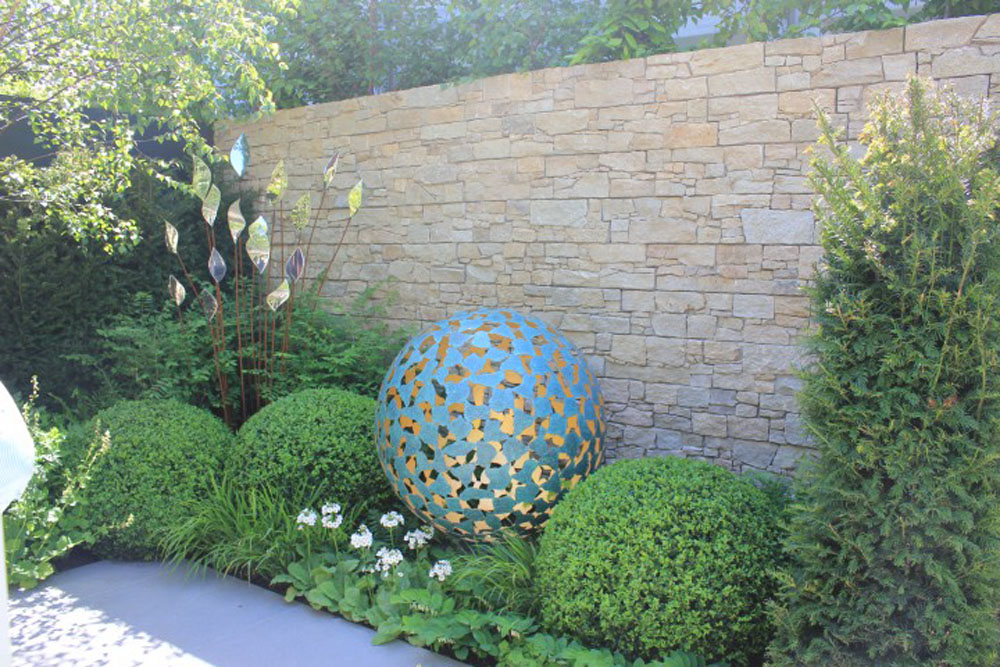 The renowned Sculptor showcased two new designs from his Chelsea tradestand – The Eclipse and The Quiver. Joining forces with celebrated garden designer Nic Howard from We Love Plants, the pieces were set amongst a contemporary garden with green and white planting. CED donated rustic TIER stone wall cladding which was used as a dramatic backdrop at the back of the tradestand.
11) Gaze Burvill, Britain's Finest Outdoor Furniture & Kitchens 5*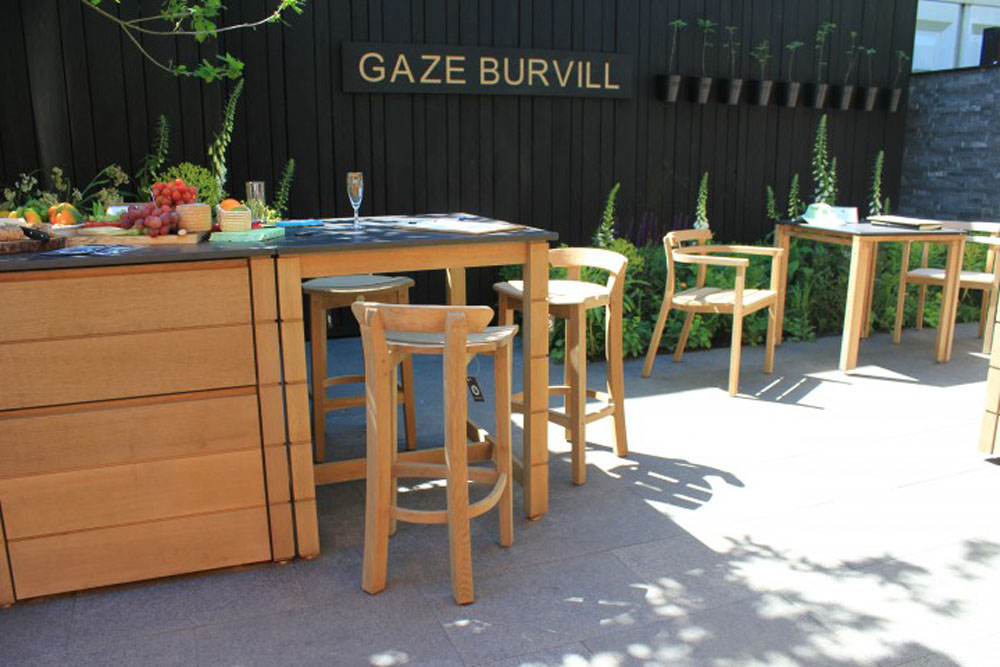 Gaze Burville are renowned for crafting high-quality garden furniture, producing creations that focus on comfort and style. Designed by Aralia, their Chelsea tradestand depicted an outdoor entertaining and dining scene, unveiling new contemporary furniture designs. Oak trees supplied by Barcham Trees represented the natural beginnings of all Gaze Burville's creations, and oak also featured in a variety of different finishes from fumed, scorched and weathered amongst a palette of yellow and orange. To offset the warm, bright colours, CED donated Black Basalt paving and aggregates which created a dark, dramatic visual effect.
This news posted on 31st May 2017